Political Headlines – Gove says perfect Brexit is as likely as a date with Scarlet Johansson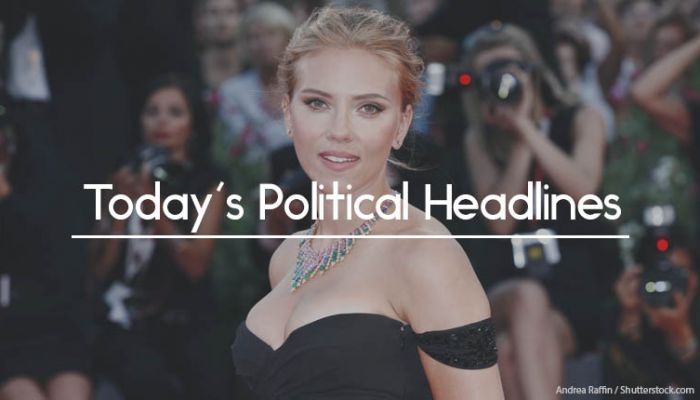 Today's political headlines include Gove's perfect Brexit as likely as a date with Scarlet Johansson, the guerrilla war against a no-deal Brexit, Government to publish Northern Ireland Assembly Brexit plans and the Government accepts the ferry firm won't be ready in time. 
Gove says that a perfect Brexit is as likely as a date with Scarlet Johansson
The Times reports that Michael Gove told yesterday's cabinet meeting that Brexiteers who want a perfect day are like 'mid-fifties swingers waiting for Scarlett Johansson to turn up'. The Prime Minister also used the meeting to dismiss a second referendum, which Tory activists oppose, while Home Secretary Sajid Javid said that a no-deal Brexit would end the Dublin Agreement and hence the UK's ability to 'send people back', although he later argued in favour of a no-deal Brexit.
'Guerrilla war' against no-deal Brexit begins with Government defeat
The Daily Telegraph says that a 'guerrilla war' to prevent a no-deal Brexit has begun, after Labour, joined by 20 Tory rebels, successfully voted in favour of an amendment preventing the Government from changing some taxes in a no-deal scenario without Parliament's permission. The paper adds that May hinted yesterday that if her Brexit deal was voted down by Parliament she might hold a second vote on it.
Government to publish Northern Ireland Assembly Brexit plans
The BBC reports that the Government will today publish plans which will give the Northern Irish Assembly the power to vote on new EU rules should the backstop come into force after Brexit. The DUP has claimed that the proposals will be 'meaningless', while Sinn Féin says that it would oppose anything which gave the DUP a veto.
Government accepts ferry firm won't be ready in time
The Financial Times reveals the Government has accepted that Seaborne Freight will not be able to provide ferry services in the case of no-deal Brexit until late April. Labour MP Richard Burden has also suggested that investor briefings produced by the company may have been 'inaccurate' by claiming that agreements had been reached with ports when they hadn't.
Labour MP calls for it to be easier to challenge rogue bailiffs
The Guardian says Labour MP Emma Reynolds is calling on the Government to make it easier for people to challenge rogue bailiffs, and will lead a parliamentary debate on the issue. A new report by Citizens Advice finds that only a small proportion of people experiencing poor behaviour by bailiffs formally report it owing to the complexity of doing so.
Law firm founder denies dishonesty accusation
The Daily Mail reports that Martyn Day, who co-founded the legal firm Leigh Day which the paper says has been 'accused of hounding British troops', was asked how he slept at night by Tory MP Mark Francois when he appeared before the Commons Defence Committee yesterday. He denied Johnny Mercer's claim that he was 'dishonest' and challenged him to repeat the statement outside Parliament, where he could be sued.
Extra freight trains may run if there's a no-deal Brexit
In an exclusive, The Sun reports that the Government is in talks with two rail freight firms over running extra trains during the night to ensure continued supply of food and freight in the event of a no-deal Brexit. It has also written to rail firm Southeastern, warning that extra freight during the day may disrupt commuter services.
Bars to be removed from prison cells
The Daily Telegraph says that bars are to be removed from the windows of prison cells after a study funded by the Government warned that they were 'punitive' and 'institutional', claiming that 'normalising' prisoners' environment would increase the likelihood of inmates being successfully rehabilitated.
Keep up with Brexit with Vuelio Political Services.
https://www.vuelio.com/uk/wp-content/uploads/2019/01/Scarlett-Johansson.jpg
430
760
Thomas Stevenson
https://www.vuelio.com/uk/wp-content/uploads/2019/09/vuelio-logo.png
Thomas Stevenson
2019-01-09 10:51:09
2019-01-09 10:51:09
Political Headlines - Gove says perfect Brexit is as likely as a date with Scarlet Johansson