Political Headlines – Bercow under fire and Brexit latest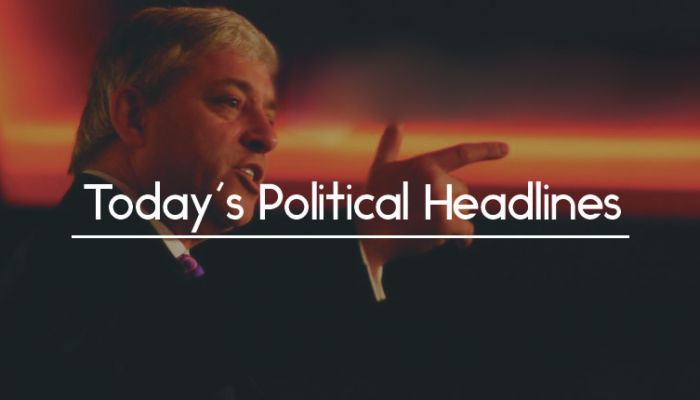 Today's political headlines include Bercow under fire for setting a 'damaging precendent', Corbyn to call for general election, Tory rebels open talks with Labour about alternative deal and May to back workers' rights to woe Labour MPs. 
Bercow under fire from ministers for setting 'damaging precedent'
The BBC reports that Commons Speaker John Bercow has been criticised by ministers for allowing an amendment to the Government's business motion on the vote on the Withdrawal Agreement, which they claim broke with parliamentary precedent. The amendment, which was passed, forces the Government to come up with new plans within three days should May's deal be defeated, rather than within three weeks. The Leader of the House of Commons, Andrea Leadsom, claimed that Bercow had set 'a very damaging precedent'.
Corbyn to call for general election again
According to The Guardian, Jeremy Corbyn will use a speech in Wakefield today to call for Theresa May to call a general election, which would 'let the people decide' on her Brexit deal and 'break the deadlock'. Yesterday, two Labour frontbenchers confirmed that Labour would call for a vote of no confidence in May very soon after her deal is defeated next week.
Tory rebels open talks with Labour about alternative deal
The Times claims that Tory rebels have opened talks with Labour about an alternative to Theresa May's deal. Speaking in the House of Commons, Labour's Shadow Brexit Secretary confirmed to Ken Clarke that the party would enter cross-party discussions 'in the right' spirit once May's deal is defeated, while he told Sir Oliver Letwin that there would need to be a 'consensus' in the Commons if no-deal was to be avoided.
May to back workers' rights in attempt to secure Labour support for deal
The Mirror says that Theresa May is likely to attempt to gain Labour MPs' support for her deal by backing an amendment put down by Labour backbenchers John Mann, Caroline Flint and Gareth Snell guaranteeing that existing EU workers' and environmental rights would be protected after Brexit. The paper suggests that up to 20 Labour MPs could support the deal if the amendment is successful.
Eurotunnel complain about ferry contracts
According to the Financial Times, Eurotunnel is claiming that the Government's decision to award contracts worth up to £103m to three ferry companies to provide additional capacity in the event of a no-deal Brexit is 'distortionary and anti-competitive', and a breach of 'competition and state-aid law'. In a letter to Transport Secretary Chris Grayling the firm hinted that it could take legal action against the Government.
Senior MPs propose holding inquiry into abuse
The Guardian claims that Parliament 'is moving towards' holding a Speaker's conference to examine the abuse and harassment of MPs after the idea was put forward by Ken Clarke and Harriet Harman. A cross-party group of MPs would examine the evidence and decide the best way of balancing the right to protest and allowing MPs to work freely.
Forced marriage victims will no longer have to pay for their rescue
The Times reports that, following an earlier investigation by the paper, the Foreign Secretary, Jeremy Hunt, has announced that women rescued from forced marriages abroad by the Foreign Office will no longer be charged for the cost of their rescue. The department will now seek court orders to force their parents to pay instead.
Japanese carmakers urge Shinzo Abe to make no-deal Brexit impact clear to May
The Financial Times says Japanese car manufacturers with factories in the UK have been urging the Japanese Prime Minister, Shinzo Abe, to make the impact of a no-deal Brexit clear to Theresa May when they meet today. The Sun adds that the lifting of a 23-year trade ban on exports of British beef and lamb to Japan is to be announced.
Want to understand what the latest news means for you? Get Vuelio Political Services.
https://www.vuelio.com/uk/wp-content/uploads/2018/05/John-Bercow.jpg
430
760
Thomas Stevenson
https://www.vuelio.com/uk/wp-content/uploads/2019/09/vuelio-logo.png
Thomas Stevenson
2019-01-10 12:26:38
2019-01-10 12:26:38
Political Headlines - Bercow under fire and Brexit latest