Political Headlines – Tory leadership and Labour's Brexit position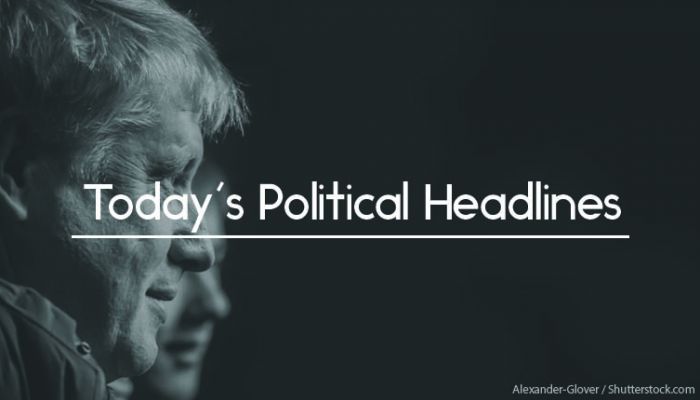 Today's political headlines includes rivals raising the heat on Johnson, Corbyn to set out Labour's Brexit stance, Raab's campaign manager accuses Tory MPs of pretending to support him and Farage says he could do a deal with Johnson. 
Rivals raise heat on Johnson
The Times says rival leadership candidates used last night's debate to raise the heat on Boris Johnson, who softened his stance on Brexit, moved away from his suggested tax cuts on high earners and refused to commit to blocking Heathrow expansion. Rory Stewart also came under scrutiny, later agreeing that his performance was 'lacklustre'. In the second round of voting, Johnson got 126 votes while Dominic Raab was eliminated. Jeremy Hunt, Michael Gove and Sajid Javid all grew support marginally, but Stewart's votes nearly doubled.
Corbyn to set out Labour's Brexit stance
The Guardian reports that in the 'coming days' Jeremy Corbyn will set out Labour's latest Brexit stance in a speech, but is unlikely to back deputy leader Tom Watson's calls for the party to adopt a more pro-remain approach. Instead he will develop his existing position of a public vote on any Brexit deal, although some shadow cabinet members are concerned about the impact this would have in their constituencies.
Raab's campaign manager accuses Tory MPs of pretending to support him
The Times says that Sr Hugo Swire, Dominic Raab's campaign manager, has said that his elimination was 'a surprise and a big disappointment', accusing MPs of pretending to support Raab. He said that most of Raab's backers were now likely to transfer their support to Boris Johnson as it was 'difficult to see them not backing' a hard-Brexiteer.
Farage says he could do deal with Johnson
Speaking at an event organised by The Daily Telegraph, Brexit Party leader Nigel Farage has indicated that he could form an election pact with Boris Johnson, saying that if Johnson chose to fight an election backing a no-deal Brexit there 'is a deal that could be done' which would lead to 'a massive, massive majority'.
Hammond threatens to resign over school funding plan
The Sun says that Chancellor Philip Hammond openly threatened his resignation yesterday over a dispute with Theresa May about plans to boost school funding by £27bn. Asked if he had quit, he said 'no, not yet'. Cabinet ministers have indicated to the paper they are backing Hammond and believe the decision on the plans should be left to May's successor.
Johnson rebuilds links with business leaders
The Financial Times says Boris Johnson held a private breakfast with business leaders yesterday, accompanied by Chief Secretary to the Treasury Liz Truss, in an attempt to rebuild his relationship with them after his 'fuck business' remarks last year. He told attendees these had been taken out of context and pointed to his record as Mayor of London.
Khan accuses Tory candidates of adopting far right language
The Guardian says Sadiq Khan is to accuse Tory leadership contenders of adopting the language of the far right, warning that it could lead to events such as the massacre at the mosque in Christchurch, New Zealand. He will describe the Conservatives' approach to Islamophobia as 'utterly shameful'. The paper adds that during yesterday's debate Sajid Javid got the other candidates to commit to an investigation into Islamophobia in the party.
Labour to announce plans for warnings on alcohol
The Sun reports that Labour's Shadow Health Secretary Jon Ashworth is to announce plans to make alcohol carry warnings about the dangers of drinking too much, with details of calories and national drinking guidelines. He will warn that 'the current voluntary approach is simply not fit for purpose', but Chris Snowdon of the Institute of Economic Affairs claimed that 'the nanny statists are at it again'.
Don't miss anything important, get Vuelio Political Services.  
https://www.vuelio.com/uk/wp-content/uploads/2018/09/Boris-Johnson-looking.jpg
430
760
Thomas Stevenson
https://www.vuelio.com/uk/wp-content/uploads/2019/09/vuelio-logo.png
Thomas Stevenson
2019-06-19 09:43:13
2019-06-19 09:43:13
Political Headlines - Tory leadership and Labour's Brexit position