Political Headlines – Johnson supporters try to knock out Gove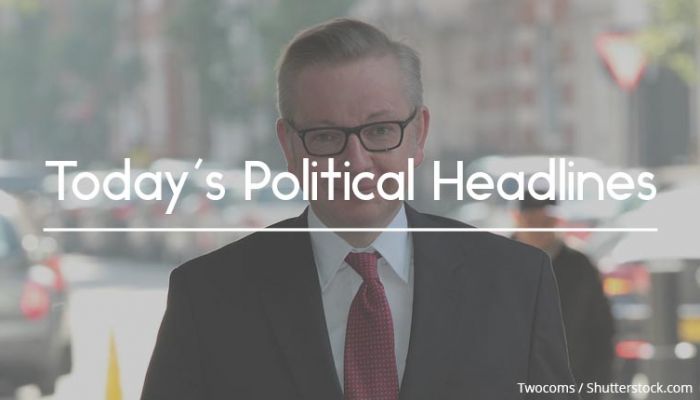 Today's political headlines includes Johnson supporters trying to knock out Gove, Stewart knocked out, Javid wants to be Johnson's Chancellor and BBC debate questioners suspended.  
Johnson supporters to try to knock out Gove
The Daily Telegraph claims that Boris Johnson's supporters will try to knock Michael Gove out of the leadership race today, with one claiming that they wanted him to be 'humiliated'. They intend to lend Sajid Javid enough votes in this morning's round to eliminate Gove and are pressuring former supporters of Rory Stewart to back Javid or Jeremy Hunt. Johnson's supporters believe that Hunt will be the easiest to beat in a head-to-head contest.
Stewart knocked out of leadership contest
The Guardian reports that Rory Stewart was eliminated from the Conservative leadership contest last night, having lost ten votes since the previous round. This prompted speculation that he might have previously been lent votes by Boris Johnson in order to ensure that Dominic Raab was eliminated. Stewart said that 'all sorts of things might be happening in strange secret ballots'.
Javid wants to be Johnson's Chancellor, rivals claim
The Times claims that according to his rivals Sajid Javid wants to be Boris Johnson's Chancellor. According to Javid's allies, Johnson spend yesterday trying to persuade him to pull out and endorse Johnson instead, but there weren't any face-to-face talks. He has said that he is the 'change candidate' and will not be 'pulling out'.
Two BBC debate questioners suspended
The Daily Mail says two of the questioners from the BBC's Conservative leadership debate have been suspended from their jobs over offensive social media posts which the corporation's vetting didn't find. Abdullah Patel, the deputy head of a primary school, was suspended over tweets blaming women for rape and containing antisemitism, while Aman Thakar, who used to work for Labour, has been suspended from the law firm he works for after he tweeted that Hitler's most harmful legacy was his 'abuse of nationalism'. Iain Duncan Smith said there was 'clear bias' against the Tories and called for Ofcom to investigate.
Johnson tells rivals they don't disagree on 'much'
According to The Sun, Boris Johnson's stance on Brexit is being questioned after he was overheard telling his opponents that 'we don't disagree on that much' following the leadership debate on Tuesday, adding that they 'hardly' disagreed on dates. The candidates' microphones were still attached as the exchange happened while they left the studio.
Corbyn rejects calls to move to pro-remain stance
The Guardian claims that Corbyn used yesterday's shadow cabinet meeting to indicate that he was not happy to move to a more pro-remain stance despite pressure, including from John McDonnell, telling attendees that he had been getting inspiration from Harold Wilson's autobiography. Wilson allowed ministers to campaign on both sides of the referendum.
Hammond to accuse candidates of not being realistic
The Financial Times says Chancellor Philip Hammond will use a speech at Mansion House to say he is trying to prevent a no-deal Brexit and none of the leadership contenders is being realistic. He will add that 'if the new Prime Minister cannot end the deadlock in parliament, then he will have to explore other democratic mechanisms to break the impasse'.
Living standards improvements have stalled, thinktank says
The Sun carries details of a new report by the Resolution Foundation which finds that 18-29 year olds are spending £23 a week less on recreation compared to 20 years ago as basics rise in cost, but pensioners are spending £47 more due to them working longer and the 'triple lock'. David Willetts of the thinktank said that 'big living standards gains that each generation used to enjoy over their predecessors have stalled'.
Need political intelligence that means something? Get Vuelio Political Services.  
https://www.vuelio.com/uk/wp-content/uploads/2018/09/Michael-Gove-2.jpg
430
760
Thomas Stevenson
https://www.vuelio.com/uk/wp-content/uploads/2019/09/vuelio-logo.png
Thomas Stevenson
2019-06-20 09:32:05
2019-06-20 09:32:05
Political Headlines - Johnson supporters try to knock out Gove