Political Headlines – Hunt calls Johnson a coward in Tory leadership latest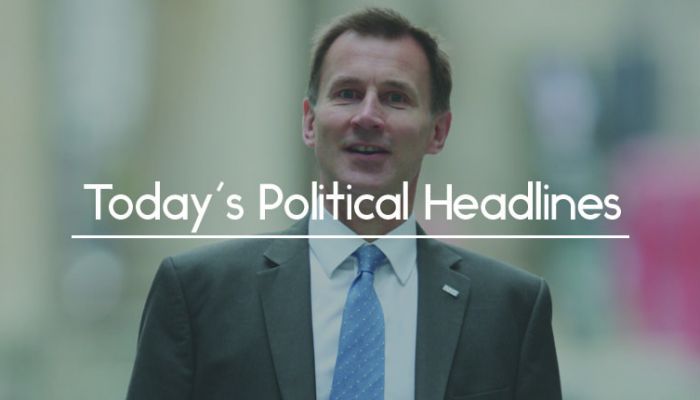 Today's political headlines includes Hunt accusing Johnson of cowardice, Johnson and Symonds have been driven out of their flat, and Johnson's Brexit stance while being contradicted over no-deal tariff claims. 
Hunt accuses Johnson of cowardice
Writing in The Times, Jeremy Hunt accuses Boris Johnson of being a 'coward' who is willing to 'slink through the back door' of 10 Downing Street while avoiding being questioned, telling him to 'man up'. He has been refusing to provide an explanation of the incident at the flat he shares with his partner, Carrie Symonds, which led to police being called after neighbours heard screaming. Johnson has also only agreed to participate in two broadcast debates, both of which will only take place after ballot papers are sent to members.
Anarchists drive Johnson and Symonds out of flat
According to the Daily Mail, Boris Johnson and Carrie Symonds have been forced to go into hiding after anarchists from the group Class War staged a protest outside their flat, with a friend of the couple telling the paper that the couple have 'a very loving and stable relationship' and have 'spent the weekend together'. The Daily Mirror says that Johnson's friends claim that he is 'yearning' to be with his estranged wife, while The Sun claims that the row followed a series of four over the last six weeks in what a friend described as 'an incredibly volatile relationship', including the couple nearly splitting up earlier this month.
Johnson says he won't 'bottle' Brexit
Boris Johnson has used his column in The Daily Telegraph to promise that he won't 'bottle' Brexit and that 'we can, we must and we will leave' the European Union on 31 October. He also claims that once Brexit has been completed, the focus should be to 'turbocharge' the economy, promising higher pay not higher taxes.
Cox and Fox contradict Johnson over no-deal tariff claims
The Financial Times claims Attorney-General Geoffrey Cox has told the Government that, despite claims by Boris Johnson, the UK would probably not be able to maintain its existing tariff-free trade with the EU in the event of a no-deal Brexit, even for a time-limited period. Cox's stance has also been backed by International Trade Secretary Liam Fox.
Hunt says UK would consider joining US attack on Iran
In an exclusive, the Daily Mail reports that Foreign Secretary and leadership contender Jeremy Hunt has said that the UK would consider joining a US-led military attack on Iran, but that it would do so 'on a case-by-case basis'. He added that Iran should 'stop its destabilising activity throughout the Middle East' and said that it was 'almost certainly' responsible for recent sabotage to oil tankers.
NHS boss raises prospect of compulsory tax on gambling firms
The Times says that Simon Stevens, the head of NHS England, has said that the voluntary levy on the gambling industry wasn't raising enough to pay for the treatment of addicts and 'the possibility of a mandatory levy' should be left open. Health and Social Care Secretary Matt Hancock said he was 'determined to do everything I can to help anyone affected'.
Most types of Brexit to worsen UK's finances
The Guardian reports that a new report by the UK in a Changing Europe thinktank finds that most types of Brexit would lead to the UK's finances becoming worse, giving the country less capacity to tackle issues such as child poverty, social care and left-behind communities.
Report claims current technology could make backstop obsolete
The Daily Telegraph carries details of a new report by the thinktank Prosperity UK, which claims that a hard border on the island of Ireland could be prevented using existing technology to deliver 'invisible' customs checks, making the backstop 'obsolete' within three years. The report was led by Nicky Morgan and Greg Hands and is supported by Brexiteers such as Iain Duncan Smith, Jacob Rees-Mogg and Steve Baker.
The Tory leadership campaign is not the only political campaign Vuelio Political Services.  
https://www.vuelio.com/uk/wp-content/uploads/2018/03/Jeremy-Hunt-26-03-18.jpg
430
760
Thomas Stevenson
https://www.vuelio.com/uk/wp-content/uploads/2019/09/vuelio-logo.png
Thomas Stevenson
2019-06-24 08:00:20
2019-06-24 09:28:29
Political Headlines - Hunt calls Johnson a coward in Tory leadership latest