Political Headlines – Tory ministers will revolt to support Brexit delay and more Labour MPs could defect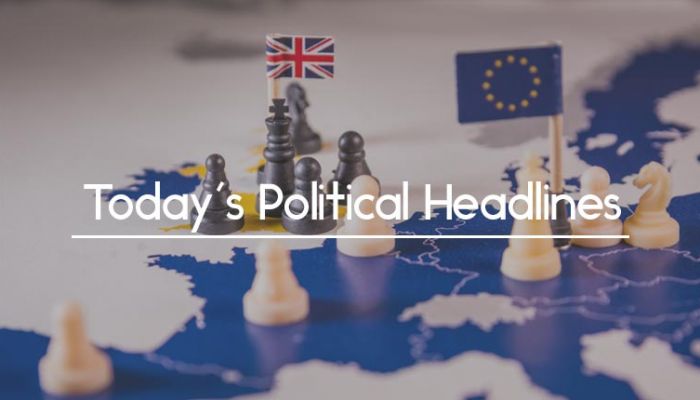 Today's political headlines include Tory ministers and backbenchers warn they'll revolt, more Labour MPs will defect if Corbyn doesn't back second referendum and the Tories who want Umunna to lead Independent Group. 
Tory ministers and backbenchers warn they'll revolt to support Brexit delay
The Guardian reports that up to 25 ministers may vote for a delay to Brexit next week unless Theresa May rules out a no-deal Brexit. They would not offer to resign, which would force May to decide on whether or not to sack them. The Daily Telegraph has obtained a leaked letter in which the 100-strong Brexit Delivery Group of moderate Conservative MPs has warned the Prime Minister that they are prepared to vote to delay Brexit if she doesn't secure a deal, calling for a free vote on next week's backbench amendment on a delay.
More Labour MPs will defect if Corbyn doesn't back second referendum
According to The Times Jeremy Corbyn's office has been wanted that dozens of Labour MPs could defect to the Independent Group unless he backs plans for a second referendum, including shadow ministers. They are calling on him to back an amendment to next week's Brexit motion tabled by Peter Kyle and Phil Wilson which calls for such a vote.
Umunna should lead Independent Group, Tory defectors say
The Daily Telegraph claims that two of the Conservative defectors to the Independent Group, Heidi Allen and Anna Soubry, have insisted that Chuka Ummuna should lead the group. Allen told the paper that he would get 'the best' out of the group, although further defections could change that. She also insisted the group wouldn't become 'a home for waifs and strays' by admitting MPs who left Labour in controversial circumstances.
Minister backs ban on selling scratchcards to 16 and 17 year olds
The Sun reports that Sports Minister Mims Davies has suggested that the Government will act 'soon' to ban the sale of scratchcards to 16 and 17 year olds, as well as restricting betting and alcohol brands from advertising on football strips. She insists that the move is 'not to stop people having fun' but to protect the 'most vulnerable'.
Juncker 'not very optimistic' about Brexit deal chances
The Daily Telegraph says that the EU has rejected a proposal from the Attorney General, Geoffrey Cox, which would have allowed the UK to leave the backstop without the EU's consent. European Commission President Jean-Claude Juncker admitted he was 'not very optimistic' about the chances of a deal, adding that he was suffering from 'Brexit fatigue'.
Prosecutions fall to lowest level ever recorded
The Times reports that prosecutions have fallen to their lowest number since records began nearly 50 years ago, despite increases in recorded crime. Victims' rights campaigner Harry Fletcher told the paper that the fall was 'clearly linked to cuts', accusing the Government of damaging the 'criminal justice system at every stage'.
Joan Ryan reported by Labour for alleged data protection breach
The Guardian says that Joan Ryan has been reported to the Information Commissioner by the Labour Party for accessing party systems after her defection to the Independent Group, a claim which she denies. As a result the party shut down access to two key campaigning tools yesterday.
Trade deals with Japan and Turkey won't roll over
The Financial Times reports that the Government has confirmed that trade deals with Turkey and Japan will not be rolled over on exit day in the event of a no-deal Brexit, leading to the immediate imposition of tariffs. It also confirmed that it is still in talks with most of the 71 countries covered by EU trade agreements
Now's not the time to have poor political monitoring – get intelligent analysis with Vuelio Political Services.
https://www.vuelio.com/uk/wp-content/uploads/2019/01/Brexit-pieces.jpg
430
760
Thomas Stevenson
https://www.vuelio.com/uk/wp-content/uploads/2015/10/vuelio-logo-transparent.png
Thomas Stevenson
2019-02-22 10:32:39
2019-02-22 10:32:39
Political Headlines - Tory ministers will revolt to support Brexit delay and more Labour MPs could defect