Political Headlines – May delays 'meaningful vote' and considers Brexit extension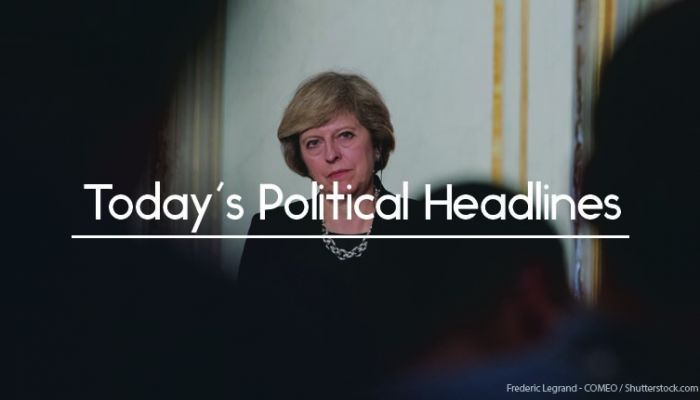 Today's political headlines include May delaying the meaningful vote on brexit until 12 March and considering a Brexit extension, EU officials exploring the delay of Brexit until 2021 and growing support for postponing Brexit. 
May delays Brexit 'meaningful vote' until 12 March
The Times reports that Theresa May has said that she will not put an amended Brexit agreement to the Commons this week, setting a new deadline of 12 March. The paper claims that this means that she will now spend the week 'separately attempting' to prevent Cabinet ministers from resigning ahead of Wednesday's Brexit motion, with some calling on her to rule out a no-deal Brexit in a statement to the Commons.
May considers Brexit extension
The Daily Telegraph claims that Theresa May is considering plans to delay Brexit by up to two months. It is one of three scenarios drawn up by Downing Street in an attempt to stave off ministerial resignations this week and prevent a rebellion in support of amendments backing such an extension. The others include a meaningful vote on the deal, which she has ruled out, and a conditional vote on plans drawn up by the Attorney General Geoffrey Cox to time-limit the Irish backstop. May has resisted calls to sack Amber Rudd, David Gauke and Greg Clark, who indicated at the weekend they could support attempts to delay Brexit.
EU officials explore delaying Brexit until 2021
The Guardian says that the EU's 'most senior officials' are exploring plans which would significantly extend the Brexit negotiation period, delaying Brexit until 2021. This would allow the two sides to develop their future relationship and thus make the Irish backstop redundant. The EU does not want to offer a short extension and then find the issue being revisited in the summer, creating what one diplomat called a 'rolling cliff-edge'.
Support for postponing Brexit grows
According to the Financial Times, support is growing for parliamentary amendments to extend Brexit talks. Yvette Cooper and Sir Oliver Letwin are proposing an amendment that would empower Parliament if there was no agreed deal by March 13, allowing it to request an extension, while the leaders of the Brexit Delivery Group of Tory MPs, Andrew Percy and Simon Hart are proposing to extend negotiations until the European elections in May.
May says she wants to deliver her 'domestic agenda'
The Sun reports that Theresa May told reporters, when asked if she was planning to resign in the summer as some ministers have demanded, that 'there is still a domestic agenda that I want to get on with'. She also denied accusations from Anna Soubry that she 'had a problem with immigration', adding that it 'has overall been good for the UK.'
Ministers plan no-deal Brexit 'hardship fund'
The Times has obtained a document from the cabinet committee responsible for no-deal Brexit preparations that shows ministers are planning a 'hardship fund' for those affected, will use 'tax and benefits policy' to offset price rises and will tackle food shortages.
Watson says Corbyn should lead efforts to tackle antisemitism
The Guardian reports that Labour's deputy leader Tom Watson used an interview with Andrew Marr to call on Jeremy Corbyn to lead efforts to tackle antisemitism in Labour, describing it as 'a crisis for the soul of the Labour Party'. The paper has seen a dossier of complaints made by Labour MPs to Watson including details of members' antisemitic tweets.
Field calls for Spring Statement benefits 'rescue package'
The Daily Mirror says that Commons Work and Pensions Committee Chair Frank Field has called for the Chancellor to use the Spring Statement to deliver a 'rescue package' to low income families affected by benefit caps and freezes, which he said had a 'devastating' effect on the poorest families in the country.
Need meaningful political intelligence? Don't delay, get Vuelio Political Services today.
https://www.vuelio.com/uk/wp-content/uploads/2018/11/Hunting-May.jpg
430
760
Thomas Stevenson
https://www.vuelio.com/uk/wp-content/uploads/2015/10/vuelio-logo-transparent.png
Thomas Stevenson
2019-02-25 10:53:03
2019-02-25 10:53:03
Political Headlines - May delays 'meaningful vote' and considers Brexit extension