Political Headlines – Corbyn to support second referendum if MPs reject Labour's Brexit plan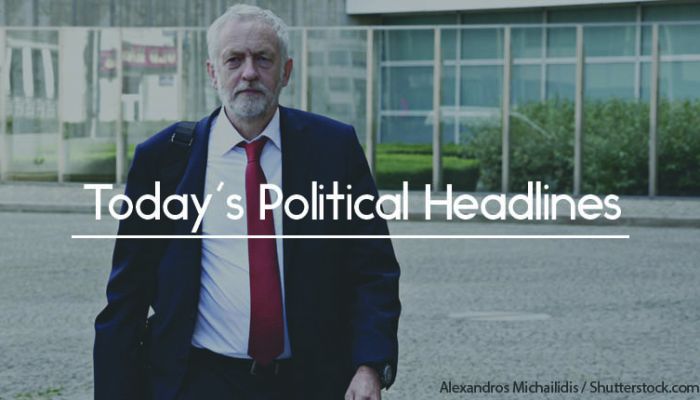 Today's political headlines include Corbyn to support second referendum if MPs reject Labour's Brexit plan, May to offer MPs Brexit delay, ministers call on May to rule out no-deal Brexit and UK would pay divorce bill in no-deal scenario. 
Corbyn to support second referendum if MPs reject Labour's Brexit plan
The Guardian says that Jeremy Corbyn has 'finally' given Labour's backing to a second Brexit referendum, in which remain would be an option. The party has said it will back such a vote if its Brexit proposals are rejected this week, in a move designed to stem defections to the Independent Group but which will lead to opposition from MPs with leave-voting seats.
May to offer MPs Brexit delay
The Financial Times reports that Theresa May is to 'offer MPs the chance to take a no-deal Brexit off the table', making a statement in the Commons later today in which she will say that there could be a 'short' delay in Brexit. This morning's Cabinet will be presented with a new plan, with a 'meaningful vote' on a revised Brexit deal on March 12, and if this is rejected there would be a further vote between a no-deal Brexit or a 'short extension'.
Ministers call on May to rule out no-deal Brexit to prevent a 'disaster'
The Daily Mail claims that Theresa May is ready to rule out a no-deal Brexit after 23 dissident ministers met in the Commons last night to discuss how to prevent such as scenario. Up to 15 are believed to be prepared to resign, with ministers Richard Harrington, Margot James and Clare Perry writing in the paper that, if Parliament doesn't agree a deal by March 13, May must extend the negotiations, or they 'will have no choice other than to join MPs of all parties and fellow ministers in acting in the national interest to prevent a disaster'.
UK would pay 'divorce bill' in no-deal Brexit scenario
The Daily Telegraph says that a Cabinet committee dealing with preparations for a no-deal Brexit has signed off plans to settle a large part of the £39bn Brexit settlement even if there is a no-deal Brexit, despite the expectation of Brexiteers that it would not be payable in such a scenario. The Treasury has advised that at least part of the settlement is legally unavoidable and failing to honour the UK's commitments would risk the UK's debt rating.
New poll shows Independent Group and Lib Dems combined would outpoll Labour
The Times carries details of a new YouGov poll which shows that the combined level of support of the Independent Group and the Liberal Democrats is now higher than that of Labour. Labour are on 23%, the Independent Group (TIG) on 18% and the Liberal Democrats on 6%. However, the Conservatives are on 36%. Without TIG the Conservatives are on 41%, Labour are on 30% and the Lib Dems on 10%.
Shuker to convene the Independent Group
The Guardian reports that the Independent Group has selected Gavin Shuker as its convenor, having decided to postpone selecting a leader until later this year, when it hopes to have become a political party. Specialist spokesperson roles may be announced earlier, while the group has rebuffed suggestions from the Lib Dems that they might work together.
Government to protect sensitive sectors with tariffs
According to the Financial Times, the Government has decided to protect 'sensitive agricultural and manufacturing sectors' after a no-deal Brexit by maintaining tariffs, while dropping tariffs on most other goods. As 30% of the food consumed in the UK comes from the EU, this will push up prices for consumers.
May faces rebellion over EU citizens' rights
The Daily Telegraph claims that Theresa May is facing a 'major rebellion' after over 130 MPs, including 60 Conservatives, backed an amendment to her Brexit motion demanding a written guarantee on the right of EU citizens in the UK in a no-deal Brexit scenario. Backers include both Brexiteers such as Jacob Rees-Mogg and pro-EU MPs including Dominic Grieve.
These political headlines are put together by Vuelio Political Services.
https://www.vuelio.com/uk/wp-content/uploads/2018/09/Jeremy-Corbyn-walking.jpg
430
760
Thomas Stevenson
https://www.vuelio.com/uk/wp-content/uploads/2019/09/vuelio-logo.png
Thomas Stevenson
2019-02-26 10:13:06
2019-02-26 10:13:06
Political Headlines - Corbyn to support second referendum if MPs reject Labour's Brexit plan