Political Headlines – Watson urged to apologise after false allegations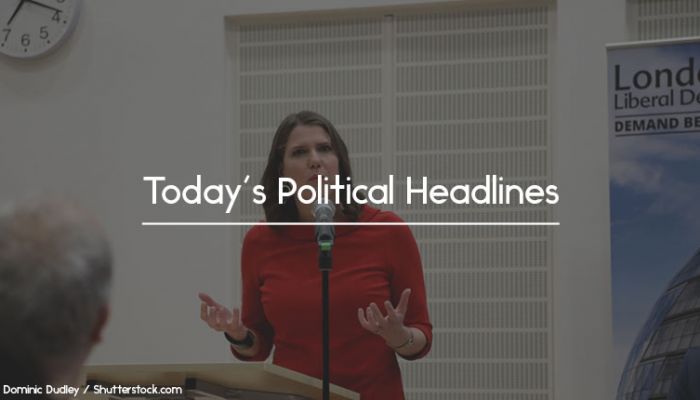 Today's political headlines includes Labour deputy leader Tom Watson urged to apologise after false allegations, Swinson elected as Lib Dem leader and Johnson to announce new domestic policies if elected. 
Watson urged to apologise after VIP paedophile ring accuser convicted of lying
The Times says that Labour deputy leader Tom Watson is being urged to apologise after the paedophile Carl Beech was convicted of making false allegations about being abused by a ring of VIPs, including former Home Secretary Leon Brittan. Watson wrote that it was 'a travesty' that Brittan 'will never be asked the truth', while the son of another accused politician, Greville Janner, claimed that Watson had politicised the police investigation for 'personal political advancement'.
Swinson elected as Lib Dem leader
The Guardian reports that Jo Swinson has been elected as the new leader of the Liberal Democrats, winning almost two-thirds of the vote. In her acceptance speech, she said that 'liberalism is alive and thriving, in the face of nationalism, populism, the catastrophe of Brexit', adding that it was 'the time for working together, not the time for tribalism'. The Times adds Justice Secretary David Gauke has warned that a no-deal Brexit will 'play into the hands' of the Lib Dems, saying Swinson 'will be an energetic and passionate advocate'.
Johnson to announce new domestic policies if he's elected today
The Sun claims that Boris Johnson will immediately 'start to unveil a blitzkrieg of domestic plans' if he is elected as Tory leader today. He will announce a state-backed social care insurance scheme, new rules and funding to end regional imbalances in school funding and a 'Brexit dividend' for the regions. The Daily Telegraph says that Johnson will lift Hammond's controls on public spending, pausing deficit reduction to fund tax breaks for those earning under £80,000.
May and Hancock in argument over 'sin taxes'
According to the Financial Times, Health and Social Care Secretary Matt Hancock tried to block the publication of a new green paper promising to end smoking by 2030 and to ban the sale of energy drinks to children, but was over-ruled by Theresa May. He is a supporter of Boris Johnson, who has opposed so-called 'sin taxes'.
Ministers confirm they'll resign rather than serve under Johnson
The Guardian reports that International Development Secretary Rory Stewart has joined David Gauke and Philip Hammond in confirming that he will resign rather than serve under Boris Johnson, while Foreign Office Minister Sir Alan Duncan resigned to request an emergency debate to test whether Johnson could command a majority, but this was rejected by the Speaker. The Times says Johnson has met Stewart, Gauke and Hammond as part of a 'charm offensive', amid concerns they will be 'nightmare' backbenchers.
Three former Prime Ministers criticise Johnson over no-deal Brexit plans
The Daily Mirror leads with the news that three former Prime Ministers – Gordon Brown, Tony Blair and Sir John Major – have criticised Boris Johnson over his no-deal Brexit plans, with Brown claiming that it would be the world's largest 'self-inflicted wound' and Major saying that Johnson would face 'uncompromising opposition'.
Labour steps up efforts to combat antisemitism
The Guardian says that Labour is increasing its efforts to tackle antisemitism, with the shadow cabinet backing new plans from Jeremy Corbyn to speed up the expulsion of antisemites from the party. A new rule will see members who have committed the most serious offences referred to a new panel with the power to immediately expel them.
Iran accused of 'state piracy' by Hunt
The Daily Mail reports that Foreign Secretary Jeremy Hunt yesterday accused Iran of 'state piracy' over its seizure of a British tanker, saying that the UK would 'seek to put together a European-led maritime protection mission to support safe passage of both crew and cargo in this vital region'.
Stay up to date with Vuelio Political Services.  
https://www.vuelio.com/uk/wp-content/uploads/2019/07/political-headlines-23.07.19.jpg
430
760
Thomas Stevenson
https://www.vuelio.com/uk/wp-content/uploads/2023/09/vuelio-logo-200px.png
Thomas Stevenson
2019-07-23 09:42:59
2019-07-23 09:42:59
Political Headlines - Watson urged to apologise after false allegations