Political Headlines – Patel tipped for Home Secretary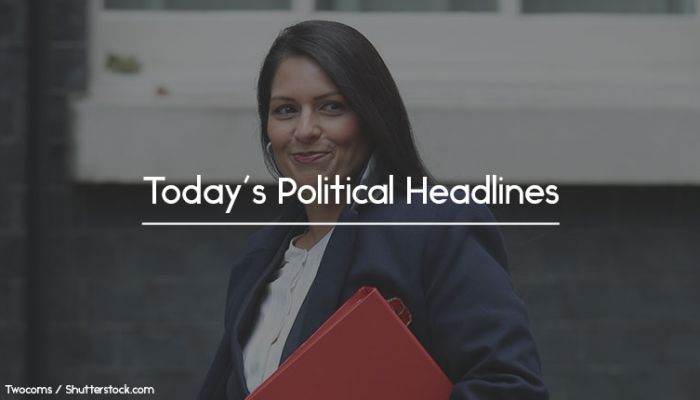 Today's political headlines includes Priti Patel is tipped to become Home Secretary, Hunt resists demotion and rejects role of Defence Secretary and Johnson is to set out his domestic agenda. 
Patel tipped for Home Secretary
The Times claims that Boris Johnson is to promote Priti Patel to the post of Home Secretary today, following his victory in the Conservative leadership contest and his installation as Prime Minister today. Aides have said that Johnson wants to create a 'cabinet for modern Britain', with more women as full members and a record number of non-white MPs in his wider team. The paper claims that Sajid Javid faces competition from Liz Truss for the role of Chancellor and expects Rishi Sunak to join the Cabinet. Other MPs likely to be promoted include Rishi Sunak, Oliver Dowden, Tracey Crouch and Robert Jenrick. Johnson has already made Mark Spencer his chief whip and Sky executive Andrew Griffith his chief business adviser.

Hunt resists demotion
According to The Sun, Boris Johnson yesterday offered his leadership rival Jeremy Hunt the role of Defence Secretary, only for Hunt to reject it, viewing it as a demotion from Foreign Secretary. He has apparently told Johnson that he wants to retain his current role and if Johnson wants to move him, he will have to sack him. The paper suggests that Johnson wants to make Penny Mordaunt the new Foreign Secretary.
Johnson to set out domestic agenda
The Daily Mail reports that Boris Johnson will use his speech outside Downing Street this afternoon to set out his domestic agenda. Yesterday he told the 1922 Committee of backbench Conservative MPs he would 'put a stop' to prosecutions of troops involved in the Troubles in Northern Ireland, while he used his speech after being elected to promise more police, full-fibre broadband to every home, better infrastructure and better education.
Johnson to meet Trump three times in next 100 days
According to The Daily Telegraph, Boris Johnson will meet Donald Trump three times before the UK leaves the EU in 100 days, with a visit to the USA expected in August, and further meetings at the G7 later that month and at the UN General Assembly in September, in an attempt to strengthen the 'special referendum'. Yesterday Trump said of Boris, 'They call him Britain Trump. And people are saying that's a good thing. They like me over there.'
Watson admits making 'real mistake' by believing paedophile ring allegations
The Times says that Labour deputy leader Tom Watson has admitted making 'a real mistake' by believing Carl Beech, convicted of lying about a Westminster paedophile ring. Harvey Proctor, one of those falsely accused by Beech, has called on Watson to disclose details of his contact with Beech to a parliamentary select committee.
Swinson vows to vote against Brexit even if it wins second referendum
The Daily Telegraph says that Jo Swinson, the new Liberal Democrat leader, has vowed to vote against Brexit, even if it wins a second referendum. She said such a vote wouldn't 'change my fundamental beliefs' and she had been elected on a 'firm manifesto pledge to fight for Scotland's place in the UK and the UK's place in the EU'.
Government going ahead with bottle and can deposit scheme
The Sun says that the Government is going ahead with plans for a deposit on cans and glass or plastic bottles, to be set at 10p or 20p, and which will be refundable via 'reverse vending machines'. The plans were unveiled by Environment, Food and Rural Affairs Secretary Michael Gove, who also said that he wanted to standardise council's recycling schemes.
Mann made antisemitism adviser
The Daily Telegraph reports that one of Theresa May's last actions as leader was to appoint the Labour MP John Mann as an advisor on antisemitism to the Government. Mann warned that 'if we stay silent on anti-Semitism, we allow cowardice and bigotry to speak its own repulsive language. I will endeavour to give a clarion call to government on prejudice and discrimination'.
Stay up to date with Vuelio Political Services.  
https://www.vuelio.com/uk/wp-content/uploads/2019/07/political-headlines-24.07.19.jpg
430
760
Thomas Stevenson
https://www.vuelio.com/uk/wp-content/uploads/2023/09/vuelio-logo-200px.png
Thomas Stevenson
2019-07-24 11:59:10
2019-10-21 10:36:25
Political Headlines - Patel tipped for Home Secretary