Politics on Sunday – 11 March 2018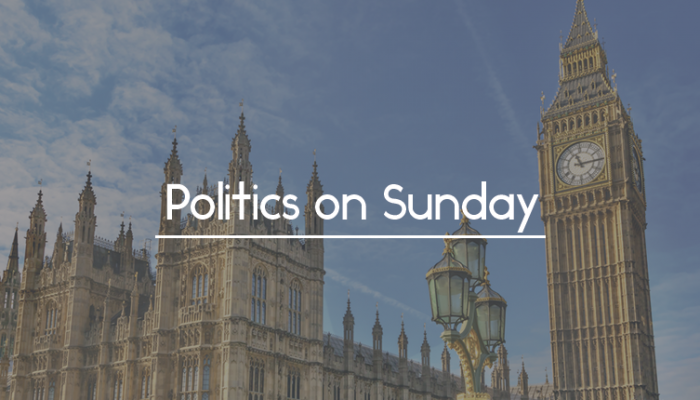 Chancellor Philip Hammond made an appearance on both Marr and Peston yesterday, where two topics (neither of which were Brexit!) were dominant: the economy and Russia. Ahead of the Spring Statement (Tuesday 13 March), Hammond gave his view on the state of the economy and said that there is 'light at the end' of the austerity tunnel as debt will begin to fall. However, Hammond made sure to point out that the UK is still that tunnel and the national debt must still come down.
When asked by Robert Peston whether he foresees the UK economy reaching a 60% debt to GDP ratio in our lifetime, Hammond responded by saying, 'It depends on how long you're planning on living'.
Hammond did have to face some Brexit-related questions. When asked by Peston about EU fishermen, Hammond responded it will be up to the UK to decide whether we allow European fishermen to enter our waters. He also said that it would come down to the results of the negotiation as to whether the UK will have access to the single market.
John McDonnell gave an alternative view of the economy on Marr by saying he did not see Hammond's assessment as being accurate and that 'austerity is holding growth back', lamenting the lack of growth in wages. McDonnell accused the Government of passing the buck on financial management to those that depend on the funding.
All the guests on Marr had to face questions relating to Russia. Perhaps the most notable Russia-related guest was Marina Litvinenko, the widow of ex-Russian agent Alexander Litvinenko who died after being poisoned in London.  She came with a warning to Theresa May that 'you need to be very selective who you are friends with' as the history of wealthy individuals coming into a country needs to be considered.
She also made the point that as someone else has been poisoned, it must mean the actions required were not taken. John McDonnell encouraged his Labour colleagues not to appear on Russia Today and that if Russia was involved in the attempted murder of Sergei Skripal, then Britain will need to take steps to isolate the country. Hammond said if there was evidence of a foreign state being involved in the Skripal attack then the Government will be responding appropriately.
Jacob Rees-Mogg was a guest on Peston and he views Russia as a serious threat to the UK and said a robust response is needed. Rees-Mogg also commented on Russian bots, saying he did not know who looks at his Twitter and whether any bots promote his views.
Rees-Mogg also said he would want any money that comes from the UK leaving the EU to go towards the NHS as we are not currently spending enough on health. Over the weekend, Peter Dowd appeared on Russia Today and was questioned on his appearance by Niall Paterson. He said the Labour Party will be reviewing the policy of appearing on Russia Today and he makes a decision on every offer he gets to appear on TV.
Check out the dedicated Canvas of political coverage by clicking here or on the image below.
You can also make your own canvas to bring to life any story, campaign or your press coverage.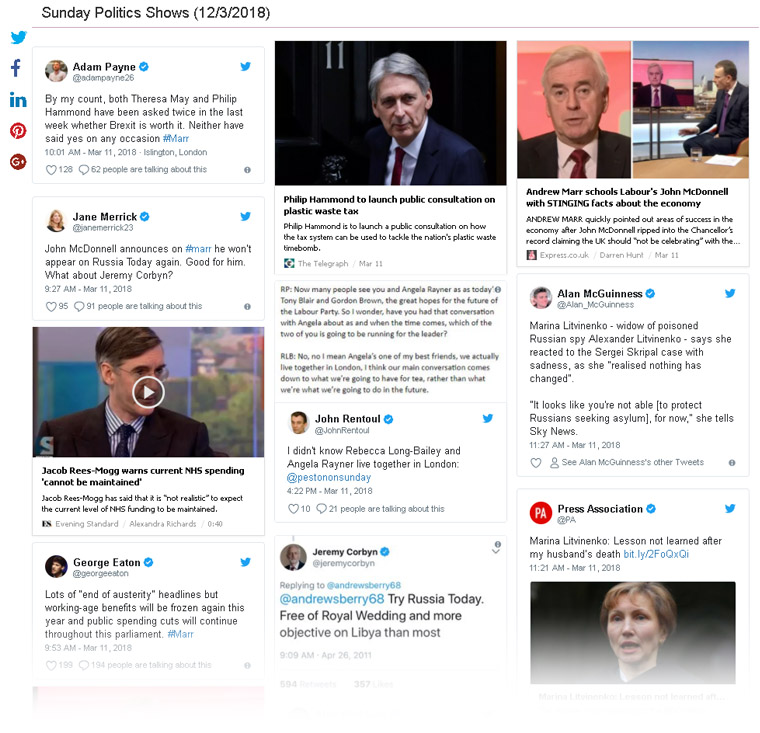 https://www.vuelio.com/uk/wp-content/uploads/2017/11/Politics-on-Sunday.png
430
760
Daniel Loman
https://www.vuelio.com/uk/wp-content/uploads/2019/09/vuelio-logo.png
Daniel Loman
2018-03-12 11:00:03
2018-03-12 11:00:03
Politics on Sunday - 11 March 2018