Today's Political Headlines – 12 March 2018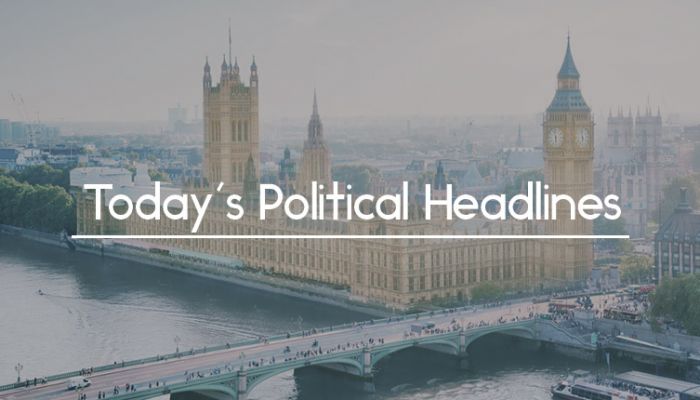 Today's Political Headlines include May on the verge of blaming Russia for spy attack, the Debbie Abrahams bullying claims, the most inactive parliament for two decades and Vince Cable under fire. 
May 'on the verge of publicly blaming Russia' for attack
The Times reports that Theresa May is 'on the verge of publicly blaming Russia' of the attempted murder of Sergei and Yulia Skripal, with an official announcement possible after a meeting of the National Security Council today. Retaliatory measures under consideration include expelling diplomats and cancelling visas, financial curbs, withdrawing all official World Cup representation, an international statement of condemnation, and/or boosting military deployments in Eastern Europe.
Debbie Abrahams steps aside over 'workplace issue'
Debbie Abrahams, Labour's Shadow Work and Pensions Secretary, has stepped aside following a 'workplace issue' according to the party, understood to be allegations of bullying, The Guardian reports. Abrahams rejects the claims.
Current parliament most inactive for over two decades
Analysis by The Times shows that the current parliament is the most inactive for at least two decades, which the paper attributes to 'ministerial panic' about potential defeats over both Brexit and domestic policy caused by the Government not having a working majority. Legislation on post-Brexit customs arrangements has been repeatedly delayed, while half of the eight Brexit bills originally envisaged have not been introduced.
Cable under attack over remarks about older Brexit voters
The leader of the Liberal Democrats, Sir Vince Cable, claimed at his party's conference yesterday that many older Brexit voters were driven 'by nostalgia for a world where passports were blue, faces were white and maps were coloured imperial pink'. The BBC reports that Cable's remarks have come under attack from Conservative politicians.
Global Britain strategy attacked in new report
In a new report, the House of Commons Foreign Affairs Committee claims the Government's Global Britain strategy risks damaging UK interests by becoming a 'superficial branding exercise'. As the Financial Times says, the report complains that no minister could give a 'definitive explanation' of the policy and there are no new resources to support it.
Motion of no confidence in Bercow to be tabled
According to The Guardian, the Speaker of the House of Commons, John Bercow, is to face a motion of no confidence today, tabled by a Conservative MP. Andrew Bridgen has said that either he, or another MP, will table an Early Day Motion expressing no confidence, following last week's bullying allegations. As the paper notes, few EDMs are actually discussed.
Hammond to hint at public spending increases in spring statement
When Philip Hammond gives his spring statement tomorrow, he will reassure Conservative MPs that he is planning 'significant public spending announcements' for the autumn budget following better than expected public sector finance figures, with NHS spending taking precedence, The Times claims. According to The Daily Telegraph, a consultation on a new 'litter levy' will be introduced in the statement.
University course rankings to be published
The Government has announced that 50 institutions are taking part in a project to publish teaching ratings for different university subjects, the Financial Times says. Sam Gyimah, the universities minister, has announced a consultation on the plans today.
Vuelio Political services are available to anyone looking to have a greater understanding of the political landscape.
https://www.vuelio.com/uk/wp-content/uploads/2018/01/Vuelio-Political-News.jpg
430
760
Thomas Stevenson
https://www.vuelio.com/uk/wp-content/uploads/2019/09/vuelio-logo.png
Thomas Stevenson
2018-03-12 09:32:28
2018-03-12 09:32:28
Today's Political Headlines - 12 March 2018