PR Interview: Rob Baney, senior sport & brand communications executive for The Playbook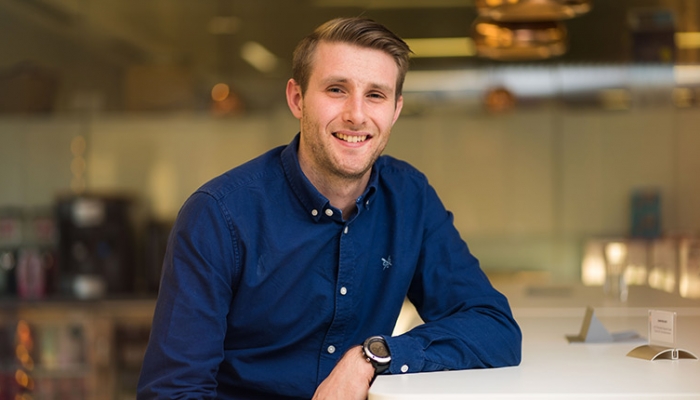 One of Vuelio's main objectives is to help comms professionals and teams streamline processes to allow them to focus their time and efforts on key priorities and projects. In a highly demanding industry, it's not solely a case of time management that creates a successful environment but a line-up of multiple factors. We caught up with Rob Baney, senior sport & brand communications executive at The Playbook, a leading communications agency working with a range of global brands, to discuss life as an agency PR professional in 2022.
What have you been working on lately?
It's been a busy start to 2022 at The Playbook… A couple of highlights: helping NFL UK fans celebrate Super Bowl the British way, including Greg James' hilarious Superb Owl segment on Radio 1 with The NFL Show pundits Jason Bell and Osi Umenyiora – nothing beats British humour. And heading out to Abu Dhabi in January to support the DP World Tour on the ground with local comms for the Abu Dhabi HSBC Championship, where Daffy Duck and Bugs Bunny swapped Warner Bros. World for the first Rolex Series event of the year.
Has this project been typical of the last 6-12 months?
In the past 12 months, I wouldn't say anything has been 'typical' – projects have changed, and continually change… I felt like I became an expert on UK covid testing and entry requirements ahead of a LaLigaTV press trip to Barcelona last autumn, but that's all redundant now. Since the turn of the year and even in the past month I'd say it's become more 'normal' and its exciting to be doing events again. One good example of this was our Sunday with LaLiga where we packed out the Sports Bar & Grill for an ElClasico watch party – it was great to see the passions of fans back in person.
How important is maintaining a good work/outside-work balance for employee wellbeing?
It's vital. I recently managed to get away to the Cheltenham Festival for a couple of days and had a great time. I went to university in Cheltenham and I always enjoy going back there to catch up with old mates. There are few better places than Cheltenham in race week.
I'd say a good work/life balance is now more important than ever, with everything work-related being an app click away. When you enjoy your work, checking emails and Teams can actually get quite addictive, so it's very important to force yourself to switch off. Although you might trick yourself otherwise, you do need the break.
How has the pandemic impacted your work?
It's impacted us massively. In all aspects of our job. Obviously, there were times where in-person activations weren't feasible and while virtual calls served a purpose, there are some opportunities that are far more effective face-to-face, so we've had to adapt throughout to service our clients. Having said that, it's also streamlined a lot of processes and there are a lot of benefits to Zoom (aside from the Hawaiian beach backgrounds).
As we look ahead to the rest of 2022, what trends do you see coming up?
The world is already opening up, and physical activations will come back in full. But it's virtually we'll see the most innovation. We recently had a workshop with an expert on all things Crypto, NFTs and the Metaverse. And it's the latter of these I see real potential for brands activating in this year… Lots have already jumped in to the 'Metaverse' and I expect more and more to do the same. I'm no way the expert but the way I try to explain it to friends is it's like a hybrid of The Sims, Rollercoaster Tycoon & GTA (without the crime); creating your own The Sims-like dream world like, building your entertainment offering Rollercoaster Tycoon-style, and then having you and your mates explore this world in the best clothes and with the coolest car, like your character in GTA. Pardon the pun, but there's literally a whole other world out there…
How do you plan to handle extra demand as business grows?
We're an agile agency and we've got a wider group who can support immediate needs. We take pride in our very successful always-on internship programme where we give on-the-job training to anyone with a willingness to learn, no experience or degree needed. We often have exciting projects come in and have a whole roster of experienced and trusted freelancers to call upon. When we need someone senior in permanent role, we have a thorough recruitment process to choose through the talented applicants. We are always on the lookout for the best talent.
Within your specific role, what have been your major learnings over the last few years?
One of our core values at The Playbook is to 'Never Settle' and I think this is something I consider on a daily basis. There's a lot of excellent projects we work on, but I'm always thinking: how could we make it better, could we have been more efficient, was the messaging strong enough, could we have had better imagery. There's lots of different ways to tell a story, and our job is always to tell that in the most compelling way possible.
What are the greatest day-to-day challenges for agency PRs? 
Time – isn't it for everyone? Managing your time is so important, we're always working to tight deadlines, so you need to have a good handle on your time and your colleague's time so we can achieve everything we want.
With such a large and varied client base, how do you manage multiple relationships and campaigns?
It sounds cheesy but communication is key. If we've got an event on for one client on a certain day and we've a clash with another client deadline, then being upfront and honest is the best approach. They trust us to do our job, and they know we have other clients to service.
PR is playing a more important role in the wider conversation around ESG and CSR – how will this impact your clients?
If there are compelling and interesting ESG or CSR stories to tell, then we'll be the first to consult our clients and help tell them in the best way possible. I can't stress enough the importance of doing something purposeful, without this it's opening yourself up for criticism. Brands should want to help society, and without getting to deep, in a capitalist world where profits rule, there's plenty of value for clients to put resources towards helping people.
How are client strategies changing with regards to the current climate?
Usually I'd say strategies are often based off performance, so if performances are strong the strategy will remain similar but 'let's do that bigger and better'. Having said that, I've noticed a lot more clients including influencer activation in their briefs. Previously, this was always a proactive suggestion from PRs, and some clients didn't have the capacity to truly consider how content creators could fit in to their existing strategies and help them achieve their business objectives. It's refreshing that influencers are central to business strategy, and it's good to see the agile influencer tool we've developed over several years getting more and more use. As the influencer space continues to morph and change with creators becoming established outlets our tool anticipates this, so we can identify the best creators for different projects, and we continue to grow relationships in this space to help us forge the strongest content and achieve the client's desired outcomes.
And finally… there have been some mixed England performances out in the West Indies over the last few weeks. What do you think is the most important change that needs to be made to ensure the team are capable of regaining The Ashes next year?
Fundamentally, we need a team that's going to bat for time (the runs will come), which they have in the West Indies, albeit on flat pitches. We need to learn to grit it out when the going gets tough… too often has that batting order folded like a pack of cards. I never thought two of the world's all-time best Test bowlers in Broad and Anderson were the issue, but that's a debate for another day. If we're to regain the Ashes, we need four or five established batters to support Root, and if a quality spinner were to emerge, that would be the icing on the cake.
Connect with Rob Baney via Twitter, Instagram and LinkedIn. 
Omkar Khot sits in Vuelio's new business team, specialising in PR & Public Affairs across enterprises. Connect here. 
For more on trends in PR and comms this year, check out our round-up of insight from industry thought leaders to help with your content and campaign planning. 
https://www.vuelio.com/uk/wp-content/uploads/2022/03/Rob-Baney.jpg
430
760
Omkar Khot
https://www.vuelio.com/uk/wp-content/uploads/2019/09/vuelio-logo.png
Omkar Khot
2022-03-29 09:06:56
2022-03-29 10:24:12
PR Interview: Rob Baney, senior sport & brand communications executive for The Playbook