PRCA PR Trends event – Optimism and opportunity for PR professionals in 2021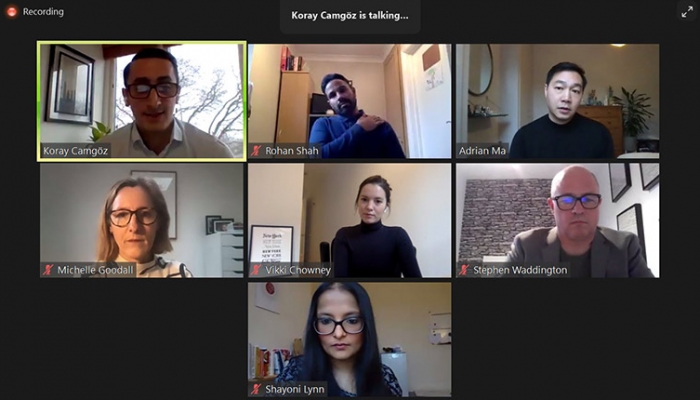 The theme of 'optimism and opportunity' in PR ran through all of the presentations at the PRCA's 'PR Trends 2021' event on 20 January.
I joined five industry leaders – Stephen Waddington, Vikki Chowney, Adrian Ma, Shayoni Lynn and Rohan Shah – to explore the emerging trends impacting public relations and communications practice in 2021.
We delivered quick-fire presentations on an industry trend that we felt would define this year, and beyond.
At a time where 'Zoom fatigue' is high, the number and quality of the questions from attendees highlighted both the desire and energy that exists to shape modern PR practice.
Here's the video for those who were unable to attend the live event.
In my presentation (which starts at 31:20), I suggested history has taught us that a crisis and shocking global events can provide a reset button and be catalysts for reflection, focus and innovation.
Many comms and marketing professionals have seized the opportunity to think differently and approach their challenges in a different way.
I highlighted that leading comms and PR agencies, specialists and in-house practitioners are using data in a smarter way.
There is a growing 'data maturity' in PR.
Comms professionals need to capture, track and analyse media, social media, search data, web analytics and first party data to inform corporate comms, brand messaging, creative, content strategy, campaigns and even which influencers or communities to focus on and work with.
The really smart ones are, of course, using Vuelio and our sister platform Pulsar to capture and blend this data.
Here's a summary of what was discussed by each panellist.
Vikki Chowney, H&K Strategies
Vikki joined us from New York during Inauguration Day and focused on content trends:
We're still 'in the weeds' but there is much optimism
The pandemic has meant that we've found new ways to be creative and we have found a real "creative resilience"
There are cost efficiencies to content today – clients are much more accepting of what can be realistically achieved against the backdrop of COVID and production restrictions
The five core themes in content in 2021 are:

Remote Directing – teams and individuals from around the world can be successfully brought into the creative and production process using remote technologies.
'Rough & Ready' content is okay – content was mostly raw and realistic in 2020 and the world of content didn't stop turning
Creator Inclusivity – events that would have been exclusive, behind closed doors or only seen by a few people can now be accessed by wider and global audiences
Humanising the spokesperson – we're seeing a whole new side to corporate comms and company spokespeople. Virtual events have brought us into the homes of business executives and leaders and we're seeing a new side of them
Influencers finding shared values – influencers are seeking to work with brands and businesses in ways that go beyond product placement. They want to work with those who share their values and are seeking partnerships and campaigns with meaningful societal impact
Stephen Waddington, Wadds Inc
Ever the consummate pro, 'Wadds' published his presentation during the event on his PR Top 10 Vuelio blog.
He highlighted the opportunity for value creation for PR agency start-ups and agencies scaling in 2021.
Stephen acknowledged that 2020 was a difficult year for many PR professionals working in sectors that have shut down, including culture, entertainment and travel.
But he also highlighted the 30 new agency start-ups in the UK that have seen the opportunity of building a business in a pandemic.
He recommended agency propositions should focus on the opportunities for value creation by helping organisations navigate these key topics:
Britain's place in the world
COVID-19 recovery and rebuild
Climate crisis
Societal fractures
Dispersion of education, healthcare, retail and work
Media change: social and mainstream media
Misinformation
Workflow automation and artificial intelligence
Shayoni Lynn, Lynn PR
Shayoni focused on the trend towards increased application of data-driven behavioural science in communications campaigns.
As one of the 'new breed' of PR agencies carving a niche in this area, Shayoni and her team use audience data, behaviours and testing to inform their activity for their clients.
Behavioural insights help us understand conscious and the unconscious motivations that drive decision making
The application of behavioural science in communications campaigns can help improve vaccination take-up, convince people to adopt protective behaviours, engage with mental health services, etc.
We can't afford to 'stumble blindly' anymore and we need to adopt a data-driven approach to communications planning
We need to understand audiences more deeply, including why they behave the way they do, why they make certain choices that they do, and what will drive them to take action.
Deeper insights into attitudes, habits and preferences can ensure our communications remain relevant, meaningful and effective
Nudge theory strengthens content, increases the visibility of calls to action and encourages users to take action
Cognitive bias are unconscious motivations that affect things like brand proposition, brand recall, consumer action, retention and loyalty
Consider yourself a 'choice architect' and design the optimum choice environment using human factors to help your audiences make better decisions quicker
Data has to monitor audience behaviour in real time
Behaviour changes are about context and what works once may not work again in a different context
Test in a randomised way, extract your data insights, learn from your test insights, and continually adapt your programme to ensure that you're responding to your audience's responses
Adrian Ma, Fanclub PR
Adrian talked about the role of PR in creating data and delivered the best joke of the day: 'There were two types of forecasters, the ones that don't know anything. And the ones that don't know, we don't know anything.'
Successful companies are deploying the use of big data and automation really well
Marketing has a larger technology ecosystem than PR
PR is one of the most powerful and impactful and cost-effective methods for generating brand awareness and managing reputation, but it hasn't moved as fast as other marketing disciplines
BUT, more comms people are using the same data-driven language as marketers
61% of all PR and comms departments are responsible for both digital and social content
PR provides a 'smell test' that marketers can use – 'if we come up with an idea, and we can pitch it to a journalist and editor and a publisher, that is a proof point'
When PR is combined with content marketing it can drive much more value
PR should be tracking leads and mapping against customer journeys where we can
If we can do that, we create more trust in PR as an effective tool and can demonstrate ROI to 'upper left brain' results-focused marketers
Michelle Goodall, Access Intelligence
I highlighted that the leading comms and PR agencies, specialists and in-house practitioners are starting to use blended data in a much smarter way.
Drawing and acting upon evolving audience insights from blended data sources should be a big focus for comms professionals in 2021.
Crisis can provide a reset button
It's an opportunity to think differently and approach our challenges in a different way
Many PR and marketing professionals are doing exactly that and looking at innovative ways to evolve and improve
It's right to be optimistic about things – it's a time of change in the industry
Many PR professionals have adapted to marketing and the converged space around paid, owned, earned and shared content and campaigns
There's an evolving understanding of the breadth of data that's available to PR practitioners to help shape messaging, creative campaigns and content.
Leading brands, organisations and agencies and specialists increasingly have 'data maturity'
At a basic level, data enables us to develop insights and to measure the impact of our work
But there is an increasing sophistication in the way that agencies and brands and organisations capture, track and analyse that data to inform corporate communication strategies, brand messaging, creative content, strategy, campaigns, and even which influencers all communities and communities of interest to focus on to drill into
We're moving from simple brand, competitor and messaging monitoring towards something much more sophisticated
For example, different groups of people talk about the same topics, brands and issues differently in social media
The shape of conversations around topics like Brexit, COVID, shopping, fashion and the way I talk about them and discuss them in my groups will be different to other audience groups or 'communities'
Communities discussing the same topics can be segmented by demographic data, socio economic data, media, influencer and brand affinity, their interests, their habits, their mindsets, etc.
Identifying how multiple audience segments or communities discuss specific topics, brands and issues differently in social media, and how that evolves, can inform the shape of your campaigns and messaging over time
Technology enables this and we offer solutions to do this
Rohan Shah, Reuben Sinclair
And finally, Rohan provided an optimistic overview of the state of Comms and PR recruitment:
In April 2020, PR recruitment activity dropped by 80% with an uptick in September
Today, we're back to pre-COVID levels and it looks promising – Tech, Finance, Healthcare are buoyant markets
Competition is fierce for talent – 'be open to seeing good quality candidates when you can' and tap into your network
No real evidence of change in salaries
Not having to travel to the office doesn't mean a reduction in salary for job seekers – candidates should hold on to their true value
There is still demand for 'publicists', but agencies have been diversifying their services
Future proof your skills
There is demand for social media content marketing, research and insights and paid social media
Comms professionals need to understand data and connect it with impact
The industry is focusing on attracting people with these skill sets at entry level.
Get ahead on your remote training and development programmes now
Protect and enhance your employer brand – ensure the recruitment and retention experience is no different to how you treat your clients.
Make your recruitment processes robust and fair as possible. It's an indicator to people of the type of company they want to work for
The optimism from the panellists was also shared by attendees on Twitter after the event.
It feels like 2021 could well be the start of a new and exciting era in the communications industry.
If you'd like to find out how tools can help you capture, track, analyse and provide insight for your communications campaigns, please book a demo.
https://www.vuelio.com/uk/wp-content/uploads/2021/01/PRCA-PR-Trends-event.jpg
430
760
Michelle Goodall
https://www.vuelio.com/uk/wp-content/uploads/2019/09/vuelio-logo.png
Michelle Goodall
2021-01-21 15:48:52
2021-01-21 16:42:54
PRCA PR Trends event – Optimism and opportunity for PR professionals in 2021