PRCA publishes guide to producing accessible content
The Public Relations and Communications Association (PRCA) has published a guide in association with Current Global to aid PR and communications professionals with the delivery of content accessible to people of all abilities. 
Research from Current Global, MAGNA and IPG Media Lab has revealed that 15% of the global population live with a disability and that 64% of those who use assistive tools experience challenges when accessing content.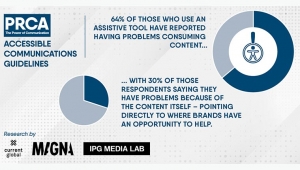 The PRCA's 35-page guide features case studies, advice and tools for PR practitioners who want to make their content fully accessible, including how to develop accessible content and campaigns whether visual, text, social media-focused, influencer-led or a physical or virtual event.
'As professional communicators, it is incumbent on us to make communications inclusive for people of all abilities so we can reach every member of society,' said PRCA director general and chief executive of ICCO Francis Ingham.
Co-founder and CEO of Current Global George Coleman added: 'The technology and tools to help us do this are readily available, so the key priority is to update the way we work to adhere to best practices laid out in the guidelines.
'Every day content is published that isn't accessible to all. It doesn't have to be this way. Over a billion people worldwide have some form of disability, a significant audience many are excluding. We have a moral duty to address this – and we hope the guidelines provide a practical starting point to instigate change to the way the industry works.'
For more on accessibility in PR, read our previous post on 5 ways to make your workplace more inclusive for dyslexic individuals.
https://www.vuelio.com/uk/wp-content/uploads/2021/04/Accessible-Communications-Guidelines.jpg
430
760
Phoebe-Jane Boyd
https://www.vuelio.com/uk/wp-content/uploads/2019/09/vuelio-logo.png
Phoebe-Jane Boyd
2021-04-21 14:47:05
2021-04-21 14:47:05
PRCA publishes guide to producing accessible content