PRspective: Lauren Hughes from Bacall Associates
Bacall Associates is a PR, marketing and sales support agency that specialises in travel at the top end of the market. The firm gets its name from Jeff Bacall, a PR and marketing expert who founded the agency in 1994. Bacall boasts an exotic roster of clients including international travel and tourism companies such as Sri panwa in Thailand; The Palace of the Lost City in the Pilanesberg Mountains, South Africa; Vietnam Airlines; and Canyon Ranch in the US, among others.
In conversation with Cision, Lauren Hughes, senior account executive at the agency, discusses how 'long lunches are a thing of the past,' trends in the travel PR sector and more. 
Getting to know Bacall:

What's new at Bacall? We have just taken on a new team member to help us with some of the new business we have won, including The Siam, an ultra high end urban resort in Bangkok and Sun International, a large hotel group in Southern Africa. We also have very exciting projects coming up in the Maldives and Phu Quoc, Vietnam which we will be working hard on in the next few months. Vietnam Airlines continues to be a big client for us, with visitor numbers to Vietnam at an all time high so lots of momentum to keep up!  
We are forging some exciting brand partnerships for next year, for example setting up a strategic alliance between our client Sri panwa, a very cool resort in Phuket, with Harvey Nichols; and between Spanish Tapas restaurants Iberica in London and our Spanish hotel client the Paradores of Spain.
What are some of the prominent trends in the PR industry? I think that pop ups are still very popular in the travel and wellness sector of PR. For example, we did a very successful pop-up spa with our client Chiva-Som last month at private health club Grace Belgravia.
Social media continues to be important but I think agencies will become increasingly discerning and targeted in working with bloggers – only bloggers who genuinely add value will survive in the long term.
We have the real feeling that authenticity, integrity and quality and are coming back into fashion – PR gimmicks are over!  More than ever busy journalists want authentic communication with no nonsense.
Has recession impacted travel? Since we are in the luxury travel sector, recession has not had a major impact on travel and has therefore not changed our business much.   However, where once the UK was the primary market for all our clients, we are seeing them invest heavily in promoting themselves in Asia and Russia – so we need to work ever harder to demonstrate our value.
We have also noticed a massive change in the media landscape with travel teams, especially on the nationals, increasingly staffed by freelancers.
How has communication within the travel sector changed in recent times? Long lunches definitely seem to be a thing of the past unfortunately. We have found that online communication is very important now, we spend a lot of time having Skype meetings with our clients all over the world and we also find webinars to be a very useful tool. Twitter has also become extremely important in conveying key messages and interacting with the media.
How have client expectations changed in travel PR? Despite the decline in circulation figures in print media, we have found that most clients still prefer to see coverage in national newspapers and glossy magazines over online as it more tangible and easier to calculate the value. I think our clients' perspective towards online coverage will shift significantly in 2014.
Getting to know Lauren Hughes: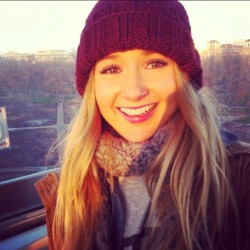 The first thing I do when I come into work is: coffee while I look at all of my client's Twitter and Facebook feeds to make sure I'm completely up to date on everything that they have going on.
My biggest social media peeve is: when brands retweet every positive tweet they are mentioned in.  Bitchy tweets are also a big no-no for me – so unprofessional.
My dream job would be: to be one of the behind the scenes crew on the David Attenborough shows like Frozen Planet.
I wish journalists would (n't): cancel meetings/press trips at the last minute!
Five years from now you can find me: hopefully still working with amazing travel and wellness clients and travelling all over the world.  
Priyanka Dayal
https://www.vuelio.com/uk/wp-content/uploads/2023/09/vuelio-logo-200px.png
Priyanka Dayal
2013-11-06 12:09:12
2013-11-06 12:09:12
PRspective: Lauren Hughes from Bacall Associates