Reactions to Brand Malala: A PR phenomenon or target?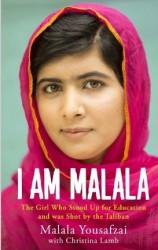 On 14 October I posted a blog on Malala Yousafzai, the teenager who was shot in the head by the Taliban for campaigning for girls' education rights. The article titled 'Brand Malala: A PR phenomenon or target?' discussed her journey over the past year, highlighted the media attention surrounding her and questioned the limit to which the publicity might (quite literally) backfire on Malala's safety and cause.
Our blog, like any other published content on Malala, was popular and drove traffic to Cision's website, initiating discussions on the blog as well as on social networking sites such as LinkedIn, Twitter and Facebook. And why not? We have here a story of a real life hero who remains undeterred by the Taliban as they threaten to attack again.
As Malala continues to be adored and celebrated by the world, a backlash of resentment intensifies in her homeland, Pakistan – making the question we asked in our earlier post valid even more so. 
Before you join in on the discussion, here is a catch up of what some of our readers have had to say:
A private discussion on the Public Relations Professionals group on LinkedIn yielded responses that were in favour of the media attention backing Malala's story, and the role Edelman, the PR agency managing Malala's public affairs, has had to play in promoting her cause. With approval from the authors, here is a look at the comments:
Helen Slater, owner of Strata Communications, a management consultancy in New Zealand wrote: Someone has to field the media and Edelman are doing that – she and her family could not have been left to handle it by themselves. Her book was her answer to the Taliban. Should she be seeing the US president and the Queen? Maybe not, if she is to remain true to her cause and not be seen to be used by the western nations.
This whole perception of Malala as a brand is to my mind a dissonance – she is working for a cause of women's education in Pakistan – a worthy and just cause that should be the highlight. However, we do know the Taliban will seize any opportunity to rid themselves of anyone, adult or child, who stands in the way of their cause and use any excuse.
Malala's cause goes against everything the Taliban stands for – including women's equality and human rights. She is marked for death by the Taliban and their ilk, regardless of her profile. Hopefully, her international profile will protect her where she had no protection before. Maybe we should be looking at what is happening in Pakistan and be asking Malala's questions as well. Zealotry and its consequential bigotry in any form, anywhere East or West, is unacceptable.
Eva Maclaine, principal at consultancy Maclaine Communications added: What a thoughtful response, Helen. I agree with all you say. It is indeed a very difficult tightrope the west must walk and we must not lose sight of the main issue: the education of girls in Pakistan. The one phrase in the Cision article that worries me is perhaps: "At what point do we draw the PR line?" It is impossible to draw a PR line if by that we mean stopping all publicity. But it is worth reflecting how much exposure the girl has and how this is managed. On the one hand, as you say Helen, her international profile will protect her to some extent. On the other it puts her bang in the line of danger. You hit the nail on the head – we must be asking Malala's questions.
The comments on Cision's blog: 
Bahu Virupaksha commented: The young girl is brave and she has stood up for her right to have a good education. However, she is now sounding more and more like the Voice of the West.
Jenny Walton added: There are three important considerations in all this, girls' education around the world and especially in cultures that supress it, wherever they are, east or west; freedom of thought and speech; and Malala's personal well-being. I hope that the Edelman team has given all due consideration to all of them.
There were many readers that chose to maintain a neutral viewpoint:
Not saying I agree, but it's worth asking the question > 'Brand Malala: PR phenemenon or target?' http://t.co/UB03mVrrsd via @CisionUK

— Tomi Ajayi (@trustTomi) October 14, 2013
"Brand #Malala: #PR phenemenon or target?" – Cision UK Very thoughtful article. Never saw it that way! http://t.co/n9hdLZAHbi via @CisionUK

— Paulina Wojcik (@Paulina__Wojcik) October 14, 2013
Not an endorsement, but an interesting read: Brand Malala: PR phenomenon or target? – Cision UK http://t.co/YNEFs1zKMi via @CisionUK

— Alexander (@greekdude) October 14, 2013
Priyanka Dayal
https://www.vuelio.com/uk/wp-content/uploads/2019/09/vuelio-logo.png
Priyanka Dayal
2013-10-25 10:06:52
2013-10-25 10:06:52
Reactions to Brand Malala: A PR phenomenon or target?