Brand Malala: PR phenomenon or target?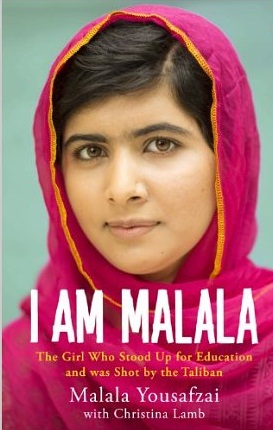 Who is Malala? The world now has the answer to this question, the same question that the Taliban gunman posed to a group of girls on their way home from school in an open van in Pakistan, right before he shot the 15-year old in the head for campaigning for girls' education.
Malala Yousafzai was flown to Britain to be treated, healed and given back her voice. Now, 12-months after the incident took place, Malala has emerged a hero, a global figurehead, an ambassador for peace and education, and (as she relentlessly pursues her fight for learning), a symbol of courage.
The public interest and media frenzy surrounding Malala reached its pinnacle this month which marks the first anniversary of the failed assassination attempt. Her story made headlines as her autobiography 'I am Malala' was published last week. She addressed audiences across the world, leaving media stalwarts such as Jon Stewart speechless on-air as she recounted the days leading up to, and after she was shot.
As The Sunday Times Magazine's cover feature described: 'She gets skyped by the secretary-general of the United Nations, Angelina Jolie drops in for tea, and Madonna has dedicated a song to her.'
Her painting hangs in the National Portrait Gallery in London, she met the President of the United States and his family at the White House last Friday, and is scheduled to have tea with the Queen in the Buckingham Palace the following Friday.
Malala has been awarded The Sakharov Prize, Europe's top human rights award for free speech, she was honoured at The Clinton Global Citizen Awards and is also the youngest person to be nominated for The Nobel Peace Prize (which despite not winning, she was tipped a favourite).
The tide of publicity is carefully curated and manned by global leaders in PR, Edelman (on a pro-bono basis). In an interview with the AFP, a spokesperson for Edelman said a team of five publicists were dedicated to managing the massive media and public interest in Malala's campaign. They have already issued of a two-month waiting list for an interview with her.
Meanwhile, as Malala is celebrated, a dark side to all the publicity surrounding her is becoming more apparent. The Taliban issued a fresh death threat following news of the Sakharov Prize, while religious leaders have slammed the support of the West as propaganda to "defame Pakistan." Further, an article by Reuters released on Friday claims the global admiration of Malala hasn't gone down well in her hometown. 'For many of her compatriots, Malala Yousafzai is a stooge of the United States and a CIA agent, a symbol of the West's evils and a global conspiracy to bring down her native Pakistan.'
A debate is now brewing: Could the Western spotlight on Malala be hazardous for the 16-year old and make her more of a target? At what point do we draw the PR line?
A human rights campaigner in her blog titled "Brand Malala": Western exploitation of a schoolgirl, writes: 
'Safety is pushed aside for "brand Malala". There is Malala the book, Malala the film, Malala the award nominee, Malala the portrait, with the schoolgirl being skilfully marketed by Edelman, the world's biggest PR company. Wavering a fee will no doubt be compensated by the value of the publicity she will bring to the company.'
The Los Angeles Times argued that, 'Western praise could very well get Malala Yousafzai killed.'
'But in many ways she's still a child. She has, hopefully, a full life ahead of her. So maybe we should temper our respect for her with a little soberness, a little common sense – and plenty of regard for her safety.'
The general public too has taken to Twitter to applaud Malala but some have remained skeptical about the commercialisation of the teenager's story.
#Malala's message is commendable, but the ppl driving her PR aren't doing it because they care about education, its political whitewashing.

— Faraz Hassan (@FarazHassan) October 14, 2013
Who hired Edelman, a top PR firm that counts Microsoft and Starbucks as its clients to manage Malala's PR campaign?

— Anjum Kiani (@AnjumKiani) October 14, 2013
Do you worry Malala is being exploited? I blog about the common misconception hiring PR makes a person "bad" http://t.co/SyW0PiXt0M

— Emily McDaid (@emily_hatchpr) October 11, 2013
Meanwhile, Hatch PR's blog post argues that it is in fact PR that can protect Malala from 'the forces within media that can exploit her, not the other way around.'
 
'The media will exploit a personality to sell newspapers, we know that for a fact. The PR representative is there to ensure the person in question is treated fairly. The PR representative is there to field all the mundane press requests that would literally drive a family like Malala's insane if they had to deal with it alone.'
While the debate continues, Malala is confident that she is no puppet to the Western world.  'My world has changed but I have not,' she says in her autobiography 'I Am Malala.'
Let's hope her words stay true. 
Priyanka Dayal
https://www.vuelio.com/uk/wp-content/uploads/2019/09/vuelio-logo.png
Priyanka Dayal
2013-10-14 11:54:06
2013-10-14 11:54:06
Brand Malala: PR phenomenon or target?