Report on your ethnicity pay gap, says PRCA's Race and Ethnicity Equity Board (REEB)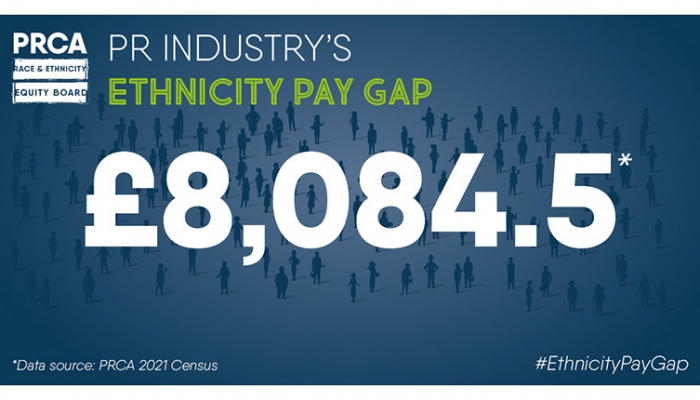 Ahead of tomorrow's Ethnicity Pay Gap Day in the UK, the PRCA's Race and Ethnicity Equity Board (REEB) is calling for full transparency from the PR and comms industry on its ethnicity pay gap.
Open conversations about inequality with pay are long overdue – data from the 2021 PRCA UK PR Census showed the industry's pay inequality as being at 16% – £8,084.50. Research launched this week from networking group People Like Us underlined the work that still needs to be done on pay equity, finding that the majority of PR and marcomms practitioners taking part had been denied a pay rise; 30% surveyed felt that their race, nationality, or ethnicity had negatively impacted their salary or promotional potential. Over a third of those surveyed shared that they believe white colleagues are more likely to be successful when asking for a pay rise than those from diverse backgrounds. Almost a third believe that white colleagues are more likely to receive a pay increase or promotion without having to ask.
'Nobody should earn less because of the colour of their skin, their sexual preference, gender or anything else that isn't related to their performance,' said People Like Us co-founder Sheeraz Gulsher. 'Salary and job progression should be based on merit, but the data here makes it patently clear that currently, they aren't.
'Organisations need to get better at identifying pay gaps and progression bias within their companies because without understanding the issue, you can't fix it.'
To aid organisations to track and fix their ethnicity pay gaps, PRCA's REEB is urging decision makers to make use of its Ethnicity Pay Gap Guide, featuring advice on reporting as well as how to improve on disclosure.
PRCA REEB Chair Barbara Phillips FPRCA said:
'The PR and comms industry is in rude health. We are making a great recovery. According to reliable sources including the PRCA, we have regained previous high levels of client confidence and can get back to the business of exploring creative ways for clients to build and maintain important relationships with customers, investors, partners, and most importantly, employees who are often all of the above. We are ready to tell their new stories, that once again, will lead to a mutually lucrative ending. And while we all pour ourselves excitedly into 2022 with anticipation – my outpourings (and those of anyone who looks anything like me) will be worth around £8K less a year than my white counterpart on average. The basis of the gap? My ethnicity. That's it.
'In October 2020, REEB launched an ethnicity pay gap guide. It's free, and it's readily available to use, should you choose to pay your Black, Asian, and non-white team members the same pay you find for their white peers in identical roles. This action even has its own day – 8 January, Ethnicity Pay Gap day! But I'm sure closing your EPG was already a top 2022 priority. Right?'
Find out more and download the Ethnicity Pay Gap Guide from PRCA's Race and Ethnicity Equity Board and read our previous interview with Barbara Phillips on the formation of the Board and its work here.
https://www.vuelio.com/uk/wp-content/uploads/2022/01/PRCA-Ethnicity-pay-gap-tw.jpg
430
760
Phoebe-Jane Boyd
https://www.vuelio.com/uk/wp-content/uploads/2019/09/vuelio-logo.png
Phoebe-Jane Boyd
2022-01-07 10:57:22
2022-01-07 10:57:22
Report on your ethnicity pay gap, says PRCA's Race and Ethnicity Equity Board (REEB)