Should you speak up or shut down in a PR crisis?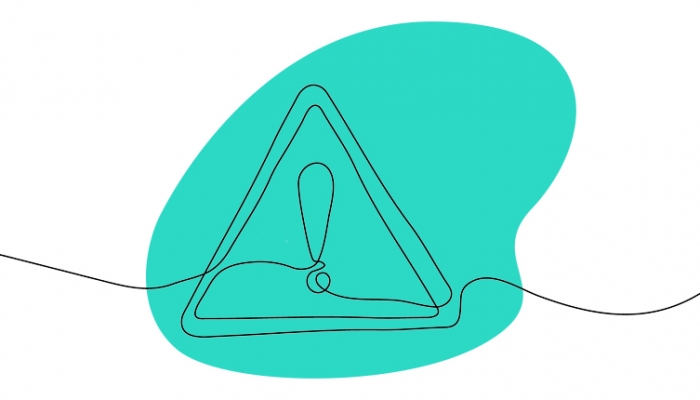 A reputational crisis is on the horizon for your brand or client – what do you do next? Should you set up a press conference to get ahead of any criticism heading your way, or wait for things to blow over? Should you address the matter at hand, or draw attention elsewhere?
In the Vuelio webinar 'Speak Up or Shut Down: The Value of Proactive PR in a Crisis', we explored three examples of short, medium and long-term crisis to uncover PR approaches that are proven to work.
Watch the full webinar here. 
Read on for insight on why timing is pivotal in a crisis, the necessity of being proactive over reactive and data on what worked for brands including FIFA, Coca-Cola, Hyundai/Kia, British Airways, Virgin Atlantic and Samsung Biologics.
Approaches to short-term crisis: 2022 FIFA World Cup
A recent much-reported crisis was the Qatar-based FIFA World Cup of 2022, which was surrounded by political controversy and human rights concerns. As a result, brands and public figures who chose to participate in the event were met with widespread disapproval from the public and even boycotting of products and services.
To measure this, Vuelio Insights compared how each partner for the event handled the evolving crisis and their overall performance in the media throughout November and December of 2022.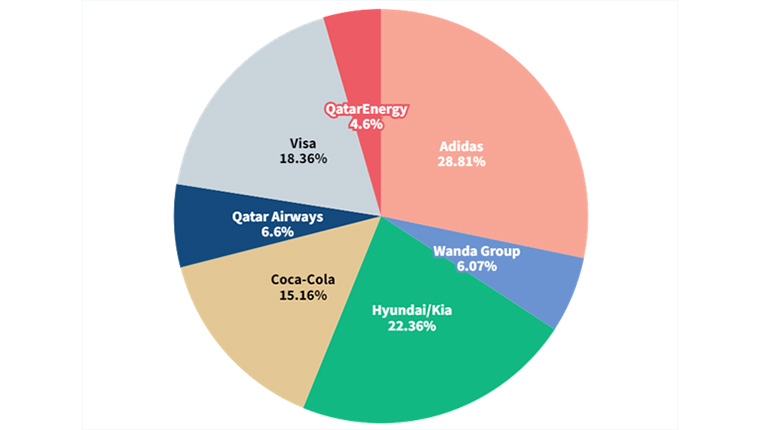 This Share of Voice chart for the FIFA partners shows how proactive each was with their write-ups in the UK media.
Throughout the event, Adidas, Hyundai/Kia and Visa were the most proactive, utilising a diverse range of messaging tactics. While they addressed human rights in public statements, they drove more awareness towards positive ESG actions that were unrelated to the event.
Hyundai/Kia's 'Goal of the Century' campaign focused on sustainability, becoming one of their strongest sources of coverage throughout the event. Why this worked so well – this was also the time of COP27 and tied in to positive ESG efforts.
Not quite as successful was Coca-Cola, which released its 'Believing is Magic' campaign very early on, only vaguely referencing social solidarity and human rights. This did not make any significant reference to the crisis itself and therefore resulted in much stronger negative sentiment in related reporting.
Timing is key with proactive outreach – Coca-Cola's messaging was released so early that related media interest died down by the time the company started to receive event-related criticism.
Qatar Airways, Wanda Group and QatarEnergy were almost silent throughout the entire period and it shows in their volume of coverage. Not only is their Share of Voice lowest, the reporting that did focus on them mostly consisted of passive criticisms on who they are and what their ethics may be.
Wanda Group's approach was interesting. The brand had previously released a successful 'Women First' campaign for the 2018 World Cup. For 2022, in contrast, it released nothing, and positive sentiment for the brand dropped by 56%. Coverage this time around was 'who are Wanda Group and do they even care about human rights', without any public statements to mitigate negativity.
Staying silent will not always reduce media awareness of problematic issues and can mean less control for a brand when crisis arises.
A diversity of brand positive messages, addressing the crisis and perhaps other ESG concerns, can be a powerful tool for diluting negative press.
Approaches to medium-term crisis: 2022's UK airline strikes
The airline industry took a hit last year due to strikes, cancellations, oil prices and the war in Ukraine.
From January to June 2022, the Vuelio team explored how UK airlines responded to the extended criticism across print, online and broadcast media. Here are the common threads among those who performed well in the press: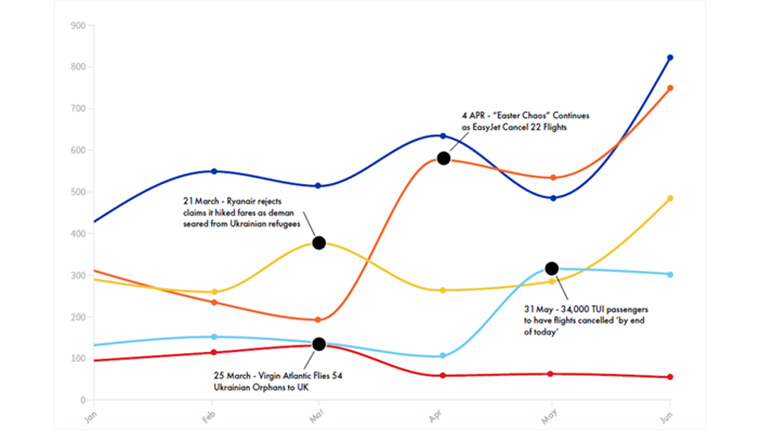 This chart demonstrates the peaks in coverage for travel brands throughout this period – BA and Ryanair, who were the least proactive and most reactive, had the least control over negative peaks in coverage.
Similar to Coca-Cola during the World Cup, TUI demonstrated mid-range control over negative coverage by pushing proactive statements from its executive Fritz Joussen, but were otherwise less vocal when it came to press releases and social messaging.
While most brands here faced significant peaks and falls in crisis coverage, Virgin Atlantic maintained a 'low and controlled' approach throughout – despite being equally effected by all of the same issues.
Virgin Atlantic successfully navigated this crisis with regular, proactive campaigns and diverse messaging tactics and it shows in the resulting consistently low and controlled coverage.
Lessons from this: time your press releases and ensure their messages are diverse, and do not rely on reactivity – the media are much less likely to pick up on positive efforts after negative news has surfaced.
Approaches to long-term crisis: Pharma and net zero targets
Net Zero targets within the pharmaceutical industry are a long-term crisis in the making. At COP27 in November 2022, pharma companies were tasked with putting visible and actionable climate strategies in place or risk their operational licences.
The Vuelio Insights team measured all international climate-related pharma coverage between 1 Nov 2022 – 9 Jan 2023 (approx. 13,700 articles) – here are the commonalities in in coverage among the most prominent companies.

These Share of Voice charts show that the UK produced the strongest volume of coverage throughout this period.
Due to such a large event, most brands were generating international media interest as journalists sought out their climate strategies leading up to and following COP27. The reality of pharma-related carbon footprints was a huge discussion in the media, which created urgency throughout the industry to begin communicating green initiatives.
The top stories and sentiment were largely positive among the majority of the most prominent brands – most of their top stories are positive or neutral.

While 13,700 articles surfaced throughout our study period, one specific headline emerged again and again as a top headline – 'Seven CEOs announce effort to curb emissions in healthcare'. This emphasises the benefits of partnering up with other brands who may be suffering under the same crisis. This approach served the seven pharma brands involved in diluting negative coverage about pharma's carbon footprint.
Showing just how impactful accreditations can be for brands also was Samsung Biologics – its top story during this period was its Terra Carta seal of approval for sustainability. This displayed a tangible and reliable effort backed up by external recognition – negating any possible accusations of 'greenwashing' or 'wokewashing'.
Doing research on how you can enhance your reliability as a trusted brand – be it via awards or accreditations – is really worthwhile for boosting media awareness in a crisis.
Want to know more about Vuelio Insights and media monitoring? Find out more here and here. 
https://www.vuelio.com/uk/wp-content/uploads/2023/03/PR-Club.jpg
430
760
Phoebe-Jane Boyd
https://www.vuelio.com/uk/wp-content/uploads/2023/09/vuelio-logo-200px.png
Phoebe-Jane Boyd
2023-03-20 11:28:54
2023-03-20 15:17:02
Should you speak up or shut down in a PR crisis?