Speedy Spotlight: Diary of a Clotheshorse
Diary of a Clotheshorse is featured in this week's Media Updates. Author Leroy Dawkins spoke to Cision about London Fashion Week, instant news and being mistaken for a whole team of people.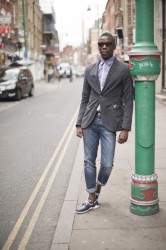 Why should people read your blog?
It is different and covers just about everything from fashion and music to luxury destinations. The blog is not just about me and what I'm wearing or my favourite designer, I also like to let readers know what said designers are doing. I pride myself on instant news – if it happens now it will be featured now.  
The most important issue in your blogosphere is… Fashion and, more importantly, value for money. I like to find hidden gems and share them with readers so they know where to get those designer steals. It's not just getting the look but the actual item as cheaply as possible. 
What's your favourite blog and why?
I don't really have a favourite blog. I tend not to check other folks' blogs but concentrate on my own. If I do have a peek, I like looking at Bryan Boys' blog; he's someone I know and I love seeing what he's getting up to.
How often do you aim to post?
I blog a lot during fashion week – up to 40 times a day – but on average I tend to do a dozen and then concentrate on my daily newsletter which has over 10,000 subscribers. 
How do you feel about guest posts?
I don't normally guest post or tend to let other people guest post on the Clotheshorse but that is something I'm looking into changing very soon. I blog so often that PRs tend to assume I'm a 'team', but it is just me. 
How does a good PR work with you?
A good PR is someone who keeps me in the loop with everything that's happening with their brand or brands they are looking after. I love building relations with PRs but sometimes, when they leave a position, the relationship ends.
What do PRs do that's bad?
Not keeping in touch and doing the friend of a friend thing. That's why we see lots of new faces, who receive no hits getting all the gigs and not actually posting about things. But they don't really have to post as PRs know there are people like me who will post and help out, which is a tad unfair. 
What shows are you looking forward to attending at LFW?
I'm always a fixture at London Fashion Week so I will be attending as many shows as possible, which again depends on PRs. These days, I tend not to apply, I just attend what is offered to me. I cover every single show, something else I'm looking into changing if the brand is not working with me.  The shows I'm most looking forward to are ISSA, House of Holland, John Rocha and Maria Grachvogel.
Editorial information on Diary of a Clotheshorse and thousands of other media outlets and contacts can be found in the CisionPoint Media Database.
Priyanka Dayal
https://www.vuelio.com/uk/wp-content/uploads/2019/09/vuelio-logo.png
Priyanka Dayal
2013-08-29 08:39:31
2013-08-29 08:39:31
Speedy Spotlight: Diary of a Clotheshorse