Speedy Spotlight: Make, Do and Push!
Make, Do and Push! will be featured in this week's Media Updates. Author Hannah Jeeves talks about being a fabulous mummy, her PR pet peeve and her very public diary.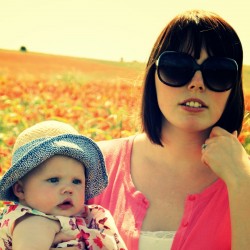 Why should people read your blog?
Because my daughter is seriously cute? In all seriousness though, I blog because I love writing and am passionate about the topics I cover. I started my blog as a way to document my journey into the wilderness of motherhood, and that's what I write about. I also cover crafting, beauty and my current wedding planning journey. My blog is my very public diary and online scrapbook, so head on over if you enjoy being nosy!
The most important issue in your blogosphere is… Trying to be a fabulous mummy whilst maintaining a sense of self… and to continue to have fun writing! I started my blog for me and I have to remind myself of this sometimes. It's very easy to get swept up in comparing your blog to others, especially in the parenting blogger world, as there are so many of us.
What's your favourite blog and why?
Gosh, I have so many blogs that I love – you should see my Bloglovin' feed! I would probably have to say Chambray & Curls. I met Laura at the Brighton Blogger Meet back in April; her blog is just beautiful and every post is a pleasure to read.
How often do you aim to post?
I aim to post every day – and usually do!
How do you feel about guest posts?
I will always consider guest posts as long as they are relevant to my blog. However, I don't like to publish more than a couple each month as my blog is my personal blog for a reason, and I feel I would be cheating my readers to continuously post other people's content.
How does a good PR work with you?
It's all about the personal touch with me, I hate feeling like I'm just one off a list. Start an email with my name, demonstrate you've actually read at least my 'About Us' section, and show an interest. I'll be much more likely to work with you if you do. 
What do PRs do that's bad?
As I've said above, I hate feeling like a PR is just working down a list, or sending exactly the same email to 100 other bloggers (unless it's a press release); my pet peeve is, 'Hi there'.
Editorial information on Make, Do and Push!, Hannah Jeeves and thousands of other media outlets and contacts can be found in the CisionPoint Media Database.
Priyanka Dayal
https://www.vuelio.com/uk/wp-content/uploads/2019/09/vuelio-logo.png
Priyanka Dayal
2013-08-28 13:06:14
2013-08-28 13:06:14
Speedy Spotlight: Make, Do and Push!