Speedy Spotlight: The Cake Hunter
The Cake Hunter will be featured in this week's Media Updates. Author Sophie Hunter spoke to Cision about The Great British Bake Off, good pictures and friendly PR.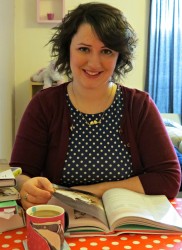 Why should people read your blog?
The recipes are easy for any baker to do, whether advanced or novice. I never want anyone to feel out of their depth with the food I post. There are always lots of photos of cake as well!
The most important issue in your blogosphere is… Keeping readers engaged. I put a lot of effort into my photos because that's the first thing a reader sees. They might only skim through the words but they'll focus more on the pictures and then decide if they want to carry on reading. 
What's your favourite blog and why?
Joy the Baker, because it was the first food blog I ever read and I've been a loyal reader since 2009. Joy's recipes are delicious, easy to adapt and beautifully photographed. Plus her writing style is witty and engaging. 
How often do you aim to post?
I aim to post at least once a week. I often end up with a backlog of posts that I'm itching to get out and when that happens I'll throw in an extra post during the week. 
How do you feel about guest posts?
I love guest posts by other bloggers. My first child is due at the start of December and I'll be lining up some of my blogger pals to guest post when I'm up to my neck in nappies. I'm not a fan of guest posts written by companies though, as I feel it's very out of sync with the way I write. 
How does a good PR work with you?
The best PRs I've worked with have made the effort to find out my name and have sent me polite and friendly emails. They will usually check in with me after sending an item for review and are just generally pleasant to deal with without being pushy.
What do PRs do that's bad?
I dislike it when I get generic emails from PRs that show they aren't interested in me as a blogger or haven't taken the time to read anything on my page. 
How does The Great British Bake Off influence your blog?
Quite a lot. Last year I set myself the challenge of making something from the show every week and this year there is a whole community of food bloggers taking part. A lot of my readers watch the Bake Off and it's a great way to get to know them because we've all been catching up with the same show.
Editorial information on The Cake Hunter, Sophie Hunter and thousands of other media outlets and contacts can be found in the CisionPoint Media Database.
Priyanka Dayal
https://www.vuelio.com/uk/wp-content/uploads/2019/09/vuelio-logo.png
Priyanka Dayal
2013-08-28 12:41:24
2013-08-28 12:41:24
Speedy Spotlight: The Cake Hunter