How many tweets make a trend?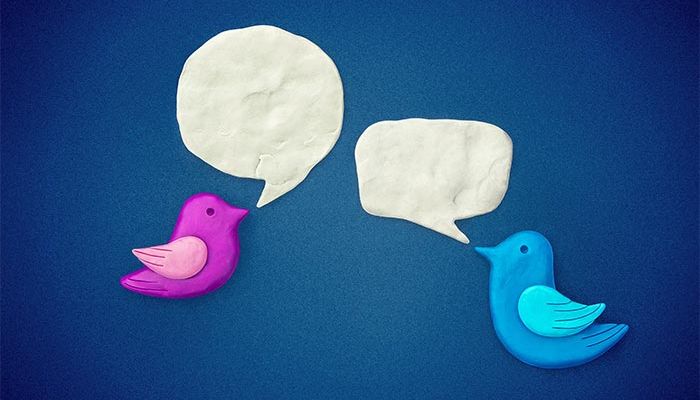 Social media gurus will often suggest it is the ultimate aim and promise to help you achieve it. But how hard is it to trend on Twitter? And how many tweets make a trend?
When we talk about trending topics, we mean anything that appears in the top ten box. Some trends are tailored to the user and some are based on user-defined locations. If your 'Trends' box looks like this: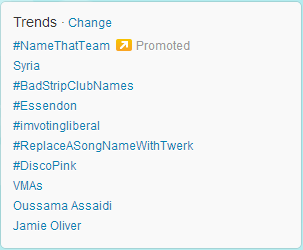 …then the trends are tailored to you. If you click, 'Change', you can select a location and see the trending topics for that region. For example, worldwide trends look like this: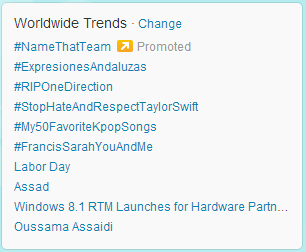 What is a trend?
Trends are not just words, phrases or hashtags that are used a lot, or the trends box would look the same every day and always feature 'and', 'if', 'the' and 'Justin Bieber'. Twitter says its trends are 'determined by an algorithm' and that they identify 'topics that are immediately popular'.
When topics gain above average mentions in a short period of time, they can become trends. If there are not many topics achieving this (for example at non-peak times) then it becomes easier to create a trend. This may go some way to explain how Jeremy Paxman's beard managed to trend and subsequently caused a media storm.
There is, of course, a level of unknown as Twitter doesn't want the system to be cheated.
How many tweets?
Vuelio Social Media can measure the volume of tweets for a particular subject, and as some topics trend with multiple phrases at the same time (for example '#RoyalBaby', 'Kate Middleton', and '#RoyalBabyFever'), we'll work with the assumption that it's the frequency of mentions for the individual word or phrase that leads it to trend.
Focusing on worldwide trends, we can measure the frequency of tweets that are required for topics that trend for a long period of time and those that last just a few minutes.
For around five hours yesterday morning, #BadStripClubNames trended worldwide. Vuelio Social Media's Topic Trend graph shows the topic's rise from no mentions to a top ten position. Its peak of 6,383 mentions seems like a relatively low bar for a trending topic but in terms of average mentions the rise has been huge; the hashtag only came into existence at 1am.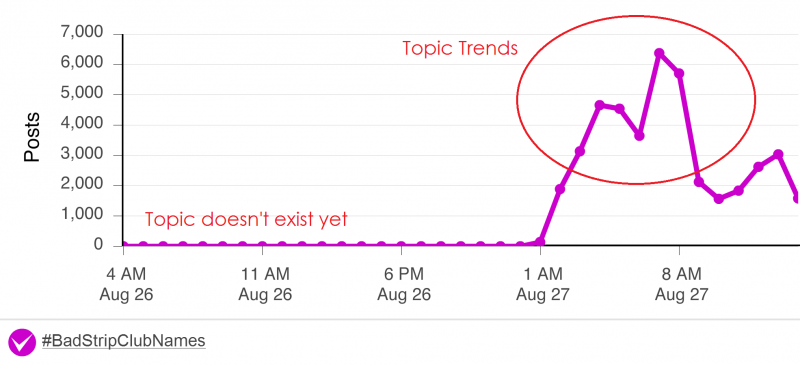 The US Open briefly managed to make the top ten just before 7am yesterday. As the graph shows though, this is not when it received the most mentions. This points to the unknown elements of Twitter's algorithm, possibly even human intervention.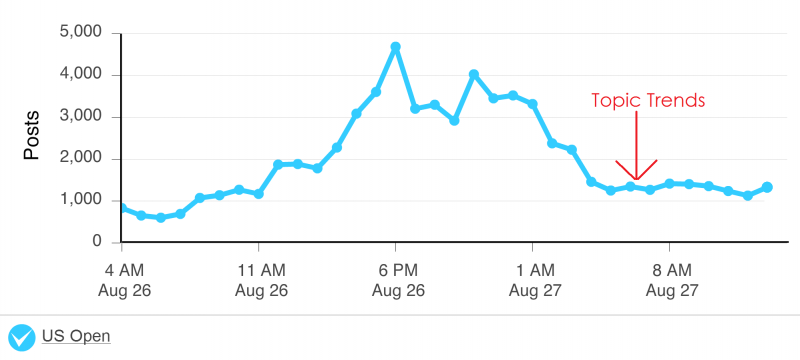 #HelloJesse trended at the same time as the US Open and seems largely down to Mexican pop-rock duo Jesse & Joy. The hashtag went from zero mentions to 366 in the first hour, rising to 555 in the second hour before petering out almost completely. The suggestion that you only need a few hundred Twitter mentions seems absurd, but here's the graph: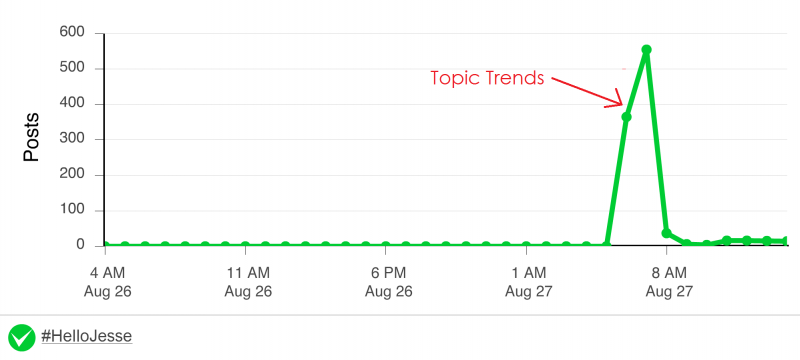 These figures obviously depend on what else is being talked about, what time of day it is, and what countries are awake. Also, it is worth remembering that trends don't particularly last very long. Some top ten trends manage just a few minutes on the list before disappearing again. The average lifespan of a trending topic is unclear, with different reports suggesting it is 40 minutes or even as low as 11.
What Twitter's involvement is in the trends is also unknown, but it's difficult to justify #HelloJesse's inclusion on the numbers alone. It did happen though, which means it should be an occurrence that can be replicated.
If a trending topic is your aim, here are three quick tips:
Choose a non-peak time like early morning when people aren't tweeting along to TV programmes.
Use a new hashtag so that its rise is more pronounced.
Hit as wide an audience as possible in a limited time – the sharper the peak, the more chance you have of trending.
Find out more about Vuelio.
https://www.vuelio.com/uk/wp-content/uploads/2013/08/How-many-tweets-make-a-trend.jpg
467
700
Jake O'Neill
https://www.vuelio.com/uk/wp-content/uploads/2023/09/vuelio-logo-200px.png
Jake O'Neill
2013-08-28 09:05:53
2022-04-12 09:36:00
How many tweets make a trend?