Reactions: Ben Affleck is Batman
Ben Affleck has been revealed to be the next actor to play Batman in the as-yet-untitled Batman and Superman film. While director Zack Snyder says he 'can't wait' to work with Affleck, the internet has, in places, been less kind.
As any story about a Batman film will immediately trend, it was no surprise that the tweets measured by Cision Social Media look like this: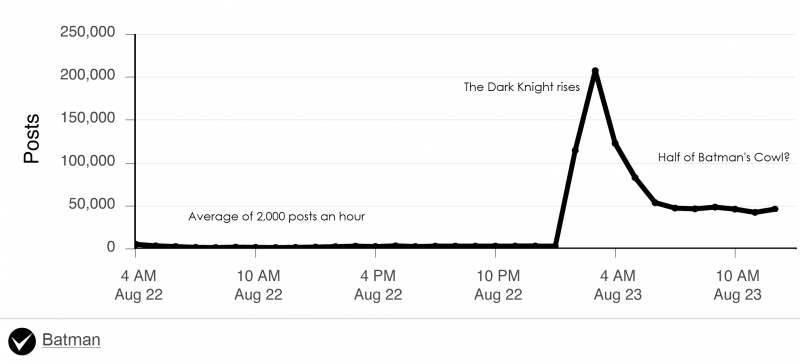 The topic is quickly closing in on a million tweets as fans voice their opinions and a variety of trends pick up interest. This morning has seen 'Ben Affleck as Batman', 'Daredevil', 'Gigli', 'Michael Keaton', 'Adam West', 'Batman', '#BetterBatmanThanBenAffleck', 'Christian Bale', 'Bruce Wayne', 'Man of Steel', and 'Argo', become top 10 worldwide trending topics all connected with the story.
There are some people on Twitter who are unhappy with the casting choice:
I'm so angry. He cannot be batman

— Pria (@ShesABasketCase) August 23, 2013
And some who are delighted:
So #BenAffleck has been cast at #Batman in @ZackSnyder 's Batman/#Superman movie. Despite what some have said, we think it's a great choice.

— hmv (@hmvtweets) August 23, 2013
And then there are those just taking the opportunity to point out the obvious:
Twitter this morning is disturbing in its lack of geek knowledge. Bruce Wayne is Batman. Doh.

— Kieron Gillen (@kierongillen) August 23, 2013
As all big stories on Twitter do, this has scored high on news sites who are keen to capitalise on public interest and add in their own views.
The Guardian's Peter Bradshaw claims that Affleck is perfect for Batman, but as the director rather than the star.
Flickering Myth chose to report just the facts and give the chance of opinions to its commenters. The feeling is cautious to negative with one comment from Lee summing up the mood: 'I agree a little worried. However he will have a great cast round him and he normally performs well when with good quality actors, Good Will Hunting and Armageddon spring to mind. So maybe just maybe.'
WJ London hit almost every comment point, mentioning Daredevil, Man of Steel, Argo, Christian Bale and Matt Damon. It's a Gigli away from the complete set.   
Christian Today reported the story and included a rumour that Christian Bale as offered $50m to come back to the franchise, which hasn't been commented on by either the actor or Warner Brothers.
The Times' Tony Bonnici compares the role of Batman to that of Hamlet for actors making their mark [Paywall].  
A Variety poll of over 60,000 people has 77% answering 'No' to the question: 'Do you think Ben Affleck is the right choice to play Batman'.
As the Batman vs Superman film draws nearer, this topic is likely to trend and top news agendas again and again. It all points to one of the biggest films that will ever be made, with a build-up starting years in advance.
Graph and tweets from Cision Social Media via CisionPoint. Discussion around 'Ben Affleck is Batman' on other websites sourced through Cision's UK Influencer Search.
Priyanka Dayal
https://www.vuelio.com/uk/wp-content/uploads/2019/09/vuelio-logo.png
Priyanka Dayal
2013-08-23 12:31:45
2013-08-23 12:31:45
Reactions: Ben Affleck is Batman