Jeremy Paxman has a beard
After writing that James Harding seemed to have an easy first day, the BBC was struck with another Newsnight scandal. Beardgate, as the event has inevitably been dubbed, has caused a storm of comment, opinion and ridiculous comparison pics. That's right, Jeremy Paxman has a beard. 
The fact Paxman's beard and the 'official' statement that followed caused such a stir, has led many to point to the story as an example of Silly Season.
However, a very real issue has emerged(!) The statement refers to the irrational fear of beards as 'pognophobic' rather than the correct 'pogonophobic'. Yet an outcry that Paxman, or Paxman's scribe, seemingly can't spell or fact check is yet to materialise.
Facial media (as it shall hence be known) provided a wealth of comedy gold from @AquilaRift's:
BY PAXMAN'S BEARD I WILL HAVE MY VENGEANCE, IN THIS LIFE OR THE NEXT

— Alastair Reynolds (@AquilaRift) August 13, 2013
To Cision's own @KesterF:
@FaerieVin @TheMediaTweets I went to a University Challenge recording once. He was wearing jeans under the desk. Jeans!

— Kester Ford (@KesterF) August 13, 2013
The story seemed to keep developing, leading it to trend on Twitter a number of times. Cision Social Media can give further insight: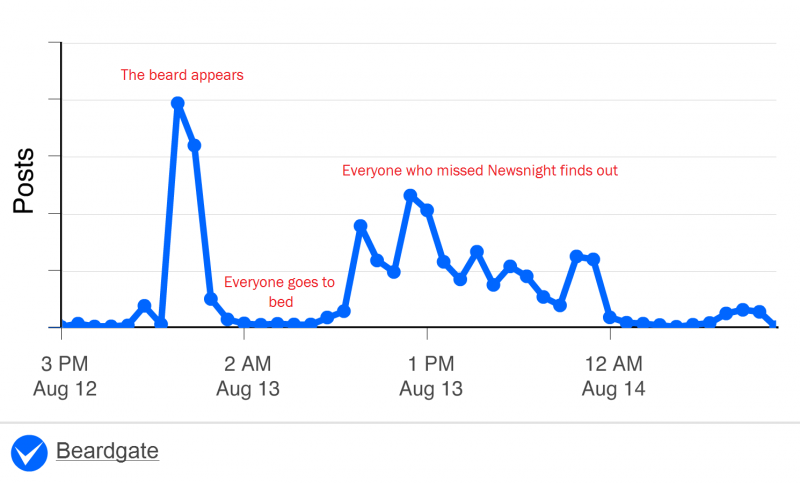 Newspapers
The topic hit the news sites, and then newspapers, like they didn't have anything better to report (though we still await a live blog tracking the beard's movements):
On the blogs
Over on the blogosphere, the issue is no less pressing.
The Media Blog took its lead from the Mail Online, repurposing the headline and some choice Mail Online reader comments.

Contactmusic.com poured a healthy dose of scorn onto the story being so popular.

PoliticalBetting.com launched its own survey accompanied by the news that Ladbrokes have given 4/5 odds that the beard will last the week and 2/1 that is will last the rest of the year.  
And finally, no article about beards and the media would ever be complete without the opinion of Mr Evgeny Lebedev, newspaper proprietor and beard wearer extraordinaire. He has written a column about Paxman's beard in the Evening Standard.
As Silly Season rolls on, the media looks set to hold on to Paxman's beard until he shaves. For the sake of 24-hour news coverage, we can only hope that isn't anytime soon.
All the graphs made with Cision Social Media via CisionPoint. All the bloggers and news sites are available in the Media Database and were found with Cision's free Influencer Search.
Priyanka Dayal
https://www.vuelio.com/uk/wp-content/uploads/2019/09/vuelio-logo.png
Priyanka Dayal
2013-08-14 12:17:22
2013-08-14 12:17:22
Jeremy Paxman has a beard