Speedy Spotlight: Gillian Lee Rose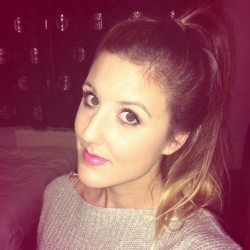 An interview with Gillian Lee Rose, eponymous author of a fashion blog. Gillian spoke to us about keeping her blog true to her style, winning the highly commended best newcomer award at the Cosmopolitan blog awards and introducing posts on beauty to her blog.
Why should people read your blog? 
People should read my blog if they want to see how I style high street fashion. I have also started introducing a bit more beauty onto my blog lately so I am hoping to build that up. 
What makes your blog different?
My blog is my own little creative space. I keep it high street focused and I don't blog about anything that I wouldn't wear or use myself. It is true to myself. 
 What's your favourite blog and why?
I only read a few other blogs but I don't have a particular favourite. It depends what mood I am in or what style ideas I am looking for at the time. 
 What advice would you give to someone who wants to start a blog?
 Keep going! It can be hard to keep at it when you start out because you are writing and not many people are reading what you've spent all your time on. However, your blog should be for yourself. Don't write to benefit others. I did mine as a portal to say what I felt and show how I style things. It was more of a personal thing to try and make me wear more of my clothes. Followers come with time but they shouldn't be the only reason to blog. 
How does a good PR work with you?
A good PR gets in contact and explains what it is they want to work with you on. I prefer a friendly tone which makes PRs more approachable. They are good at communicating and explaining exactly what it is they are looking for. 
What do PRs do that's bad?
Don't respond after they originally contacted you and you've replied. Even if they no longer want to collaborate, I think they should just let you know rather than leave you hanging. It's also bad if they are too pushy. 
What was your blogging highlight of 2013?
Winning the highly commended best newcomer award at the Cosmopolitan blog awards. 
What will be big in your blogosphere in 2014?
I will continue to do what I'm doing. I am introducing more beauty to my blog and I have recently started a YouTube channel so I will be focusing on getting that up to scratch. I am going to have a new layout soon too. I want it to be nice and clean. 
Editorial information on Gillian Lee Rose and thousands of other media contacts and outlets, can be found in the CisionPoint Media Database.
Priyanka Dayal
https://www.vuelio.com/uk/wp-content/uploads/2023/09/vuelio-logo-200px.png
Priyanka Dayal
2014-02-19 12:27:41
2014-02-19 12:27:41
Speedy Spotlight: Gillian Lee Rose