Speedy Spotlight: I Heart Fashion's Victoria Jackson
An interview with Victoria Jackson, author of fashion, beauty and lifestyle blog I Heart Fashion. Victoria spoke to us about writing exactly how she feels, why new bloggers should just write and how she works with PRs.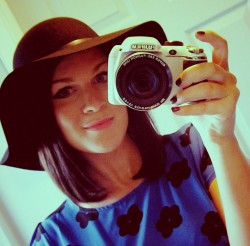 Why should people read your blog?
I Heart Fashion is a relatable, affordable and inspirational look into the world of fashion. It is where designer is mixed with high street and vintage, beauty products are trialled and tested, and lifestyle posts hopefully capture the attention of my readers, making them want to come back and read more.
What makes your blog different?
I think I Heart Fashion is different because it's not all, 'here's what I'm wearing today' and, 'here's my perfect life' which some blogs sometimes verge on doing. I write exactly how I feel, whether that be my weight loss journey or a product review. What I say is always honest.
What's your favourite blog and why?
I absolutely love Song of Style by Aimee Song – she captures both my main loves, fashion and interior design and always looks effortlessly polished with her Californian wardrobe.
What advice would you give to someone who wants to start a blog?
Just start to write. So many bloggers start out wanting the perfect layout and spend money on buying gifts for giveaways and buying what other bloggers are promoting when all they should do is write. That's what blogging is about. Even if you have a photography blog and all you want to focus on is pictures, then just start snapping. The rest will come in time. Oh, and try think of a good name to begin with as changing it down the line is a bit of a pain.
How does a good PR work with you?
By sending me everything I need straight off. Contacting me to say they have great images but with nothing attached means I'll have to then chase back to see the images and will probably put that email to my folder of  'to follow up', where as if I had everything there and then, I'd more than likely get straight on planning a post.
What do PRs do that's bad?
Do not send me images/information which you then realise bloggers can't use. A number of PRs have me on a mailing list which is sent out to national publications and when I ask for images, there is a bar on them until they have been used in magazines.
What was your blogging highlight of 2013?
My personal highlight was getting the opportunity to work with so many amazing brands in 2013, including UGG Australia, Motel, TK Maxx, Fever London, Glamorous and Converse.
What will be big in your blogosphere in 2014?
This is the first year, after blogging for 5 years, I'll put my blog forward for either the Cosmopolitan or Company Blogger of the Year Award.
Editorial information on I Heart Fashion, Victoria Jackson and thousands of other media contacts and outlets, can be found in the CisionPoint Media Database.
Priyanka Dayal
https://www.vuelio.com/uk/wp-content/uploads/2019/09/vuelio-logo.png
Priyanka Dayal
2014-02-04 11:58:51
2014-02-04 11:58:51
Speedy Spotlight: I Heart Fashion's Victoria Jackson