Speedy Spotlight: Hungry Healthy Happy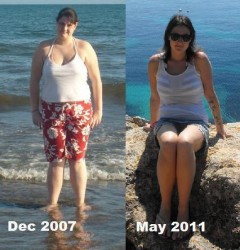 Hungry Healthy Happy will be featured in this week's Media Updates. Author Dannii Martin talked to Cision about food, loving guest posts and building relationships with PRs.
Why should people read your blog?
Hungry Healthy Happy is about the recipes, exercises and advice that helped me lose 98lbs (7 stone) and keep it off for 2 years (and counting). I share what continues to work for me and I also review lots of health and fitness related products that I think my readers would be interested in. The blog is for people who want to lose weight/get healthy but still want to enjoy food. It is for people that want to discover new ways to enjoy working out, and for people who want to start living a happier life and stop punishing themselves and feeling guilty about everything they eat.
In my blogosphere everyone is talking about food. Food is such a major part of everyone's world and it is something that joins us all together. We can relate to each other in terms of eating and people are cooking a lot more than they used to.
What's your favourite blog and why?
One of my favourite blogs is Kath Eats Real Food because her photos are beautiful and she makes everyday food look great.
How often do you aim to post?
I post at least once a day and I like to make sure I have a mixture of posts going up. I didn't want to just post recipes, because I think there is so much more to losing weight and getting healthy than what we eat.
How do you feel about guest posts?
I love guest posts. It gives my readers a chance to see something from a different perspective as well as discover new products/gadgets.
How does a good PR work with you?
They take a real interest in my blog and know what it is about and what I am about.
What do PRs do that's bad?
Sending a copy and pasted message that has no relevance to my blog. When they say, 'I love your blog and what it is about', and then ask me to write about something that is clearly contradictory to what the blog is about. Spend a couple of minutes reading the 'About Me' section – it helps build a real relationship.
Editorial information on Hungry Healthy Happy, Dannii Martin and thousands of other media outlets and contacts can be found in the CisionPoint Media Database.
https://www.vuelio.com/uk/wp-content/uploads/2019/09/vuelio-logo.png
0
0
Priyanka Dayal
https://www.vuelio.com/uk/wp-content/uploads/2019/09/vuelio-logo.png
Priyanka Dayal
2013-03-26 15:20:05
2013-03-26 15:20:05
Speedy Spotlight: Hungry Healthy Happy