Speedy Spotlight: Jen Stanbrook's Love Chic Living
An interview with Jen Stanbrook, author of the interior design blog Love Chic Living. Jen discusses how she convinces her readers to have beautiful homes – even after having children, embracing the social networking community, and offers advice on how PRs can build a mutually beneficial relationship with bloggers.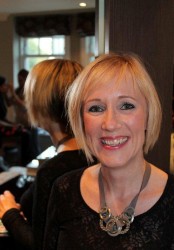 Why should people read your blog?
Love Chic Living is aimed at anyone who loves a bit of contemporary style and design in their family home, and who also wants a little bit of achievable inspiration. I run regular features on wallpaper, offer tips on interior design and showcase women who run their own small design business in Design Divas. If you want a little encouragement in experimenting with colour, techniques, new trends and accessories why not give it a read.  
What makes your blog different?
I think there are lots of wonderful design and interiors blogs out there, some more attainable than others but I hope mine is stylish without scaring people away. Love Chic Living is about creating a beautiful family home, and convincing people you don't have to give up on your interiors just because you have children.
What's your favourite blog and why?
Oh there are just too many to pick just one. For their variety and diversity in the interiors blogging world, I love Patchwork Harmony, Bright Bazaar, The Design Sheppard, Tidy Away Today, The Treasure Hunter and of course, Apartment Therapy.
What advice would you give to someone who wants to start a blog?
Do a bit of research, maybe a course if you can so you can understand a little about blogs and blogging before you start. Fundamentally you have to love your topic, or  your niche, if you have one. If you don't, you'll soon lose interest and it will show in your writing. Embrace the community, network with others, comment on other blogs, go to workshops and conferences, and learn what you can about the technical side. Understanding Google rules, SEO and how to maintain your blog will put you in a great position when you start talking to a PR. Knowledge is power!
How does a good PR work with you?
In a variety of ways really. They know my blog, have read my About page and looked at a variety of posts before getting in touch. The initial email is personal to me, is honest, truthful and appreciates that I get a huge amount of email every day asking me for my time. If they want to collaborate, they have a clear idea on the campaign or project, how they'd like me to be involved and what they are offering in return. They work on building a relationship and always respond to emails. If I've pitched an idea to them, they reply quickly even if it's a no. They don't reply and offer me a press release instead!
 What do PRs do that's bad?
Expect me to offer my blog as a platform for promoting their client and expect that I'd do this for free. I'm not saying that every PR has to offer money or a product, far from it, but they do have to respect that I've worked long and hard to build up a readership, a ranking in search engines and a strong following. If they want a part of that for their client they do need to offer some kind of compensation. I do find good PR's are becoming much more creative and offering interesting and worthwhile collaborations. These are the relationships that last and hopefully grow stronger over time. Working with brands and PR's is one of the huge blogging rewards for me and I look for collaborations that will work over a longer period. And offering me constant press releases and high res images in a bid to get their client covered on my blog isn't the way to build a relationship!
92% of UK journalists are on Twitter, how important is it to bloggers?
I think it depends on what type of blogger you are, but generally Twitter plays a key role in blogging. It's incredibly important for spreading a message and can be hugely powerful when bloggers come together to talk about a certain topic, cause or brand. The reach can be phenomenal and many more PR's are tapping into that and want to be part of it.
Editorial information on Jen Stanbrook and thousands of other media contacts and outlets, can be found in the CisionPoint Media Database.
Priyanka Dayal
https://www.vuelio.com/uk/wp-content/uploads/2023/09/vuelio-logo-200px.png
Priyanka Dayal
2014-03-05 10:55:25
2014-03-05 10:55:25
Speedy Spotlight: Jen Stanbrook's Love Chic Living