Speedy Spotlight: Mary Key's Keynko
An interview with Mary Key, author of Keynko – A Crafty Family. Keynko is a family run blog based on crafting, cooking, and life with grown up children and an impending empty nest. The main author Mary can be found on Twitter @keynko. She spoke to us about how her blog is different from other parenting blogs, advice for PRs, and a future of fame and fortune.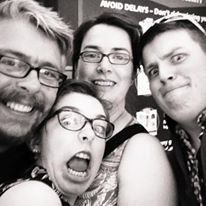 Why should people read your blog?
It's an amazing cure for insomnia! And there are sometimes gems of useful information or things that will hopefully make you smile.
What makes your blog different?
Surely every blog is different because every author is different; we all have our opinions and voice them differently. I guess mine is more collaborative than lots of 'parent' blogs because my children are so much older (17 and 22). They contribute to it and always have a veto on posts or stories that involve them! They are some of my harshest critics and are first to give me the sympathetic head shake if I get it too wrong.
What's your favourite blog and why?
There is no way of narrowing that down to one blog! There is just way too much to read out there! For an individual read I would say my top few are: Mammasaurus, because she is epic and a dear friend; The Ramblings of a Formerly Rock 'n' Roll Mum, because she is my brain twin and fellow old goth; and just about the first blog I read before I started – Domestic Goddesque. They are all a good read, have beautiful photography and are outgoing, friendly and encouraging people who have supported me since I started! As for collaborative blogs, it has to be Britmums and Love All Blogs both of which have widened my reading list beyond what I thought was possible and boosted my ego by asking me to be involved with them!  
What advice would you give to someone who wants to start a blog?
Read widely before you start. Remember that a lot of people will be hostile because they don't want you to have what they see as their 'share of the pie', but there are supportive people out there who will give you good advice.
It's just like writing novel – write about what you know! Be honest and write something you would be happy to read; don't try and please anyone else!
How does a good PR work with you?
Be honest right from the start! Don't flannel me with such things as: 'I read you blog and just loved it'. The chances are you didn't and we can all see through it – particularly when you then use the wrong name or link!
Have a sense of humour! Bloggers will remember people who they shared a joke with for all the right reasons, just like they'll remember the rude PR for all the wrong ones! 
Don't try and circumvent the rules and regs – or guidelines – our little corner of the web is vitally important to us and we won't risk it for a quick buck! (Well most of us won't). 
What do PRs do that's bad?
The constant, 'you don't need disclosure' is very wearing. We all know that's not true and you'll get a lot further, a lot quicker and with happier bloggers if you'd just give it up!
Getting my name wrong. Even after I've answered you email with my signature at the bottom – read what I've written and correct your error.
What was your blogging highlight of 2013?
Going to my first blogging conference. It was nerve-racking to walk into a room full of strangers, but they were all wonderful and it was great to put faces and voices to the people I've only ever met online.
What will be big in your blogosphere in 2014?
Who knows! This time last year I'd never been approached by a PR and look at me now! There's no telling where it could go: book deal… movie contract… stardom… wealth… Ok, so maybe just a successful year of writing what I like, building more and better relationships with the wider world and understanding more about how it all works!
Editorial information on Keynko, Mary Key and thousands of other media contacts and outlets, can be found in the CisionPoint Media Database.
Priyanka Dayal
https://www.vuelio.com/uk/wp-content/uploads/2019/09/vuelio-logo.png
Priyanka Dayal
2014-01-20 10:55:47
2014-01-20 10:55:47
Speedy Spotlight: Mary Key's Keynko