Speedy Spotlight – Learning from my mistakes: an English teacher's blog
An interview with Chris Curtis, author of Learning from my mistakes: an English teacher's blog – one of Cision's Top 10 UK Education Blogs. Chris spoke to us about his practical approach, his favourite blogs and being featured in books.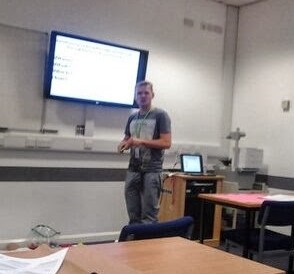 Why should people read your blog?
I hope people read my blog for inspiration. I often get to about 6pm on a Sunday evening and panic about what to teach and how to teach it. The web is full of teaching resources and it is easy to get fifty PowerPoints on a topic, but it isn't the resources I am interested in; it is the ideas behind them. I like thinking about what I do and how I could do it better. I certainly don't think I do things perfectly but I certainly have improved since last year. So I think my blog is helpful if you are stuck for inspiration or you want to avoid the mistakes I have made in the past.  
What makes your blog different?
It is practical. That is the phrase I have often heard in association with my blog. It features practical ideas and resources for use in the classroom. Oh and bit of silliness and humour through my reflections on the crazy world we live in.   
What's your favourite blog and why?
This is a tough one. There are so many blogs to choose from and I don't want to upset people. As my blog is practical, I am going to pick my favourite 'practical' blogs. Blogs that will provide some helpful ideas for teaching in the classroom:
I visit these sites regularly, but there are so many more I could mention. Follow my Twitter account @Xris32 to see more.   
What advice would you give to someone who wants to start a blog?
Stay positive. It doesn't take a room full of chimpanzees to write a snide or critical comment. Stay positive and add something to the discussion. Offer ideas and solutions rather than look for flaws and errors. 
Don't think too much about it. If you spent all weekend writing a blog, you have just wasted valuable 'me' and 'family' time. Do it and get it out there.    
How does a good PR work with you?
Personally, I think PR agencies need to work with schools more. The constant stream of information through the media means that schools are often ill-equipped to deal with PR agencies. We live in a different world now and schools have to approach things with a media savvy attitude. That's where I see PR agencies working in the future, helping schools present themselves. Furthermore, I see schools needing more PR to sell their school to parents. Mainly, they improve awareness.
What do PRs do that's bad?
Don't adapt methods to reflect the product or the audience. If a person isn't interested the first time, then it is unlikely they will be interested a second time. Not taking the audience into consideration is a major flaw.  
What was your blogging highlight of 2013?
Meeting some readers of the blog. In my head it is only my mum reading my blog. I forget there are other people out there that read the blog. Lovely to meet them at several events.    
What will be big in your blogosphere in 2014?
Having extracts from the blog printed in various books this year is going to be my biggest thing. I still can't believe it.
Editorial information on Stuart Bruce, A PR Guy's Musings and thousands of other media contacts and outlets, can be found in the CisionPoint Media Database.
Priyanka Dayal
https://www.vuelio.com/uk/wp-content/uploads/2019/09/vuelio-logo.png
Priyanka Dayal
2014-01-21 11:03:20
2014-01-21 11:03:20
Speedy Spotlight – Learning from my mistakes: an English teacher's blog