Speedy Spotlight: She Loves London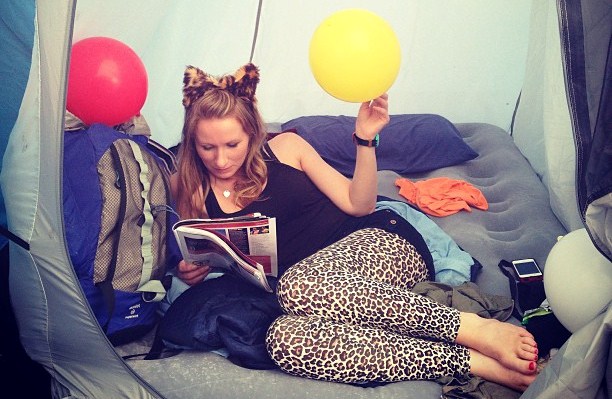 An interview with Jo Harris-Cooksley a Londoner who loves the city and blogs about it on SheLovesLondon. Jo spoke to us about the content that sets her site apart from other London-centric blogs, how she works with marketers and more interestingly, what PR and brands can do differently in better working with her and fellow bloggers.
Why should people read your blog? What makes it different? SheLovesLondon.com is different because it's not about listing or reviewing events, or the attractions, or telling you what's going on or where you should go. That seems to be what most other blogs about London do, which is cool because we need all that, but mine is about living in London, working there, commuting, the day-to-day strange / funny / area specific stuff that you notice when you're a renting local muddling along in your routine. I'm celebrating how brilliant London is by making the mundane a little bit more entertaining, I suppose. With occasional dogs.
How do you measure the success of your website? I'd be in trouble if it was money – as I don't earn anything from it. If a post I've put a lot of work into gets shared and subscribers increase, or someone reads one post then sticks around and reads five more – then that's a success. But single page views on their own, well, I don't place too much weight on that. Mostly, I call it a success when people tell me that they read my blog and love it, whether that's in the comments, on Twitter or in person.
What's your favourite blog and why? One of my favourite blogs ever is Hyperbole and a Half, because it's hilarious and often talks about quite difficult subjects. But the way Allie tells a story through cartoons and their expressions is so entertaining and even poignant at times – it just sucks you in. Unfortunately, she doesn't post very often. But when a new one pops up, it's the first thing I click on in my reader – that's the sign of a good blog.
What advice would you give to someone who wants to start a blog? Be realistic about how much time you can devote to it – don't start out by doing five posts a week if you can't sustain it. Also, stick at it.
For years. Eventually, if you keep going, readers will come and with them, offers from brands and PRs and SEO companies will come your way – but keep your integrity and don't be swung by money or offers that doesn't fit what you do. No one wants to come onto a blog and read sponsored post after sponsored post, or how you "jumped at the chance" to review a pair of socks.
How do you work with marketers and PRs? Very sporadically! Mostly because although I get quite a few e-mails coming my way, the majority are copy and paste jobs, press releases, or just aren't a good fit. I'm happy without brand input – so basically, if the PR / marketing person e-mailing me sounds like they've read my blog (you can always tell) and has a unique, well thought out idea that I can get involved with, or to be honest, if it's just an excellent freebie I can have fun with and reward myself for time spent hunched over my laptop blogging, then I'll reply and we'll start talking. I'm always realistic with time scales, generally I do one post a week –  so if I'm going to devote an entire post to one thing or mention something, it's got to be special, and I've got to have tried it first.
Who do you work with in brand marketing? PRs? SEOs? Anyone else? Mostly PRs, or independent businesses / directly with companies themselves. I don't generally work with SEOs, mostly because they're usually offering things that I don't put on my site ("original guest posts" / infographics etc).
What can marketers do better in working with you? Where to start? Tailor your emails, read the blog (past the first page), read my contact page where it says what I'm interested in and what I'm not, get my name right, get my blog name right, follow me on Twitter, say hello beforehand. Don't pick a random post and say you loved it, that you love my blog, then pitch something irrelevant / ask if I'd like some "original content" on the best places to shop in the west end, for example. Mainly, just put some thought into the approach, I suppose, and talk to me like an actual person without all the insincere marketing chat. That way even if I'm not interested, you'll still get a reply saying so, and I'll still open to hearing another idea next time.
What was your blogging highlight of 2013? Definitely getting to "review" the penthouse suite of a four star hotel in Mayfair. I don't really do reviews that much, so the post ended up being a bit unconventional, She Loves London style. Sort of poking at the way other bloggers write about freebies. Still, the PR was lovely and knew my blogging style, and I would never have stayed in a hotel in London otherwise – so it was an amazing experience and the resulting blog post raised a few smiles too, I hope. It was a success.
 What will be big in your blogosphere in 2014? Dogs, probably. Dogs will always be big in my blogosphere.
Editorial information on Jo, She Loves London and thousands of other media contacts and outlets, can be found in the CisionPoint Media Database.
https://www.vuelio.com/uk/wp-content/uploads/2014/05/JO-she-loves-london.jpeg
399
612
Priyanka Dayal
https://www.vuelio.com/uk/wp-content/uploads/2023/09/vuelio-logo-200px.png
Priyanka Dayal
2014-05-19 09:57:18
2014-05-19 09:57:18
Speedy Spotlight: She Loves London