Speedy Spotlight: The Media Blog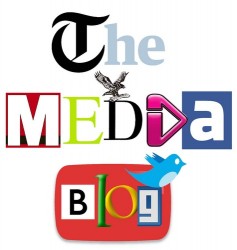 The Media Blog is featured in this week's Media Updates. Author Will Sturgeon spoke to Cision about the future of media, the beauty of blogs and the relevance of PR.
Why should people read The Media Blog?
The media is a deep-seated part of UK culture and everybody has an opinion about it. I think people who are passionate about the media will find something on The Media Blog to agree or disagree with – or possibly just be amused by. I cannot capture everything; instead I try to pull out some of the irreverence, issues and idiosyncrasies at the heart of the media and the transformation it's currently going through.  
In my blogosphere everyone is talking about the future of the media – from how it will respond to calls for stricter regulation to how it must reinvent itself to stay relevant in a digital age. Because as a nation we are passionate about the media – whether we are moaning about the obsession with minor celebrity and the apparent race to the bottom in TV or championing quality journalism or a digital innovation. It's because people care. 
What's your favourite blog and why?
I couldn't limit it to just one. The beauty of blogs is that the best ones tend to be niche and specialist. As such there are great blogs out there that I follow for media, news, sport, humour, technology, politics and current affairs. The best thing about blogs is that if you piece together enough of them, you can enjoy a brilliant, rich experience with many contrasting views. Singling one out would fly in the face of that.
How often do you aim to post?
I try to get something up most days. I don't always succeed. I'd like to post more often but it's not always possible and sometimes the content just isn't there. There's always lots of news in the media, but there are better places than my blog to get that. I need something I have an opinion on and can have some fun with or at least move on a little creatively. 
How do you feel about guest posts?
I have absolutely had individuals contribute posts in the past, but in terms of companies pitching a guest post, I have genuinely never been pitched a relevant one. If I was to run a guest post it would have to be consistent with the blog's tone and voice and subject matter and clearly flagged as a guest post. It's not entirely out of the question, but to date I've only been pitched guest posts that are unsuitable. The ones I've seen look like people are trying to make a very weak article stick somewhere, anywhere.
How does a good PR work with you?
Have some fun and be relevant. It's simple. It doesn't matter how you pitch, or what you send. If it's good enough then it's right. Over the years The Media Blog has covered everything from app launches to comedy shows and innovations in sports broadcasting. As long as there is an interesting, relevant media angle I'd be interested to hear about it.
What do PRs do that's bad?
Everybody can tell when a press release has been sent in desperation rather than by design. Sending something which is genuinely in no way relevant does nobody any favours. Beyond that, failing to proof read press releases really stands out. It happens. But it shouldn't.
Editorial information on The Media Blog and thousands of other media outlets and contacts can be found in the CisionPoint Media Database. 
https://www.vuelio.com/uk/wp-content/uploads/2023/09/vuelio-logo-200px.png
0
0
Priyanka Dayal
https://www.vuelio.com/uk/wp-content/uploads/2023/09/vuelio-logo-200px.png
Priyanka Dayal
2013-03-14 13:58:00
2013-03-14 13:58:00
Speedy Spotlight: The Media Blog