Speedy Spotlight: Don't go Baking my Heart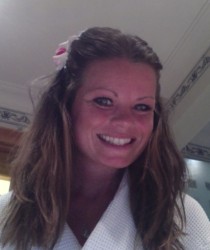 Don't go Baking my Heart is featured in this week's Media Updates. Author Lucy Netherton is a freelance food writer and here she talks about burgers, working with PRs and addictive reading.
Why should people read Don't go Baking my Heart?
If you're interested in good food and a bit of humour then you should read it. I'm planning on posting recipes and reviews as well. So, it's a great read for a foodie who doesn't take food too seriously.
In my blogosphere everyone is talking about burgers. Not only are they delicious, the range available (especially in London) is great at the moment. There are so many amazing pop-ups, restaurants and food vans – it's hard to choose where to go.
What's your favourite blog and why?
I love the London Review of Sandwiches. I think Helen's writing style is great, really funny and light hearted without any pretension. I think I read all the posts in one day so it's addictive reading.
How often do you aim to post?
Once a week minimum, but I didn't post last week because I was so busy in the kitchen. I will try and do two this week!
How do you feel about guest posts?
I think they can be great as long as they're relevant and fit in with the style of the blog. 
How does a good PR work with you?
I think it's important to have a good understanding of the kind of products/places that are relevant to you. No one wants to be inundated, it gets annoying, but at the same time I appreciate it can be hard to tailor mail outs. A weekly email asking what kind of things you're working on always goes down well. 
What do PRs do that's bad?
I don't think there is anything I'd say is that bad; at the end of the day we're all just trying to do a job. I try to keep that in mind!
Editorial information on Don't go Baking my Heart, Lucy Netherton and thousands of other media outlets and contacts can be found in the CisionPoint Media Database.
https://www.vuelio.com/uk/wp-content/uploads/2019/09/vuelio-logo.png
0
0
Priyanka Dayal
https://www.vuelio.com/uk/wp-content/uploads/2019/09/vuelio-logo.png
Priyanka Dayal
2013-03-13 15:03:46
2013-03-13 15:03:46
Speedy Spotlight: Don't go Baking my Heart