Spotlight with food and recipe blogger Dominic Franks, Belleau Kitchen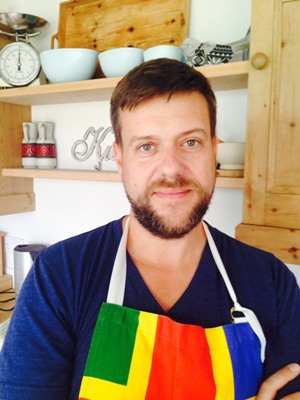 Dominic Franks, author of leading food and recipe blog, Belleau Kitchen spoke to us about working with brands, the three PR best practices for better outreach, sponsorship disclosure and more. 
What's new on Belleau Kitchen? Well, it's Autumn which is my favourite season as we can all start eating proper food again; soups and stews and hearty, warming roasts, so you can expect lots of rich flavours… I've also just got my slow-cooker out of the cupboard so I'm going to be using this a lot and experimenting with sweet dishes in it.
Give us an example of successful brand collaboration. What did you learn from it? I'm currently working with Bramley Apples and they've been brilliant in devising a campaign with a group of bloggers that spreads our stories and recipe developments over a whole year which means that we're not all shouting in the same space.  I love it when brands think about the campaign and how it works for us as well as the brand.
How do you use social media to promote/share content? What are the challenges? I have an automatic link from my blog post to Facebook and Twitter but then I also create use Instagram.  I try and keep them light and personal and not bombard social media with my posts, so one a day is enough.  There are so many channels to choose from.  I stick to Facebook, Twitter and Instagram and only use those.
What advice would you give to a someone who wants to start a blog? Do it for YOU, not for the glory or the free goodies.  You have to have a passion for what you're writing about so this comes across in what you do.  Most importantly you should become part of the blogging community.  It's a great community out there, generous and fun but you have to put in the graft and comment on people's blogs and show interest and then they will come to you.
How do you work with PRs? Tentatively. I have a few rules.  If I get a generic email or press release for a product I delete it without looking at it.  If the approach is personal and it's clear that the PR has clearly done their research into my blog then I always respond.
Do you feel bloggers need to be compensated for the work they do? Not all the work.  If I love a product or have a good relationship with the brand or the PR and they'd like me to use or trial the product then I will work with them in return for product but I expect them to do some social media pushing too!  If I'm developing recipes then I expect to be paid and will work with the client's budget on what I am prepared to deliver.
What do you feel about sponsorship disclosure? I always disclose that I'm working with a brand but I do this as part of the blog post.  I think my readers are quite wise and know if I'm being given product.  If I'm working for a brand I include this in the way I write the blog.  I don't need a final line at the end of the post, this is crude.
List three best practices PRs need to follow for better blogger outreach?
Research the blogger you're reaching out to.
Don't send generic emails where you've changed the name
Don't ever tell us you have no budget for bloggers.  You have been given a budget by your client and you've chosen not to put money against bloggers.  This needs to change.
What will be big in your blogosphere in the coming months? As with question one… stews, slow-cooking and roasts!  Plus of course it's Halloween and then Christmas… a busy time of the year!
https://www.vuelio.com/uk/wp-content/uploads/2015/10/DomBelleauKitchen1.jpg
400
300
Priyanka Dayal and Julie Hermans
https://www.vuelio.com/uk/wp-content/uploads/2019/09/vuelio-logo.png
Priyanka Dayal and Julie Hermans
2015-10-12 12:52:59
2015-10-12 12:58:13
Spotlight with food and recipe blogger Dominic Franks, Belleau Kitchen