Stop wasting time on presentation slides
Are presentation slides ruining all your hard work? 
You're standing in a hot boardroom with grim faces blankly staring at the screen behind you. *Click*. You move the presentation on to slide 6 of 27 and say: 'And as you'll see on this next slide…' but get no further because Geoff falls asleep and starts snoring.
Sound familiar?
Clicking through slide after slide of endless presentations has become an ineffective means to engage your stakeholders and doesn't do anything to make you look as good as you really are. Slides aren't just boring to make, they're boring to consume.
At Vuelio, we got bored of slides too, which is why we created Vuelio Canvas. Whether you're putting together pitches, research, press books, reports, case studies, media coverage, video clips, news rooms or analytics, Vuelio Canvas is for you.
In our next webinar, How to turn your reports into a masterpiece with Vuelio Canvas, we'll explore how Canvas can save you time AND turn your content into a masterpiece. The webinar is taking place at 11am on Wednesday, 22 August, and you can sign up here.
Canvas is easy to use, in fact, Canvas is so easy to use, you already know how. Not only is creating a Canvas simple, it's very quick and once you're done, you can share it with anyone with just one link. Just like this: http://bit.ly/2w623bR – a Canvas we created to show some of the different products and services Vuelio offers.
Or hyperlink an image, like this: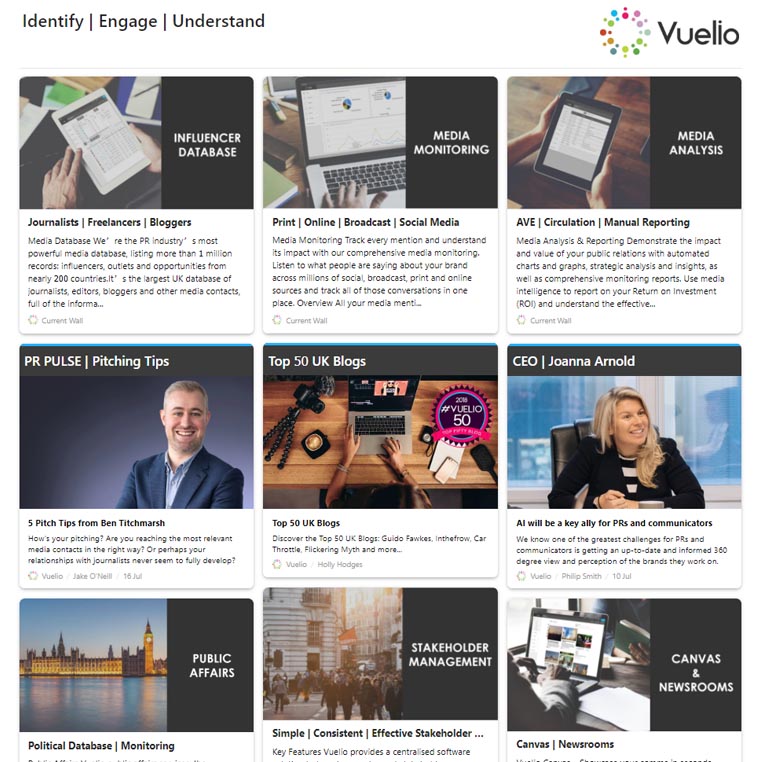 Sign up to this webinar to learn:
How you can use anything from a graph to a tweet to prove your worth
Why you already know how to use Vuelio Canvas
How quick and easy it is to turn a report into an interactive presentation
And find out more about Canvas, including how to create your own, here. 
https://www.vuelio.com/uk/wp-content/uploads/2018/08/How-to-turn-your-reports-blog-pic.jpg
430
760
Jake O'Neill
https://www.vuelio.com/uk/wp-content/uploads/2019/09/vuelio-logo.png
Jake O'Neill
2018-08-13 14:53:13
2018-08-13 14:53:13
Stop wasting time on presentation slides