CMA investigates influencer marketing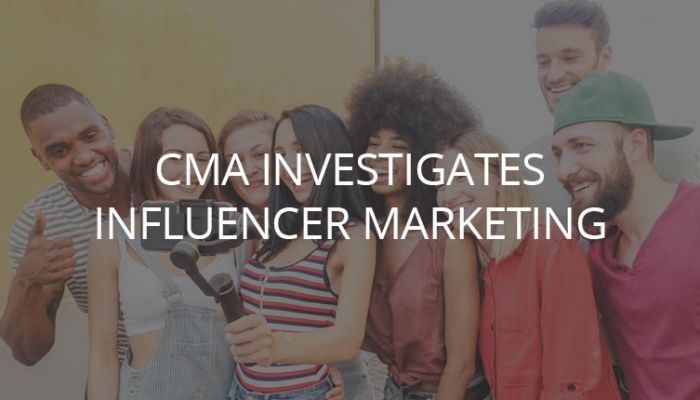 The Competition and Markets Authority (CMA) has launched an investigation into celebrities and social media stars who are not disclosing paid-for posts. If the CMA determines that influencer marketing is regularly breaking consumer law, it can take enforcement action and tighten up the rules.
The use of influencer marketing is on the rise; according to last year's CIPR State of the Profession research, more than half (52%) of public relations professionals now spend most or some of their time working on influencer relations.
Ethics is a huge area of concern in influencer marketing, whether it's not disclosing paid-for posts or buying fake followers to swell numbers – as Scott Guthrie, freelance influencer marketing consultant, discusses here.
As the CMA explains: 'Online endorsements from celebrities and influencers can help brands reach target audiences and boost sales. Where influencers are paid or rewarded to promote, review or talk about a product in their social media feeds, consumer protection law requires that this must be made clear.
'If they do not label their posts properly, fans or followers may be led to believe that an endorsement represents the star's own view, rather than a paid-for promotion.'
As part of its investigation, the CMA has written to celebrities and social media influencers to gather more information about their posts and the nature of their agreements with brands and PRs. It has also welcomed contributions from the public, especially anyone who has made a commercial decision based on a social media post – you can contribute to the investigation here.
Industry reaction
The CIPR has welcomed the announcement. Alastair McCapra, CIPR chief executive, said: 'Influencers' endorsements must always be clearly labelled. The public have a right to distinguish between authentic and paid-for endorsements. PR professionals need to be aware that working with influencers who fail to declare a paid-for endorsement is a breach of our Code of Conduct.
'PR practitioners have a responsibility to their clients, the profession and the public to place ethics at the heart of all they do. I'd urge anyone unsure of the rules to contact the CIPR or the CMA for guidance.'
In the recent Vuelio Webinar: 'How to improve your influencer relations', Anne-Marie Lacey, managing director of Filament PR and Debbie Sharratt, independent PR practitioner and blogger at My Boys Club discussed this very topic, explaining why everyone needed to be using the ASA guidelines and disclosing paid-for collaborations.
Commenting on the CMA announcement, Anne-Marie said: 'As PR professionals, it's our job to protect the reputations of the brands we work with. At Filament PR, we're leading the way when it comes to guiding our clients through the minefield that is influencer marketing, showing them what best practice looks like and teaching them how to successfully implement campaigns that work, while still adhering to the ASA guidelines and CAP Code.
'A huge part of building brand trust is about integrity and transparency when engaging with a brand's audience through all communication touch points. We welcome the CMA investigation if its outcomes will be clear-to-follow guidelines that can be implemented by PRs and the influencers they engage with, allowing brands to build their reputation online without misleading its audience. Ultimately, this is in everyone's best interests – comms professionals, brands, bloggers and other influencers too.'
Debbie said: 'Working as both a PR and a blogger I am very aware of the importance of being both professional and ethical. Influencer marketing and PR is a hugely exciting discipline and brings many benefits to brands, organisations, bloggers and, most importantly, the consumer.
'However, this developing industry does need to continually look at its practices and evaluate how they impact on its reputation and further success. I very much welcome any developments that make honest disclosure a simple process that is both clear and transparent, building strong relationships between all parties involved based on trust.'
The need for an association?
The investigation raises further questions over the needs for standards across the entire blogging industry, which would be much easier to implement through a centralised association. Parenting bloggers John Adams, of Dad Blog UK, and Tim Liew, of Slouching Towards Thatcham, have both written guest posts for Vuelio advocating the need for a bloggers association.
In John's post, he specifically suggested an association could produce a code of conduct, which members would have to follow, that would include elements such as disclosing paid-for content.  Commenting on the CMA investigation, John said: 'So long as the aim is to create a level playing field between print and online media, this investigation is to be welcomed and I would be delighted to contribute to it.
'This is an area creating intense debate and interest among the general public. There's a clear need for bloggers and content creators to be open and transparent. At present this doesn't always happen, and it leads to a lack of trust. I hope this investigation will result in the production of clear rules or guidelines that anyone using social media on a commercial basis can and will adhere to.'
Tim, who wrote in his post that, 'The individual interests of bloggers, brands and agencies alike would benefit from a body whose role it is to look after our collective interests, raise professional standards and support new entrants', also welcomes the investigation.
He said: 'I'd welcome any investigation that leads to pragmatic standards that are easy to understand for influencers, brands and consumers alike. As influencers, our relationships with our followers are built on authenticity and transparency.  Anything that helps to build trust can only be a positive.'
Vuelio supports the need for an industry association and a code of conduct that makes collaborations between brands and influencers more transparent, ethical and ultimately successful for all interested parties. Let us know your thoughts in the comments below or on Twitter @Vuelio.
https://www.vuelio.com/uk/wp-content/uploads/2018/08/CMA-influencer-marketing.jpg
430
760
Jake O'Neill
https://www.vuelio.com/uk/wp-content/uploads/2019/09/vuelio-logo.png
Jake O'Neill
2018-08-16 16:54:41
2018-08-16 16:54:41
CMA investigates influencer marketing