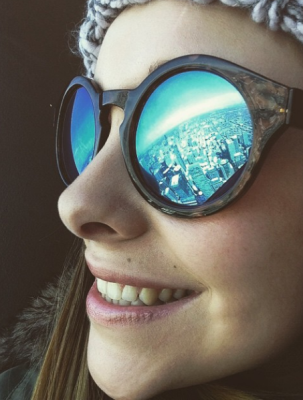 Lets sit down with a cuppa and take 5 minutes with Blogger Nancy Campopiano and let her introduce her new beauty, fashion and lifestyle Blog: 'NANCYELLEN'S' …
So Nancy, why did you decide to start blogging?
 I studied Fashion Journalism at Sunderland University and graduated last year. I started blogging years ago and after having many different blogs about fashion, beauty and lifestyle, I decided to condense these into one destination to showcase my passions, hobbies and freelance work.
Why beauty,fashion and lifestyle?
 It's all I know and love. Studying fashion journalism only made me love it more. I also involve lifestyle posts too, which I really enjoy doing. These include books I'm reading, TV shows I'm watching on Netflix and general rants about trains, diets and trends. Another secret hobby of mine is sewing and crafts, I hope to do some posts on this in the future.
Who or what would you say inspires you?
Funnily enough, the commute. I work for a television production company in central London and I love seeing work outfits and how people put together a look by incorporating their style and making it suitable for work. Sometimes on the commute, you usually see the same people. I love to see how their trends change! I like to incorporate that into my blog posts as I get a lot of people asking me how I put my outfits together for work.
Other than that, I pull a lot of inspiration from YouTube and vloggers. Some of my favourite vloggers, obviously, Zoella and people like, Essie Button, have fantastic channels, bubbling with ideas. I like to hop from channel to channel, when I have some free time. I love peoples views on products, shopping hauls and of course monthly favourites are always great!
 My freelance work is also a big influencer, I write for a magazine and website based in Dubai, so I love hearing about fashion and beauty related news from that side of the world too!
 Advice? Write about what you love and ALWAYS know your audience. Don't get too worried about who's reading it, stats or figures, the most important thing is that it is out there and somebody WILL read it. Have fun and enjoy!
What is your pitch to PRs? How would you prefer to be contacted by them?
A London girl who loves polka dots, culottes and anything that Zoella has recommended!
I can be contacted anyway, mobile, email etc.
And finally where would you like to see your blog in one year from now?
Hopefully vlogging with a lovely channel up and running. I am currently saving for a new Mac with all the editing software and a camera. I've wanted to start a YouTube channel for a while so fingers crossed by the end of this year things shall be in place. I also want to be blogging everyday but working full -time makes this a challenge!
 Share your comments below or Tweet us @CisionUK
https://www.vuelio.com/uk/wp-content/uploads/2015/06/Nancy-3.png
400
303
Jake O'Neill
https://www.vuelio.com/uk/wp-content/uploads/2019/09/vuelio-logo.png
Jake O'Neill
2015-06-10 10:08:01
2015-06-10 10:08:01
TAKE 5 with NANCYELLEN'S