'A blog is not like a newspaper or magazine which needs to fill editorial space' Ken McEwen, DriveBlog

Blogger spotlight with Ken McEwen, author of one of the UK's top motoring blogs, DriveBlog.co.uk  Ken spoke to us about the wealth of experience he brings in both PR and motoring that sets his blog apart, best practices for marketers, driving the new Jaguar F-type and the future of motoring.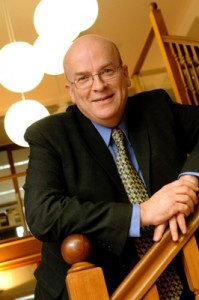 Why should people read your blog? What makes it different? I bring quite a range of experience to my blog. Over the years I have written about motoring for newspapers and magazines, for ten years I presented a motoring programme on radio and now I have my blog. With a background in business and marketing, I also aim to give an insight into the current and future trends in the industry.
How do you measure the success of your website? I obviously do all the analytics for the website and associated social media. But, in many ways the most meaningful is to hear people's reactions to DriveBlog.co.uk, what they like and what they would like me to write about.
What's your favourite blog and why? It would have to be Mashable. I am a bit of a geek when it comes to technology. Plus, Mashable was founded in my home city of Aberdeen – albeit that Pete Cashmore subsequently relocated the company to the USA. It is amazing to see how Mashable has grown from its early days as a technology blog started in his parents Aberdeenshire home, to become one of the world's leading news sources with an growing range of subjects.
What advice would you give to someone who wants to start a blog? Make sure it is sustainable. There is no point in rushing in, writing a couple of posts and then losing interest. You need to decide what level you are going to pitch your blog at. Are you going to try to do a 'Mashable' and publish constantly all day and every day, or are you going to fit your blog round your other business commitments (like I do) and aim for a much more modest number of posts.
How do you work with marketers and PRs? My "day job" is PR, so I understand what marketing and PR people are looking for. I also rely heavily on the PR departments at motor manufacturers, who have provided me with the opportunity to drive some fascinating cars over the years. So, I know that the world of the blogger should work closely with the world of PR.
How do you use social media to promote/share content? What are the challenges? I use Twitter, Facebook, Google+ and Pinterest to promote the posts in my blog and to drive traffic to the site. I also recognise that I don't have the time or resources to provide a digest of motoring and motorsport news. So, I use Twitter and my Facebook page to provide links to other third party news stories that I think my readers will be interested in. That way people can come to DriveBlog.co.uk as a one-stop source of motoring news. The challenge is to set aside the time to find and share the news on a daily basis.
What can PRs do in working better with you? I prefer pitches to be by email or social media as phone calls interrupt the day job. PR and marketing people need to recognise that I'm really not interested in filling space. A blog is not like a newspaper or a magazine which needs to fill all the editorial space. I only write a post on DriveBlog.co.uk when I have something that I really want to share with my readers – like writing a car review, or writing about the launch of a new model. So, when making a pitch to me, think about what would fire my enthusiasm to post something in the blog.
I also get quite a number of approaches for sponsored blog posts. I'm happy to accommodate them but they will be clearly marked as being sponsored. You also need to recognise that the offer of £60 or £70 does not even cover my time for setting up a sponsored blog post, let alone providing any real earnings – so the fee has to be realistic.
What has been your blogging highlight? In the last 18 months, the highlight must be driving the new Jaguar F-type. There has been so much anticipation of the spiritual successor for the famous E-type that there was the potential for the F-type to fall short of expectations. It didn't. Going much further back the motoring writing career highlight was a Ferrari test day at which we were invited to choose from a line-up of about eight different cars parked at the front door!
What will be big in your blogosphere in the coming months? The big issue in the motoring world at the moment is the direction that motor manufacturers take as they strive for ever greater economy and lower emissions. The progress the motor industry has made to date has been nothing short of remarkable. It used to be that a car that returned 30 mpg and emitted 140 g/km of carbon dioxide was good. Now, 40 to 50 mpg is easily attainable in many cars and emissions below 100 g/km are not unusual.
But where do we go from here. Will the future belong ultra low-emission petrol or diesel powered cars, hybrids, or electric cars? Or will fuel cell vehicles, which are just beginning to come on the market, take over.
I also expect to see considerable interest in the moves towards 'driverless', or 'piloted', cars.
https://www.vuelio.com/uk/wp-content/uploads/2015/06/Car-Blog.png
186
768
Priyanka Dayal
https://www.vuelio.com/uk/wp-content/uploads/2023/09/vuelio-logo-200px.png
Priyanka Dayal
2015-06-11 10:02:15
2015-06-11 10:02:15
'A blog is not like a newspaper or magazine which needs to fill editorial space' Ken McEwen, DriveBlog