The Day of the (social media) Doctor
The Day of the Doctor is almost upon us (unless you're a Time Lord and then it's possibly been and gone – or possibly not). All week the media has been in a Doctor Who frenzy, epitomised by the Doctor Who Google Doodle game.
Using Vuelio Social Media we can see how this conversation has been developing over the last couple of weeks with key moments causing spikes in the conversation.

The official trailer for The Day of Doctor kicked off a fortnight of excitement, with 'The Night of the Doctor' special leading perfectly into the Children in Need teaser clip the next day.
With a 75-minute special being broadcast tomorrow evening and also being shown in 3D at a number of cinemas, the UK Twittersphere might just explode come Saturday evening as all eyes turn to what the Guardian has dubbed, in one of its 824 Doctor Who articles, 'the TV event of the year'.
It seems everyone is trying to get in on the act, though one of my favourite attempts comes from Greggs:
BRILLIANT MOVE GREGGS pic.twitter.com/fL94ONthGM

— Scott Bryan (@scottygb) November 22, 2013
Social media can also reveal the most popular actor to play the Doctor, reflecting, to some degree, the real-world poll conducted by the Radio Times.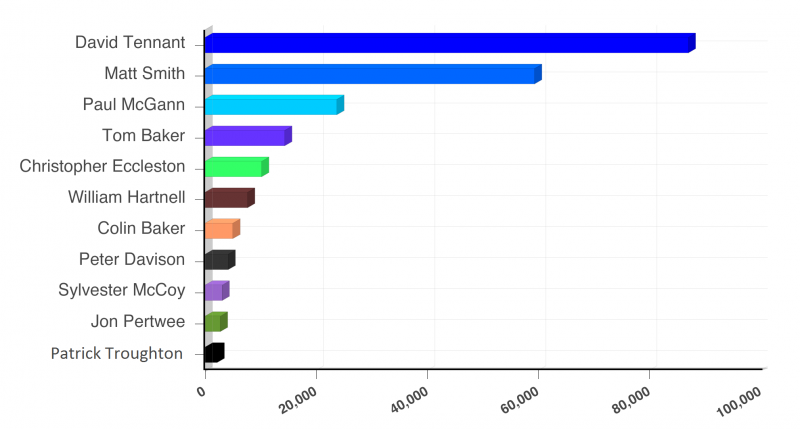 Tennant and Smith lead the charge but unlike the Radio Times poll, it is McGann in the third spot. This is largely thanks to his appearance in 'The Night of the Doctor' when fans finally got to see his regeneration.
Though little is known about the plot details of The Day of the Doctor, whatever happens is likely to create a huge social media buzz and lots of subsequent media coverage. Fifty years on, and the time-travelling Doctor is more popular than he's ever been.
Graphs and charts made with Vuelio Social Media.
Priyanka Dayal
https://www.vuelio.com/uk/wp-content/uploads/2019/09/vuelio-logo.png
Priyanka Dayal
2013-11-22 14:32:13
2017-11-10 16:05:19
The Day of the (social media) Doctor