The Discerning Man's London Fashion Week Diary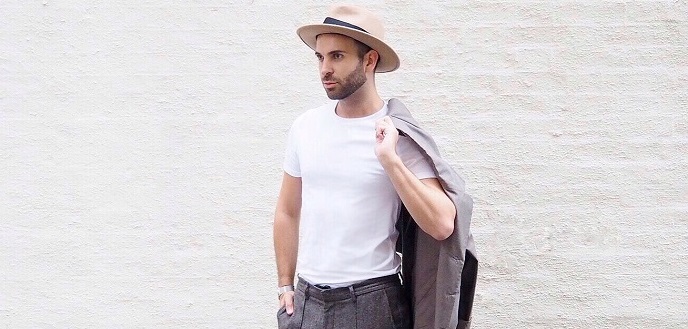 London Fashion week may be over but Ed Lemont, founder and editor of The Discerning Man, one of the leading UK lifestyle blog has given us an exclusive insider's bloggers guide to London Fashion Week.
Friday 16th September
London Fashion week kicked off in style at the British fashion icon Pam Hogg's SS17 catwalk show. The show took place at Freemasons Hall, just off Covent Garden. The historic Grade II listed building played host yet again to Fashion Scout for the duration of London Fashion Week. After a short wait and opportunity in the queue to climatise myself to the ever-eccentric fashion crowd, it was time for me and my guest to head inside and take our seats.
Pam's show was a popular one, with the frow adorned with celebrities, models and designers including Jaime Winstone, Yasmin Le Bon, Nick Rhodes, Melanie Blatt and Jo Wood. I could tell by the anticipation in the room Pam's show was going to be a spectacular display and she didn't disappoint. The show featured metallic catsuits, A-line dresses and pastel-coloured wigs as high as Freemasons Hall. But, the real highlight of the show came in the form of Anita Pallinberg, who at the ripe age of 72, walked the catwalk in a shimmery, gold ensemble, whilst waving her walking stick in the air – to a ripple of applause.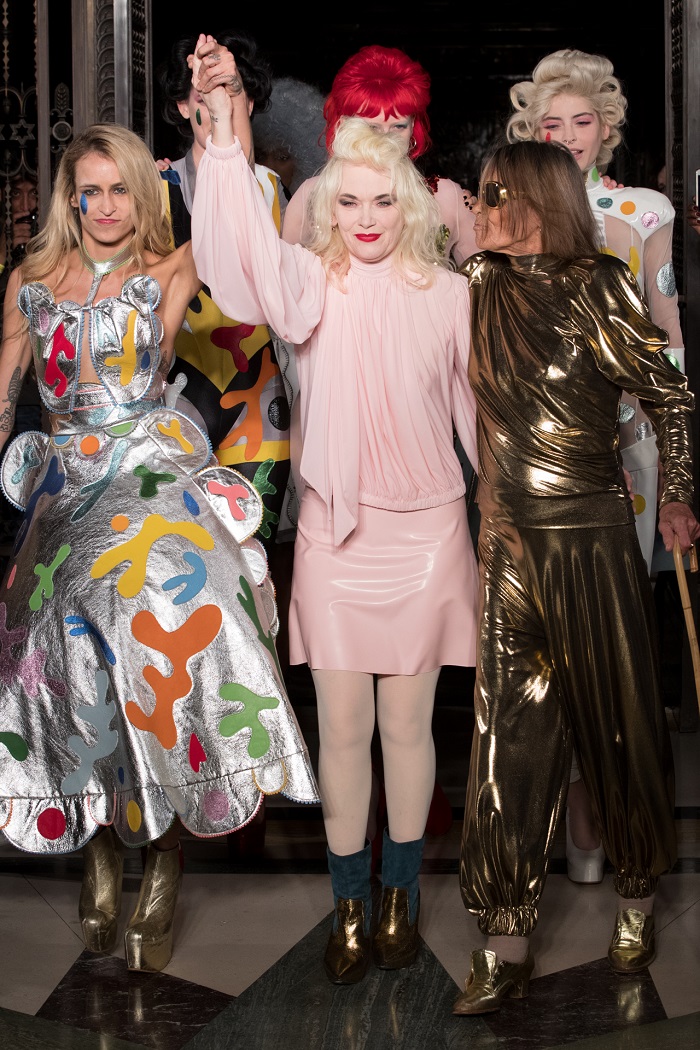 After the show, we briefly headed to the launch night of The Grooming Room: Women's Edit at Century Club. The launch showcased the 'retreat away from the fashion streets' across two-floors of the club including hair styling stations, beauty treatment areas, brand showcases and a gifting area. After a few cider-infused cocktails on Century's rooftop, it was time to head home and prepare for the next day.
Saturday 17th September
Saturday morning started off like any other LFW or LCM – putting together an outfit for the day! Believe me, it's an important part – as throughout the day, as well as capturing your own images, you don't know where you're going to end up or who is going to take your picture. I went for an ASOS outfit, which consisted of a beige fedora hat, white t-shirt and smart wool joggers, finished off with a pair of black monk shoes. Before finding a breakfast venue, my guest and I captured a few 'outfit of the day' street-style shots – a fashion blogger essential!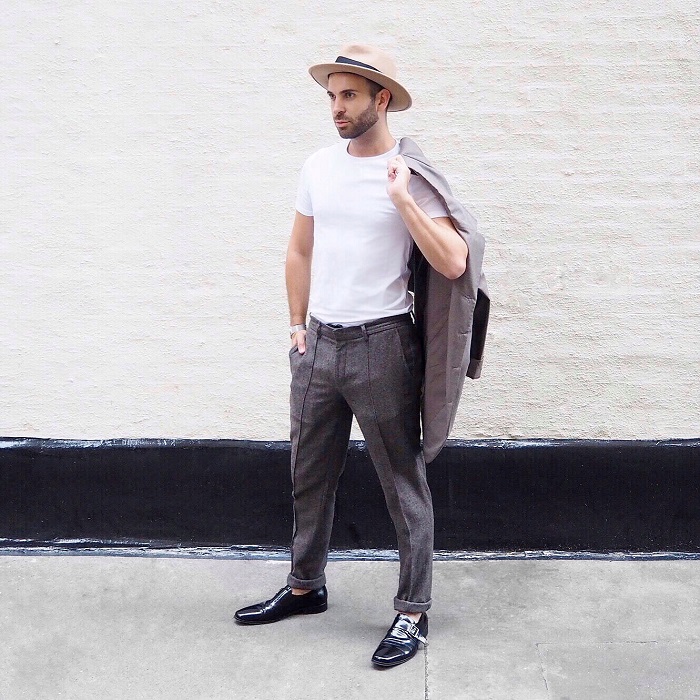 After a quick breakfast, I headed back to Freemasons Hall and backstage for the Ashley Isham show. It was the first time I'd been backstage for a LFW show and seemed a lot less chaotic than LCM! In fact, quite laid back when I arrived. This was great, as it gave me an opportunity to browse the clothes up-close and chat to the Label M hair team about the look of the show. With one commenting 'Think Wham!… just think Wham!'.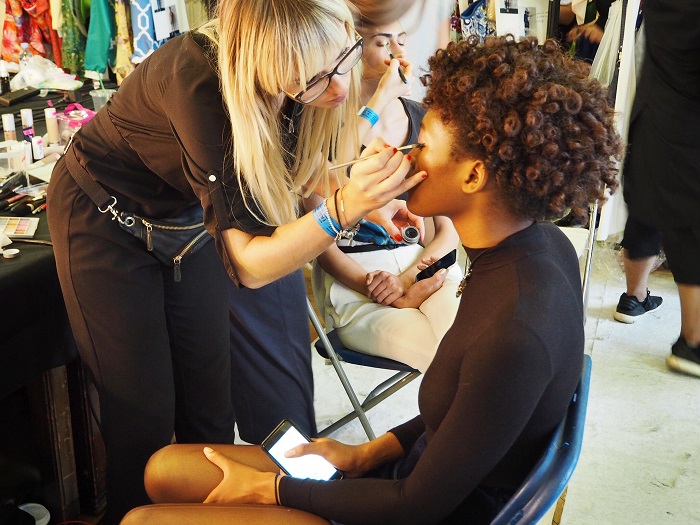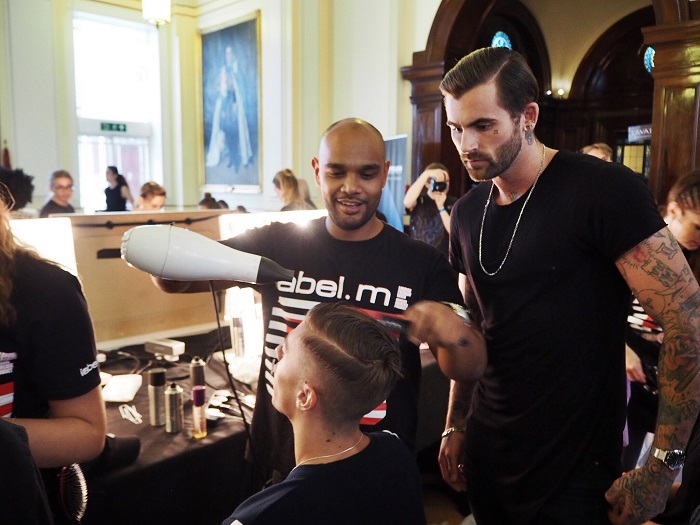 I was pleased to see that Ashley Isham was showing both women's and menswear and was overwhelmed by the amount of pieces he was showing in his SS17 collection. There was a particular menswear piece that stuck out for me and that was a men's blue, white, patterned jumpsuit, which looked just as good on the catwalk as it did on the hanger. The models arrived to get into their first outfits and for hair and make-up touch ups, 15 minutes before the show was about to commence, so I headed downstairs to meet my guest and take our seats. The catwalk took a horseshoe form and included guests such as Alex Pettyfer, Ola Jordon, Amy Childs and Lady Victoria Harvey.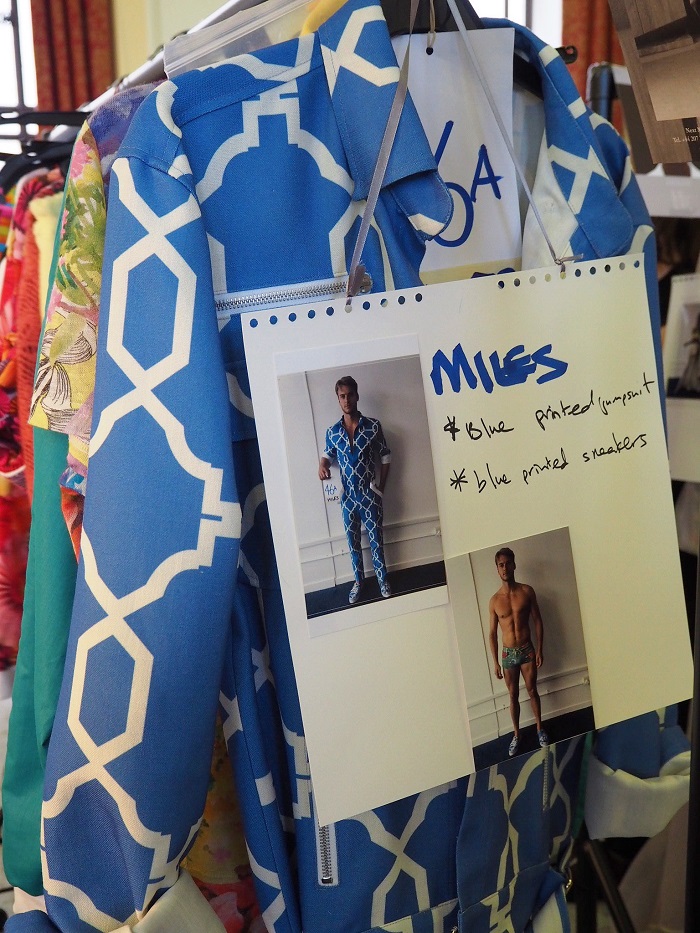 The earlier Wham! comment from the Label M stylist came to life as models appeared on the catwalk straddling inflatables and sipping oversized neon 80's cocktails. As the lights went up models walked the catwalk in luxury designs in a lot of kaleidoscope colours, which included swimwear, floor-length dresses, crochet shorts and shirts and my favourite blue jumpsuit!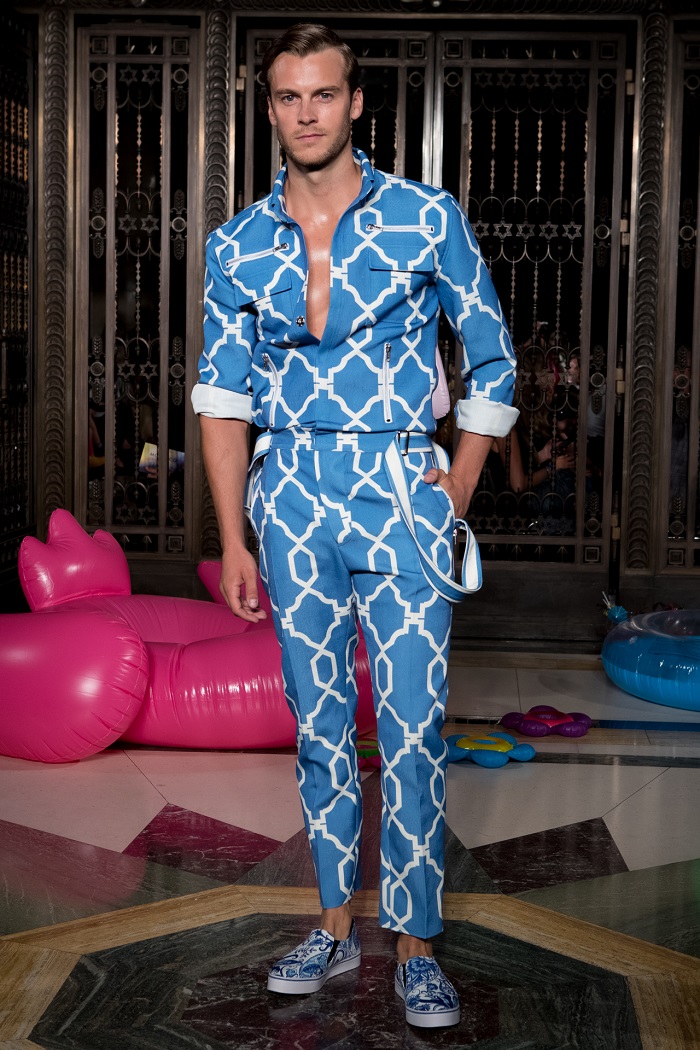 We then headed back to The Grooming Room: Women's Edit, where we enjoyed a few cocktails of the gin variety and got chatting guests including, fellow-male blogger Mr. Everyman and a very lovely and talented West end performer, called Lily Frazer, who will be appearing in Dreamgirls when it comes to the West end in November.
We then headed over to the new Soho House on Dean Street for one more cocktail to reflect on the day and to download show and outfit shot images, as well as plan for the next day's proceedings.
Sunday 18th September
Sunday started off with breakfast close to Freemasons Hall, ahead of the APU JAN show. We were let into the venue early (which is unheard of in fashion!) and was greeted by Portia Shaw, owner of POP PR, who invited us to sit in the frow. We were sat next to MIC's Kimberley Garner and her new boyfriend and was grateful for the opportunity to capture images of the show without bobbing heads in the way!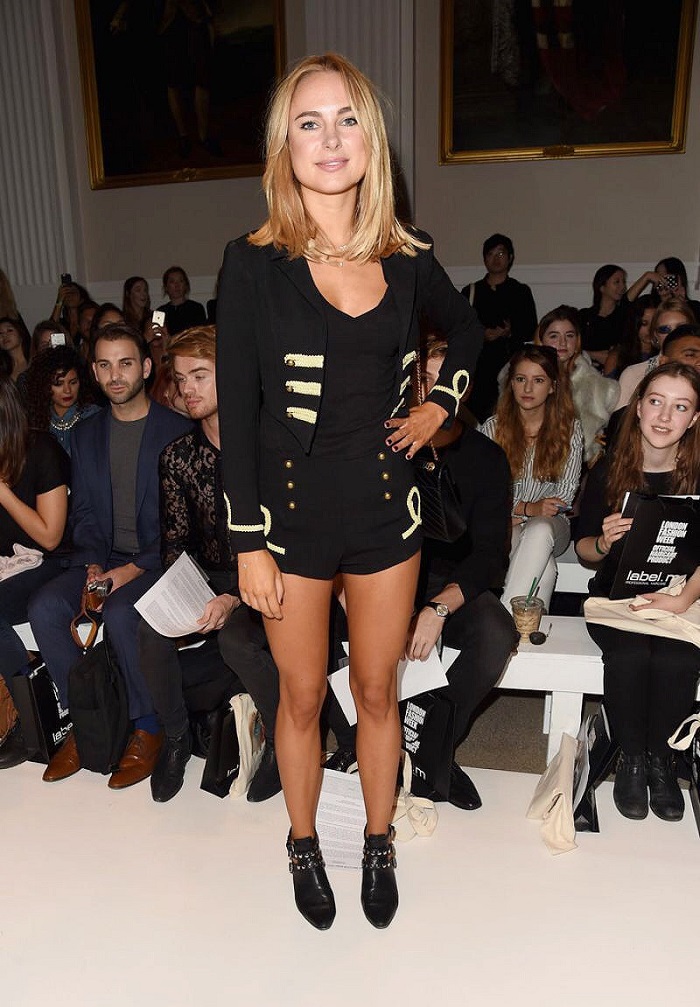 The show itself titled 'An Ancient Summer Night's Dream', was set in a fantasy world filled with dinosaurs and fossils and offered mystic and floral patterns, beautiful silhouettes and knitted accessories. Blue hues were very prominent, as were conventional colours such as black and white, which made for a very versatile, yet wearable collection.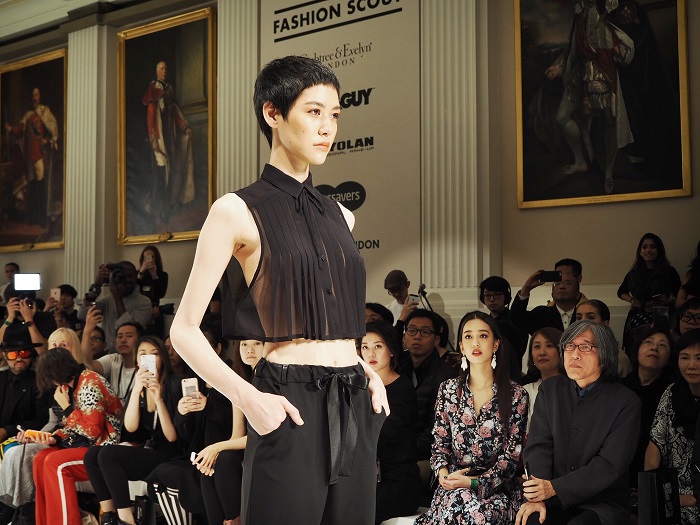 After the show, we headed over to The Blogger Programme LFW Hangout – a pop-up event a few streets away from Freemasons Hall, designed for bloggers to 'hangout' with brands and other bloggers in a comfortable and beautifully-dressed setting. The Blogger Programme Team are a really friendly bunch and most of them blog themselves. The venue featured food & drink stations, a photographic studio, brand hubs and hair and make-up stations, all to a party soundtrack, of which my good friend and influencer Tom Fox was DJ'ing at.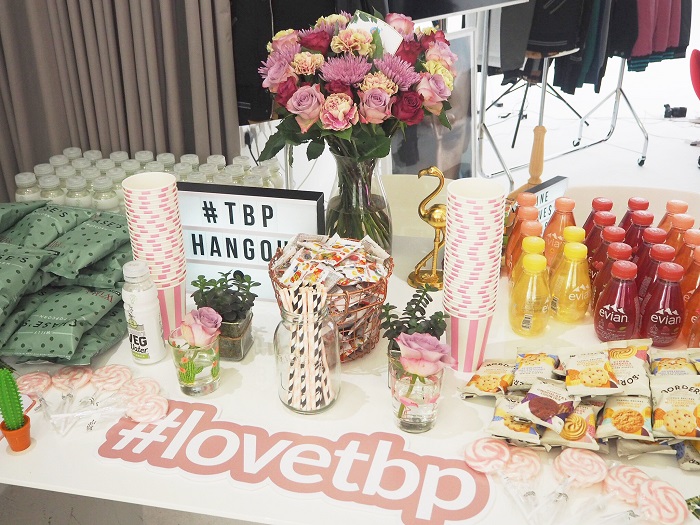 It was a really good opportunity to chat to brands about potential collaboration opportunities and one that particularly caught my eye was unisex clothing brand, Nine Lives London, who create the most amazing varsity jackets, one of which I was gifted with to feature in one of my upcoming Instagram posts. I hung out with new blogger friends, as well as present including Victoria Copeland, Georgia White, Fashion Mentalist, Emily Graceland, Jamie Cullen, Daniel Marlin and Rowan Rowe.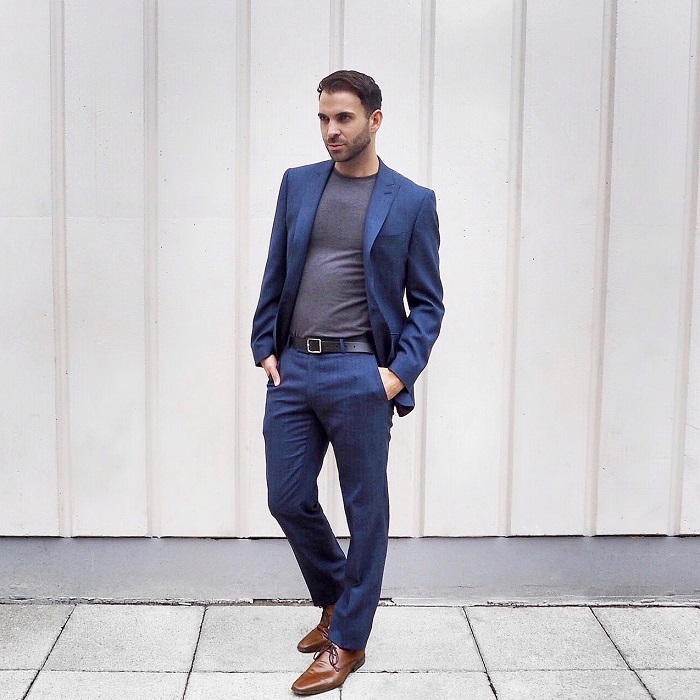 After a few hours at The Blogger Programme LFW Hangout, my guest and I captured the day's 'outfit of the day' shot for our social channels and headed over to Victoria & Albert Museum to catch recent Central St Martins graduate, Fei Fei Cicada's show. We knew we were in for something special, going by the venue and that really couldn't of been truer. The show was elegant, bold and extravagant (at one point one of the models was working the in the round catwalk in a headdress as large as a two-man tent). Then after a fantastic few days, it was time for carriages home to pack for a press trip, whilst reflecting on the memorable events of the past few days.
https://www.vuelio.com/uk/wp-content/uploads/2016/09/Ed_DiscerningGent-1.jpg
329
688
Jake O'Neill
https://www.vuelio.com/uk/wp-content/uploads/2019/09/vuelio-logo.png
Jake O'Neill
2016-09-23 13:02:05
2016-09-23 13:02:05
The Discerning Man's London Fashion Week Diary