The Premier League on social media
Fantasy Football teams created? Digital television provider chosen? Ball-kicking excitement building? It's only one day until the 2013/2014 Premier League season kicks off, and the social media buzz is at fever pitch.
With a half-promise that I won't keep using football puns, I present the most popular teams, players and managers according to their social media mentions (score).   
Clubs
'No player is bigger than the club', is a phrase often bandied about before a big sale. And according to Cision Social Media, it's true. The top flight clubs have together received over six million mentions in the last week alone.
Leading the field, with over two million mentions, is Arsenal FC: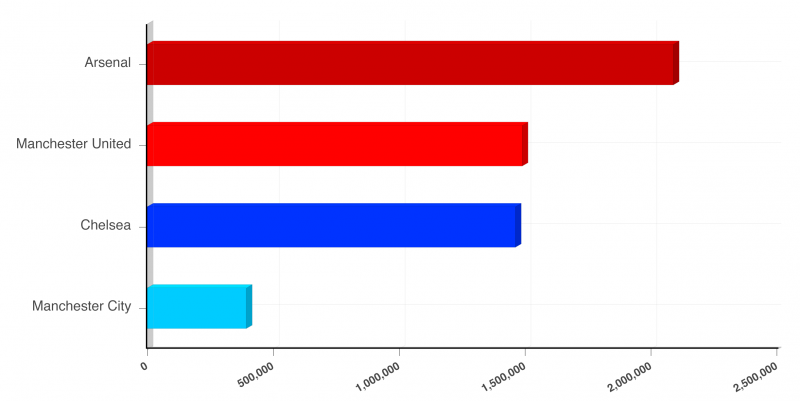 Arsenal are currently having some issues with their transfer targets, having been linked with every name from Luis Suárez to Zippy from Rainbow (not really). CisionPoint reveals just how much content is being written about the club with 30,000 articles over the last seven days.   
Manchester City have remained fairly under the radar, with little in the way of transfer news or club controversy. This table is in no way indicative of the most popular team as many of the mentions, especially in the world of football, are likely to be negative.
Players
'No player is bigger than a manager', is a phrase rarely used because it's a load of rubbish. Social media proves that it is more interested in the players than the players' bosses.
It won't come as a surprise to many that the main man in the mentions frame is Liverpool's Marmite striker (you either love him or hate him, or forget him – he's not made from yeast extract) Luis Suárez, with over 800,000 mentions in the last week: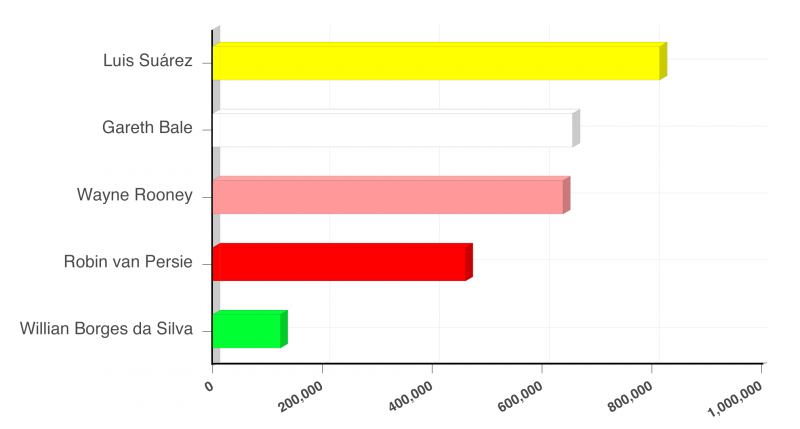 Gareth Bale and Wayne Rooney have, like Suárez, been linked to a number of clubs and moves – with Bale reportedly being highly rated by Real Madrid who want to splash out over £80m to secure his services.
Willian is a name familiar to anyone who has been on Twitter in the last week and glanced at the trending topics. The player has been linked with most top flight clubs, though his future has not yet been determined.
Managers
'No Manager is bigger than Alex Ferguson', is something that can no longer be measured as the Manchester United leader retired last season. However, in his place, the young pretender David Moyes has done very well (or depending how much you read, not so well) in the popularity stakes.
With over half a million tweets, Moyes has managed to head up a list which contains a man who used to refer to himself as the special one and has since upgraded the nickname to the Godfather.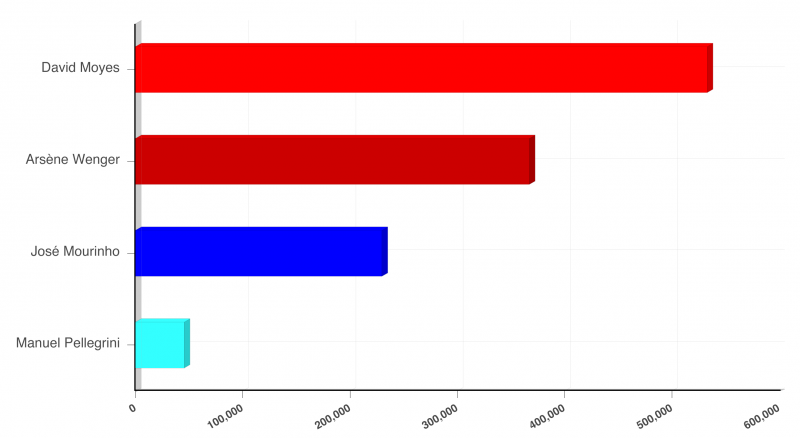 Again, Pellegrini's lack of mentions is reflective of Manchester City's lack of pre-season buzz but as the old adage goes, it's the quiet ones you have to watch.
With three new team managers for Manchester City, Manchester United and Chelsea (sort of), and only one of the old guard left, this season could shape up to be the closest competition of recent years. Or Manchester United will win again – only time will tell. What we have learnt is that the colour red seems to be far more popular than the colour blue, and really that's all any of us really cares about.
Graphs made with Cision Social Media via CisionPoint.

Priyanka Dayal
https://www.vuelio.com/uk/wp-content/uploads/2019/09/vuelio-logo.png
Priyanka Dayal
2013-08-16 12:57:16
2013-08-16 12:57:16
The Premier League on social media