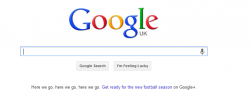 The Great Google has come under fire lately for allegedly breaching privacy laws in regards to Gmail accounts, and then for preaching ethical SEO practices that can potentially change the way PR companies use press releases. Both issues have grabbed headlines and stirred debates across media platforms, but while the privacy issue is locked in a legal tussle, the new webmaster guidelines have left the PR community with little option other than to scratch their heads and look for clarity and reassurance.
Why? First let's have a look at what Google actually wants:
In the link schemes document, Google stated: 'Any links intended to manipulate PageRank or a site's ranking in Google search results may be considered part of a link scheme and a violation of Google's Webmaster Guidelines. This includes any behavior that manipulates links to your site or outgoing links from your site.'
In simple terms, this means that press releases which try to manipulate content through links only to drive traffic to their website and score highly on Google's PageRank, will be ruled out of its link analysis algorithm altogether.
The Link Schemes document goes on to suggest:
'You can prevent PageRank from passing in several ways, such as:
Adding a rel="nofollow" attribute to the <a> tag
Redirecting the links to an intermediate page that is blocked from search engines with a robots.txt file.'
Again, what this means is if optimised anchor texts in press releases are used, a "nofollow" link will ensure a green light from Google to treat the release as information, rather than paid content.
Sounds easy but what followed Google's update was a flurry of responses from the media and debates from professionals, sparked primarily by ZDNet's journalist Tom Foremski post titled, 'Did Google just kill PR agencies?'
While Foremski led a lively discussion, the general consensus among experts in the field was that the claim was slightly exaggerated.  Yes, links help journalists find more information on the product or service in question in the press release, and is also useful for PR to direct traffic to its client's website, but there is a proper way to PR, and a lazy way. Google's new rules will merely separate the two classifications of online marketing which in SEO terms are categorised as Black Hat or 'unnatural' links, and White Hat, referring to clear-cut content aimed at…well, building public relations.
If anything, Google's guidelines will take the PR industry back to the fundamentals of press release writing, (a move which journalists might welcome), to allow better creation and crafting of content to deliver the message the right way.
An article in PRWeek in response to ZDNet titled, 'No, Google didn't just kill PR agencies' correctly pointed out: 'That fact that we're seeing Google clamping down further on Black Hat type activities means that PR firms should see an even greater rise in demands from clients for their PR SEO services.
However, Google's latest updates do mean that PR agencies need to constantly be aware of how Google works. Not only to enhance PR effectively with SEO techniques, but also to ensure they're doing safe SEO PR, and continuing to drive their client's brands.'
A stronger viewpoint is shared by The Drum, where the author, Andy Barr believes the hype around Google's updated guidelines is 'exaggerated.' He said: 'Putting nofollow in releases placed on wires is a great idea by Google and has no effect on PR agencies that typically write great content and don't then rely on wires for the majority of coverage.'
The views are shared by Cision. We work closely  with PRs and have alliances with the best in the industry who believe in great content, whether it is traditional press releases, articles or videos aimed at consumers. We are certain that PRs who are using traditional communication skills well will not be impacted by these changes.
Cision's social newsrooms (formerly known as CisionWire) is a place where clients can host their content and where it can be easily shared and discovered through search. An effort to communicate the 'nofollow' tags to client is currently underway, and will be included in training from now on.
Like Cision, other businesses in the PR and communications sector are likely to set new practices in place and perhaps keep abreast with SEO trends to Google-proof themselves, but by no means will the shutters fall on the industry because of Google's new terms.
For an insider's view on how PR agencies are responding to the updated guidelines, please click here.
Priyanka Dayal
https://www.vuelio.com/uk/wp-content/uploads/2023/09/vuelio-logo-200px.png
Priyanka Dayal
2013-08-16 12:29:57
2013-08-16 12:29:57
Google's new terms