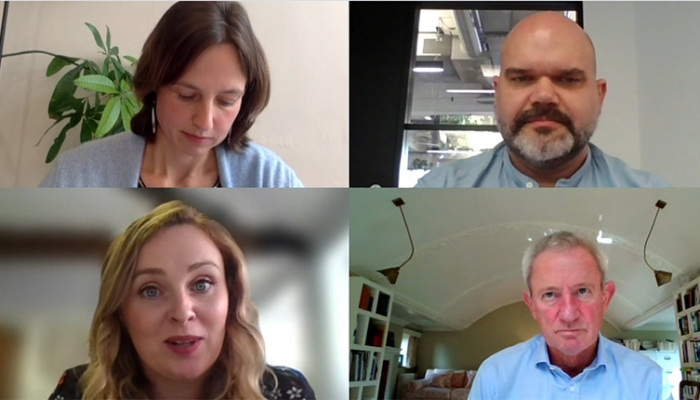 The relatively short break the climate got from harmful emissions during lockdowns across the world is over – the planning for net zero has to start now. That 'E' part of ESG planning – environment – is of even more importance for government, organisations and individuals worldwide as we get closer to November's COP26.
Both corporate and consumer-focused businesses have big decisions to make on what their role will be on climate change – what are the potential risks, and rewards, of leading on environmental action?
The New Statesman panel 'Making Sense of Net Zero – Corporate rewards of being in the climate action driving seat' featured advice from contributors Luke Herbert, Communications Director for The Climate Group, JLL's Global Chief Sustainability Officer Richard Batten and Vuelio's Insights Lead Amy Parry on the considerations and consequences for decision makers tasked with making change – here are some of the key takeaways…
Revenues and rewards
JLL is a worldwide real estate organisation with what its Global Chief Sustainability Officer Richard Batten calls a 'strange footprint', yet the organisation has already made its 2040 net zero commitment.
'If you're thinking of going down this route, take small steps. You need to feel your way in – you have to get the data and analyse it. Start projecting what you can do, then you can start pushing the envelope. It's a bit like peeling an onion – it takes time to understand your business.
'There's no doubt there are financial rewards to aiming for net zero, and it helps with the strategy of your business,' added Luke Herbert, who works to drive change with The Climate Group.
'Not long ago, we had Brexit, Trump and the start of COVID-19 hurting comms and PR team abilities to plan for the future – but now there's a path; we have to go renewable in this decade. That gives a lot of clarity – you're going to be pretty much future-proof if you do this. If you're behind, you're at risk of disturbance.'
'If the financials are there, you will be able to influence your board members'.
Vuelio's Insight Lead Amy Parry agreed on the rewards of net zero when it comes to positive influence – for all stakeholders.
'For internal stakeholders, the rewards are in future proofing and knowing where to invest money. For consumers, it's that feel-good factor – the more that consumers feel that they're buying into something, that they're doing good, it's going to result in better sales. That's really important… alongside the goals of climate action itself, of course.'
Reputation
ESG action (or in-action) is already impacting the reputations of companies worldwide and Amy had data for organisations who don't yet have the right plans and promises in place:
'Our media and insights team examined case studies around climate action and how that impacts government and organisations – we looked at banking, which is more traditional and institutional. Historically, it's already seen negativity for supporting areas like coal financing. We also looked at a very different sector – meal delivery services in the UK; a very modern service that's grown during the pandemic.
Read the Vuelio Insights case study Sustainability Initiatives and the Impact on Businesses.
'We were surprised by some of the similarities in coverage for the two very different sectors. Around 23% of all banking mentions in the media were linked to sustainability – that's tens of thousands of articles in a short time. 37% of meal service mentions were linked to those topics. Across both sectors, initiatives and coverage fell into two pools – sustainability as a vehicle for change and as a vehicle for business growth. The first lends itself more to the corporate side; abolition of pollution financing, for example. The second is aimed at consumers – green bonds and business loans. There are reputational opportunities in sustainability topics for both sides of business.
'We found that organisations that made more press announcements through traditional press releases weren't necessary getting more coverage, however. Sometimes, maybe, it's possible to push the message too much. It's action and delivery on promises that will work.'
The right thing to do
'We have hundreds of businesses who are signed up to science-based targets… but there are hundreds who haven't,' said Luke.
'We can't just do this in 2029 when it's too late – this needs accumulative reduction. Most of our conversations with businesses are constructive, but the challenge is those are that aren't engaging with the issue.'
'The biggest argument for working towards net zero, aside from reputation and revenue, is that we have to do it; the world has to do it, else we have a problem,' said Richard.
'We can't tell our clients what to do. But we can make some decisions about which clients we want to work with going forward. Until then, we have to collaborate. If you're already on top of your own business, you shouldn't need too much persuading.'
For more insight on how policy impacts your business sector and for tracking your organisation's own reputation, demo Vuelio's Political Monitoring and Media Analysis services.
Further information on research from the Vuelio Insights team mentioned during this session can be found in the Vuelio case study Sustainability Initiatives and the Impact on Businesses.  
https://www.vuelio.com/uk/wp-content/uploads/2021/10/Net-Zero-New-Statesman.jpg
430
760
Phoebe-Jane Boyd
https://www.vuelio.com/uk/wp-content/uploads/2023/09/vuelio-logo-200px.png
Phoebe-Jane Boyd
2021-10-13 10:08:12
2021-12-02 13:06:46
The rewards of net zero