Journalist Spotlight: About Time, Angelica Malin
This is the first of a two-part interview with Angelica Malin, founder and editor of a new lifestyle magazine, About Time. Angelica spoke to us about what sets the magazine apart from other city-centric titles, the road ahead (that includes plans to open an About Time shop), and why Nelly Furtardo would play her in a film.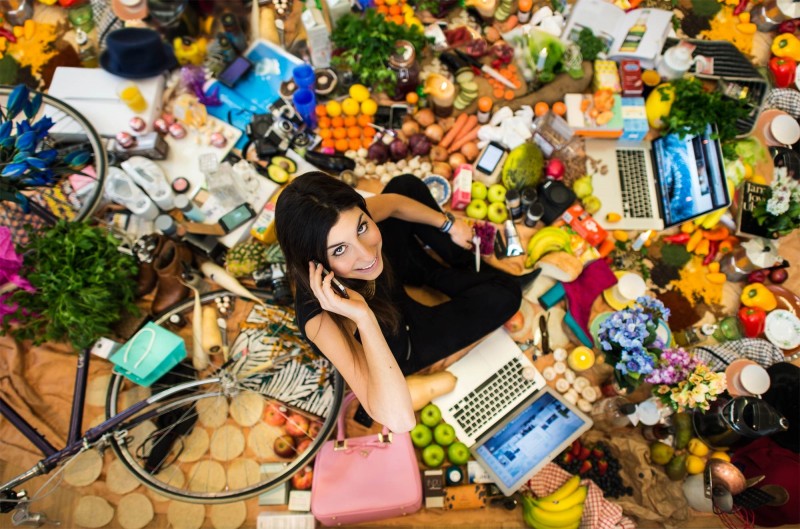 Why should people read About Time? What was the idea behind the launch?
The idea behind About Time was to create a place that gave Londoners ideas and inspiration for things it's about time they tried in London and beyond. I've always been obsessed with time – how to spend it, how other people spend it, and was frustrated spending hours trawling through websites looking for recommendations for restaurants and fun activities in London. I just wanted someone to tell me exactly what to do.
Perhaps the problem is there are simply so many lifestyle websites, that knowing which ones to trust is difficult. Well, you can trust About Time. We might not always be right about something, but we're always honest – with our time, with our views, we're just trying to do what every Londoner wants: to capitalize on every precious second. People should read it if they are interested in expanding and enriching their London lives with new experiences, restaurants and concepts, and don't want to waste their time looking. They should also read it if they are indecisive with menus (I get the worst food envy!) – sometimes all we want is someone to tell us exactly what to order. That's why we created the 'about time you ate' column – 5 specific dishes or menu items in London every week that you simply have to try, with stunning photos to boot. 
How will it be different from other city-centric magazines such as a Time Out London?
About Time is more personal than other city-centric magazines. You know when you're on the tube and you overhear someone telling their friend that they simply have to try this new restaurant – that's About Time. We bridge the gap between friend and source of information – handpicked, personal experiences in London that allow you to make active choices in what to do with your time.
We're more picture-focused than other London magazines, too – sometimes a photo of cake just says it better than words, anyway. We always try to create our own content, so we're unlikely to use press images over our own photographs. We're not a site for negative features, either – if we don't like a restaurant, we're more likely to not feature it at all than write something damming and critical. After all, it's about the things it's about time you did, not the things it's about time you avoided. 
What are the future plans for the magazine?
How long have you got? There are so many things we'd like to do as a team. At the moment, we're just focusing on building an audience and creating beautiful editorial, but in the future, we'd love to get into events which bring Londoners together to experience things 'it's about time' they did together. For example, I went vegan in January for a feature and I'd love to do an 'About Time You Met Other Vegans' supper club – there's a real strength in the vegan community and I'd love to bring them together for some nut roast and laughter. Beyond that, we'd love to have an About Time shop in the future which handpicks items from young start-ups and emerging brands that people should know about. We champion the smaller brands, so anything that can help with that. 
Describe your typical day at About Time?
I don't think there is such thing as a typical day when you run your own business! I always wake up at 7 and go for a run on Primrose Hill, then I'll reply to emails for a few hours before everyone wakes up and check with my team that the content for the day is all spic and span. Each day is different – I have meetings with new PRs, meet one-on-one with my editorial team to discuss ideas, admin, editing. We have a lovely office but I tend to be out most of the time – Riding House Cafe and Soho House are my go-to meeting spots, although I think I've tried everything on the menus now. It's a sad day when carrot juice no longer excites you, I tell you.
On the weekends I'll go out for the day with my SLR and take photos for the site or travel to the countryside for an 'Escape' feature. Work never stops really, but when you love what you do, you don't think of it as work! 
Since the launch, what has been the most popular content on your site? What drives traffic to it?
Strong photography seems to drive people to the site, especially when we put out teaser photos of cake on Twitter. I blush to say that our Editor's Letter has been the most popular post – but it's probably because of the photos! We spent £60 buying yams for the shoot – we wanted to do something a bit fun and different. 
I still haven't figured out what to do with all the yams. 
Every month we're going to profile different members of the team in interesting ways – just wait til the interview with our food editor Claudine, I think I'm going to make her pose in a bath of baked beans. 
Our interview with Natalia Tena has also been hugely popular – we wanted to do interviews in a quirky way that didn't feel so much like a typical Q and A interview – we asked to meet Natalia for a few hours in her favourite cafe and just spend time with her. Hence the name 'Time Spent With' – she spent the day eating smoked salmon bagels and buying vintage clothes in Shoreditch with my art editor. We loved the photos – natural and relaxed, you can just see that they were having a great time. We hope to do this with a lot of celebs in the future – the results from taking away huge time pressure are a thing of beauty. 
Anything that has great photos seems to do well – I love the snaps of House of Holi at Cinnamon Kitchen too.
Take Five
What are your 3 top places in London? 
1. Mele e Pere on Brewer Street – my favourite Italian restaurant, the owner Peter is so nice and they do the best pistachio ice cream in London. Fact.
2. Restaurant 1701 – it's in a synagogue, do I need to say more. 
3. Brixton Village Market – so fun and buzzy on a Sunday, it makes me feel like a right hipster, even when I'm with my granny.
Do you have any surprising hobbies/interests?
1. I love unicorns. I have 16 and the oldest, Bluey, always travels with me. 
2. I'm really into nail art – I find it deeply therapeutic 
What would your super power be?
I'd like to be able to flick a book and all the information goes into my head 
Would you go forward or back in time?
Neither. I bloody love the present. 
Who would play you in a film?
Do you remember Neily Furtardo? People always say I look like her. So her, I suppose.
Priyanka Dayal
https://www.vuelio.com/uk/wp-content/uploads/2023/09/vuelio-logo-200px.png
Priyanka Dayal
2014-03-20 11:14:48
2014-03-20 11:14:48
Journalist Spotlight: About Time, Angelica Malin