#Budget2014: Not such a hit on social media
The UK economy is 'recovering faster than expected' and what better way to spread the cheer than to lower the cost of beer, bingo and air travel!
While Britain's mainstream media has given George Osborne's 2014 budget the thumbs up with mostly positive coverage, social media has been less compromising, though spot on, in capturing the overall public sentiment relating to the budget. 
Using Cision Social Media, we found that #Budget2014 was mentioned over 204,214 times in 24 hours since the budget was presented. Peak traffic was recorded at noon yesterday. 
The conversation topics surrounding #Budget2014 included the following key words: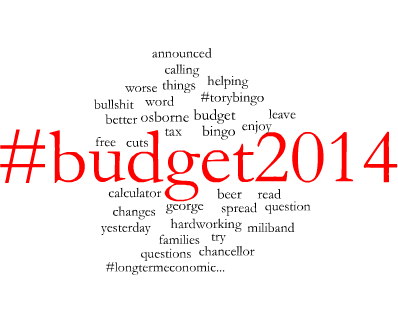 The Conservative Party chairman Grant Schapps stirred things up on Twitter after tweeting an advert highlighting the Chancellor's decision to cut duty on beer and taxation of bingo. The online advert said the measures were aimed at helping  "hardworking people do more of the things they enjoy".
#budget2014 cuts bingo & beer tax helping hardworking people do more of the things they enjoy. RT to spread the word pic.twitter.com/5vbL7RDAg5

— Grant Shapps MP (@grantshapps) March 19, 2014
The tweet received much criticism from the Liberal Democrats, but also provoked anger and bewilderment from the general public: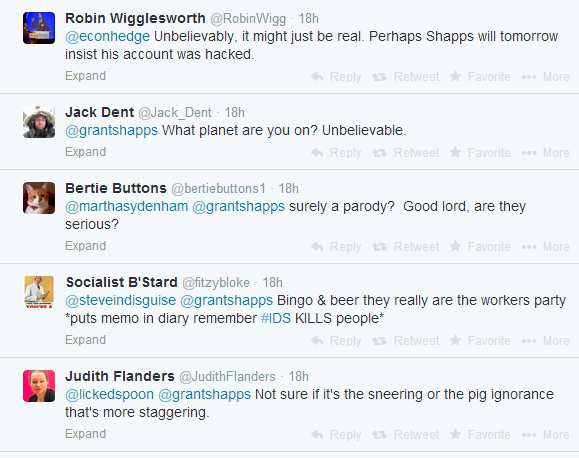 Meanwhile, business editor for the BBC, Robert Peston hosted a live Q&A session with the hashtag #AskPeston  on Facebook today addressing the question: How will Budget 2014 affect you? Some of the questions he tackled included:

Paul Cotterill What do you think is the risk that ending the need to buy an annuity on a defined benefit pension will lead to a further escalation of house prices as people enter the property market in the belief that they may get better returns, either through capital value or buy to let (or both)?

Ian Chalmers Can you explain just what is to blame for our current financial position; is it (a) poorly targeted overspending by previous government (b) borrowing by previous government to buy us out of banking crisis and alleviate recessionary pressures and is the present government reallly any better given the poor progress of debt pay down coupled with more debt addition than previous govt?
Ron Patrick Walker Do you think more could have been done to help with the cost of living? On the surface a £10,500 base rate seems decent but as a low earner this won't make too much of a tangible difference.

And our personal favourite question was:
Fiona McCormick I am almost 60 single. I have No savings or pension at all. ? I do not drink or smoke. I hate any kind of Bingo or Gambling. I have never bought a lottery ticket. I am struggling to pay my Bills ( What Can He Offer Me)

The nature of the questions forced Robert to ask his audience: 
'Is there nobody out there who has anything positive to say about the budget. I am paid to be impartial, neutral. But I am fascinated that pretty much all of you feel totally ignored – or worse – by the Chancellor' 
That pretty much sums it up for 2014 Budget, socially at least. 
Priyanka Dayal
https://www.vuelio.com/uk/wp-content/uploads/2023/09/vuelio-logo-200px.png
Priyanka Dayal
2014-03-20 15:34:07
2014-03-20 15:34:07
#Budget2014: Not such a hit on social media