Today's Political Headlines – 1 December 2017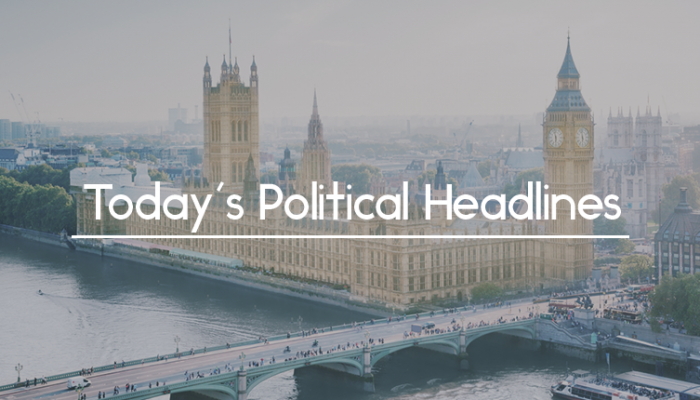 A round-up of the latest political headlines, including DUP's Irish border deal warning, calls to cancel Trump's visit and the £1bn care home funding gap. 
DUP in Irish border deal warning
The Financial Times says that the DUP has warned that if the Government treats Northern Ireland differently to the rest of the UK in Brexit negotiations, it will withdraw its support. However, Irish Taoiseach Leo Varadkhar is maintaining his instance on Northern Ireland remaining part of the EU customs union, and avoiding a hard border.
Calls to cancel Trump visit
The Times reports that President Trump is still expected to visit the UK in February in order to open the US embassy, despite criticism from MPs and other politicians, including Mayor of London Sadiq Kahn. However, The Daily Telegraph claims that US diplomats have 'dropped plans' for Trump's visit and that it has been 'pushed into the long grass'.
Warning over £1bn care home funding gap
According to the Financial Times, the UK's care home sector has a £1bn annual funding gap. A report by the Competition and Markets found that the 'current model of service provision cannot be sustained without additional public funding'. The Labour Party called for an end to cuts to local authorities, but the Government pointed to increases in social care spending.
Corbyn: 'we're a threat' to banks
The Guardian reports Jeremy Corbyn's response to a warning from investment bank Morgan Stanley that he poses just as much of a threat to business as Brexit. In a video, he said 'So when they say we're a threat, they're right. We're a threat to a damaging and failed system that's rigged for the few.'
Damian Green faces 'desperate fight' to save job
In an exclusive, The Sun says that the Cabinet Office's investigation into First Secretary of State Damian Green's conduct 'will say it is unclear whether he broke the ministerial code, which is a sackable offence.' Having seen the initial findings, the paper claims that Downing Street has been working on 'a desperate plan' to save Green's job.
Record migration fall after Brexit vote
The Times has details of the largest ever annual fall in net migration ever recorded. Overall net migration fell by 106,000 to 230,000 in the year after the vote to leave the EU. Immigration minister Brandon Lewis said, 'With more Europeans continuing to arrive than leave, these figures show that claims of a 'Brexodus' are misguided.'
NHS patients to face treatment rationing and longer waits
Simon Stevens, the NHS England Chief Executive, has announced plans to 'make taxpayers' money go further', drawing up a list of 36 conditions which don't need treatment, and saying that new guidance expected from NICE could not be implemented without advance funding agreement. According to The Times, Government sources dismissed this as 'grandstanding'.
Changes to 'snooper's charter' see police lose powers
A series of changes to the 'snooper's charter' will see senior police officers 'lose the power to self-authorise access to personal phone and web browsing records', The Guardian reports. A consultation paper published by the Home Office makes it clear that the changes, being made to comply with a European court ruling, will limit access to personal communications data by the police and other bodies to crimes with a prison sentence of six months or more. Labour's Tom Watson said the proposals were 'flawed' and didn't go far enough.
Learn more about how Vuelio political services can help you. 
https://www.vuelio.com/uk/wp-content/uploads/2017/11/Todays-Political-Headlines.png
430
760
Jake O'Neill
https://www.vuelio.com/uk/wp-content/uploads/2019/09/vuelio-logo.png
Jake O'Neill
2017-12-01 09:51:13
2017-12-01 09:51:13
Today's Political Headlines - 1 December 2017