Today's Political Headlines – 10 January 2018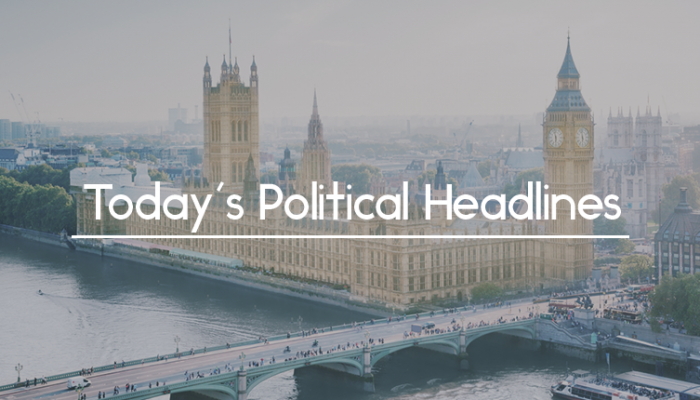 A round-up of the latest political headlines, including women and minorities promoted in the second day of the reshuffle, the confusion around no no-deal minister, an extended plastic bag charge and Germany's opposition to a bespoke Brexit trade deal.   
Reshuffle: Women and minorities promoted
Theresa May concluded her ministerial reshuffle yesterday by 'axing a string of white men in their 50s and 60s while promoting a number of younger, female and minority ethnic MPs', as the Guardian reports. However, according to Sutton Trust analysis, the Cabinet is more privileged than before. The Times quotes Theresa May as saying that the Government 'looks more like the country it serves'.
Reshuffle: no no-deal minister leaves Brexiteers 'dumbfounded'
The Daily Telegraph says that Brexiteers have been left 'dumbfounded' after the Government abandoned plans for a no-deal minister to attend Cabinet, despite having promised them several months ago that this would happen. A Number 10 source told that paper that Brexit ministers 'will be invited to come where relevant'.
New environment strategy will extend plastic bag charge
The Daily Mail reports that that the English 5p plastic bag charge will be extended to cover all shops (retailers with under 250 employees are currently exempt). A new 25-year environment strategy is to be unveiled tomorrow, with a deposit scheme for plastic bottles and new taxes on throwaway plastics apparently both under consideration.
Germany opposes bespoke Brexit trade deal as ministers visit
The Daily Telegraph claims that German opposition could prevent a bespoke Brexit trade deal. Angela Merkel is opposed to the British proposal for 'managed divergence' from the EU. The news emerges as Philip Hammond and David Davis visit the country on what the paper calls a 'joint charm offensive'. The paper also reports that Brexit supporters, led by Steven Woolfe MEP, are to meet Michel Barnier today, presenting him with a hamper of English produce, which would 'help illustrate our rich cultural and commercial offering'.
EU warns UK companies of the consequences of a no-deal Brexit
The Financial Times carries details of legal notices issued by the European Union to around 15 regulated industries in November and December, calling on UK companies to be ready for the UK to become a third country on 29/03/2019, with no right to operate in the single market. The memos warn of lapsing operating licences and the need to create EU entities. The documents have caused complaints from Brexit secretary David Davis.
Labour to commit to staying in EU customs union
According to The Times, Labour is to commit to staying in a modified version of the customs union by the spring. Whilst the policy is not yet confirmed, and still faces obstacles, sources have told the paper that such a move is likely. Labour would ask the EU to give the UK a seat when negotiating future trade agreements.
Government's management of UK's largest rail franchise criticised
The National Audit Office has 'severely criticised' the Government's management of the Thameslink, Southern and Great Northern franchise, the Guardian reports. It found that Department for Transport decisions had 'negatively impacted on passengers'.
Prime Minister will survive Brexit vote, says John Curtice
The Guardian has details of new claims made by elections expert John Curtice. He has said that Theresa May will survive the final Commons vote on Brexit, and that there is no evidence that enough leave voters now want to remain in the EU to force the prime minister to reverse Brexit, although polling carried out by NatCen has found that leave voters increasingly think that the Government is mishandling the negoticreations.
Want more political insight? Get Vuelio political services
https://www.vuelio.com/uk/wp-content/uploads/2017/11/Todays-Political-Headlines.png
430
760
Thomas Stevenson
https://www.vuelio.com/uk/wp-content/uploads/2019/09/vuelio-logo.png
Thomas Stevenson
2018-01-10 09:29:16
2018-01-10 09:29:16
Today's Political Headlines - 10 January 2018