Today's Political Headlines – 12 January 2018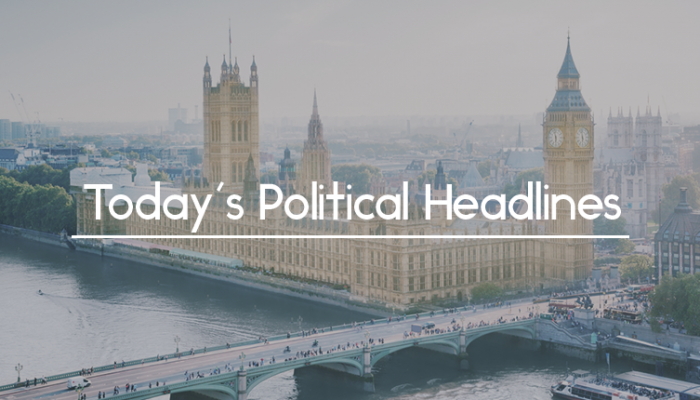 A round-up of the latest political headlines, including Trump cancelling his visit to the UK, Nigel Farage's second Brexit referendum, Government ordering illegal migrants' accounts to be closed, and a threat to the Royal Marines and paratroopers. 
Trump cancels UK visit
This morning's Daily Mail revealed that President Trump has cancelled his visit to the UK. He was expected to visit next month, but has not offered a new date. According to a senior source, Trump cancelled 'because he was unhappy about the arrangements and the scale of the visit'. However, he tweeted last night that he cancelled the trip because he was unhappy with the deal that led to the new embassy being built.
Nigel Farage floats the possibility of a second Brexit referendum
The Guardian reports that Nigel Farage, the former UKIP leader, told Channel 5's The Wright Stuff that 'maybe, just maybe, I'm reaching the point of thinking that we should have a second referendum on EU membership' in order to kill off arguments about Brexit. In this morning's Daily Telegraph, Farage rows back on this stance, claiming instead that he is 'beginning to fear that a second plebiscite may well happen anyway.'
Government to order banks to close illegal migrants' accounts
The Daily Telegraph says that the Government is to hand banks a list of illegal migrants suspected of hiding in the country, and order that their accounts be closed. New immigration minister Caroline Noakes argues in the paper that innocent people have nothing to fear.
Merger threat to Royal Marines and paratroopers
According to The Times, defence secretary Gavin Williamson has been presented with three sets of defence cuts, cutting armed forces numbers by more than 14,000 and combining paratrooper units and the Royal Marines in order to save money. The cuts could leave the armed forces with fewer troops than at any point since the Napoleonic era.
Crisis talks held over Carillion
The Financial Times reports that senior Government ministers including David Lidington (Cabinet Office minister), Greg Clark (business secretary), Jo Johnson (transport minister), Liz Truss (chief secretary to the Treasury) and Rory Stewart (justice minister), as well as ministers from five other departments, met yesterday for talks about the future of Carillion, a major Government contractor that the paper says is 'close to collapse'.
Theresa May meets financial leaders, whilst EU ambassadors debate transition extension
Details of a meeting between Theresa May and representatives of the financial services sector are reported in the Financial Times. She said that financial services would be 'at the heart' of a post-Brexit trade deal with the EU. However, The Times says that Downing Street has disputed Philip Hammond's suggestion that the UK could keep paying into the EU budget after Brexit in exchange for privileged access for British banks to the EU market. Separately, the Financial Times also claims that EU ambassadors have begun debating whether the transition period can be extended and, if so, what price should be attached.
Chris Williamson resigns as shadow fire minister
Chris Williamson, Labour's shadow fire minister, has resigned after he said that council tax should be doubled on high-value homes. The Guardian says that Williamson is now 'expected to act as a leftwing outrider for the Labour leader from the backbenches' and that Jeremy Corbyn is expected to announce a series of junior frontbench appointments today.
Peter Bone leaves wife for physio
The Sun's front page story today is that Tory backbencher Peter Bone, famous for mentioning his wife in Parliament, has left her for a married physiotherapist and former Conservative candidate, Helen Harrison.
Want more political insight? Get Vuelio political services
https://www.vuelio.com/uk/wp-content/uploads/2017/11/Todays-Political-Headlines.png
430
760
Jake O'Neill
https://www.vuelio.com/uk/wp-content/uploads/2019/09/vuelio-logo.png
Jake O'Neill
2018-01-12 09:35:34
2018-01-12 09:35:34
Today's Political Headlines - 12 January 2018